News
Stay informed about the latest enterprise technology news and product updates.
Data Domain takes data deduplication to the enterprise with backup system
Data deduplication vendor Data Domain's CEO says it is ready to take on enteprises, and doesn't need clustered systems to do it. Competitors and critics say Data Domain's dedupe systems aren't built for enterprise data centers.
Data Domain, coming off 50% year-over-year revenue growth, is now trying to take over the enterprise with its data deduplication backup system.

Data Domain Thursday evening reported revenue of $79 million last quarter. While that was at the low end of the company's forecast, it was up from $52.7 million last year -- impressive growth considering the year-over-year decreases suffered by EMC Corp. and IBM Corp.'s data storage business.

Download this free guide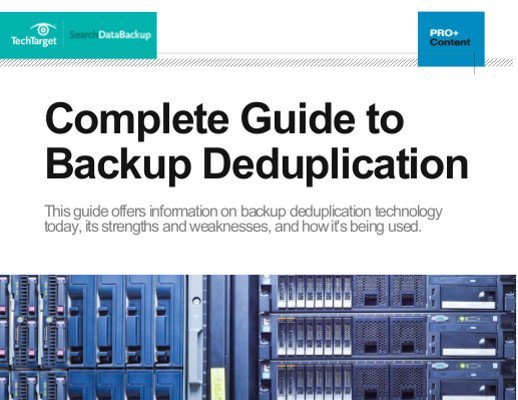 Free Download: Complete guide to backup deduplication
Access all of the 31 articles in our Data Deduplication Essential Guide by downloading our comprehensive PDF version so that you can access all of this expert content in one, easy-to-read resource.

By submitting your personal information, you agree that TechTarget and its partners may contact you regarding relevant content, products and special offers.

You also agree that your personal information may be transferred and processed in the United States, and that you have read and agree to the Terms of Use and the Privacy Policy.

Competitors and critics said while Data Domain has dominated dedupe in the midmarket because it was first to market, its systems aren't built for enterprise data centers. The biggest knock on Data Domain is it lacks global deduplication -- the ability to cluster its controllers to work as one large system.

Data Domain CEO Frank Slootman said clustered systems are coming, but the size and speed of his company's single-controller systems are more than sufficient for the enterprise. Driven by sales of its DD690 enterprise system, Data Domain reported 11 deals of $1 million and above last quarter, up from five in the previous quarter. The average selling price increased from $117,800 to $125,300.

"We can deliver a clustered system, but we slowed [development] down," Slootman said in an interview following Data Domain's earnings call. "Single controller systems are getting so insanely fast and large -- why would you care? It's about the workloads you support. We slowed down development of clustered systems because single-controller systems are getting so fast and they're easy to deploy. When you have multi-nodes trying to act as one node -- in the history of storage that has been a tall order.

"We do have a two-cluster system on our roadmap. It comes after what we've scheduled in mid-year."

Slootman said a new single-controller enterprise system is on its way later this year that will be "the equivalent of more than two DD690s in a box." He also said Data Domain hit the midrange market first because large enterprises typically take longer to embrace new technology such as data dedupe.

"We're setting ourselves up to drive business into the enterprise," he said. "We've been signaling for three quarters that our business is shifting toward the enterprise."

Data Domain's product strategy has been to rely on faster processors and larger hard drives to increase performance and scale, while delivering faster dedupe and replication to move data offsite for disaster recovery. The next product upgrade will be a bigger and faster box that's compatible with its other systems -- current customers can upgrade by swapping out controller heads.

Data Domain's data deduplication competition

Moving to the enterprise brings Data Domain into greater competition with IBM Corp., which acquired enterprise virtual tape library (VTL) vendor Diligent Technologies last year. Sepaton Inc. and the Sepaton-based product that Hewlett-Packard sells are other enterprise competitors, but Slootman said the biggest competition still comes from EMC's VTL platform that uses Quantum Corp.'s deduplication software.

As financial analyst Aaron Rakers of Stifel Nicolaus Equity Research pointed out, there is no shortage of dedupe competitors in the market now.

"We do continue to receive checks highlighting the fact that Data Domain has been successful in displacing EMC's Quantum-based DL3D-series solutions in accounts," Rakers wrote in a note to clients today. "We believe NetApp continues to lack a competitive solution [though we await its anticipated rollout of a new/late VTL solution], and IBM's new Diligent solutions have yet to have a meaningful impact ... In addition to the abovementioned competitors, we also plan to continue to monitor Dell's relationship with CommVault, as well as privately held Sepaton and ExaGrid."
Dig Deeper on Data reduction and deduplication