News
Stay informed about the latest enterprise technology news and product updates.
CA adds deduplication, virtual server backup to Recovery Management
Version 12.5 of CA's Recovery Management suite includes data deduplication for disk and tape, more granular support for virtual server backups, and backup reporting.
CA Inc. has revamped its data backup and replication products with the release of version 12.5 of Recovery Management, a suite that contains ARCserve Backup, XOsoft High Availability, and XOsoft Replication.

Download this free guide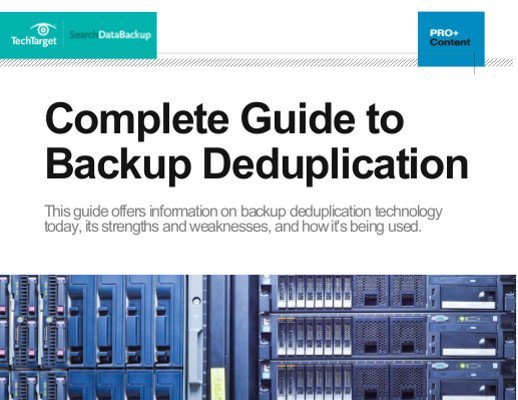 Free Download: Complete guide to backup deduplication
Access all of the 31 articles in our Data Deduplication Essential Guide by downloading our comprehensive PDF version so that you can access all of this expert content in one, easy-to-read resource.

By submitting your personal information, you agree that TechTarget and its partners may contact you regarding relevant content, products and special offers.

You also agree that your personal information may be transferred and processed in the United States, and that you have read and agree to the Terms of Use and the Privacy Policy.

The ARCserve Backup update adds integrated block-level data deduplication, features to support virtual server data protection, storage resource management (SRM), encryption and key management, and Active Directory integration.

ARCserve incorporates data deduplication for backups to disk and tape, giving customers the choice of "reinflating" data on writes to tape or copying data directly from deduplicated disk. One CA customer said deduplication is the most exciting addition to 12.5.

"My clients and I are small shops," said Tom Hannum, president of consulting firm Hannum Computer Service, which recommends ARCserve to its clients and services their backup environments. "But data is growing an astonishing amount everywhere."

In beta tests, Hannum said the new dedupe had reduced the amount of data he's backing up each night by more than 90% and cut down his backup window by 30%.

"Backup software vendors are generally limited to offering only source-based dedupe," cautioned Taneja Group analyst Eric Burgener to SearchDataBackup.com in an email. "While that has its place in dealing with the problems of distributed environments, they can't handle the throughput that the larger target-based approaches can, which are needed in centralized or enterprise environments."

ARCserve integrates SRM with backup

CA's SRM software is now bundled in a single agent with ARCserve Backup. It reports on backup jobs as well as server, network, and primary storage utilization, including mapping LUN-level storage utilization and disk fragmentation.

"I was pleasantly surprised with reporting in the new version, based in the SQL 2005 database [added with version 12]," said Jason Palm, network administrator for Batavia, Ohio-based Clermont Senior Services.

CA has also integrated VMware's vStorage API as well as Microsoft's Virtual Shadow Copy Services (VSS) into ARCserve. Customers now can back up servers at the hypervisor level without requiring a client on each guest operating system, and they can restore single files from snapshots. The new software is also now certified with Citrix Xen virtual servers.

Customers will also be able to manage encryption keys within the ARCserve database. Previously, these keys had to be managed separately. The database itself is protected with new role-based access controls that grant different permissions to different backup administrators, and includes Active Directory integration for single-sign-on password protection on the database itself.

Before replacing a proprietary underlying database with SQL in version 12, ARCserve had begun to languish in the market, falling behind competitors with the features it had supported. However, Enterprise Strategy Group analyst Lauren Whitehouse says CA has quickly caught ARCserve up with the rest of the pack.

"In fact, I think they now have some competitive advantages against the clear midmarket leader, [Symantec Corp.'s] Backup Exec," she said, citing data deduplication and integration with XOsoft Replication, which Backup Exec doesn't offer.

New features for XOsoft, pricing bundles

CA is also updating its XOsoft High Availability and Replication products, adding support for Linux and Unix operating systems in addition to Windows, bare-metal restore for Windows servers, HA failover support for the XOsoft management server, and single-instance replication for Microsoft Hyper-V virtual machines. Replication agents will still run inside guest operating systems for VMware.

XOsoft customer Joe Whipple, network administrator of Gahanna, Ohio-based KEMBA Financial Credit Union, said he's especially interested in the new support for Linux hosts. "We're a fairly heavy Linux shop, about 20% to 25% of our hosts run it," he said. "We've also found that Linux hosts run virtual machines a lot better."

He says it's less expense to use XOsoft Replication to move virtual machines around than paying to license VMware's VMotion.

CA integrated XOsoft products with ARCserve soon after acquiring XOsoft in 2006, but with this release CA is introducing "X-tra Value Packs" that bundle two licenses of XOsoft Replication with ARCserve.

CA is also offering Server Suites, which are per-server licensed bundles with unlimited application agents for backing up particular types of servers to any storage device. Bundles are available for file servers, virtualization, databases, and applications including Oracle's RMAN backup and SAP NetWeaver.
Dig Deeper on Data reduction and deduplication