News
Stay informed about the latest enterprise technology news and product updates.
Quantum, NEC add to data deduplication products; FalconStor claims fastest recovery time in virtual
Quantum launches its first dedupe disk backup box for remote offices while NEC makes HydraStor's dedupe content aware.
Quantum Corp. and NEC Corp. of America are expanding their data deduplication capabilities for disk-based backup, less than two weeks after NetApp showed the value of the technology by saying it intends to buy market leader Data Domain for $1.5 billion.

Download this free guide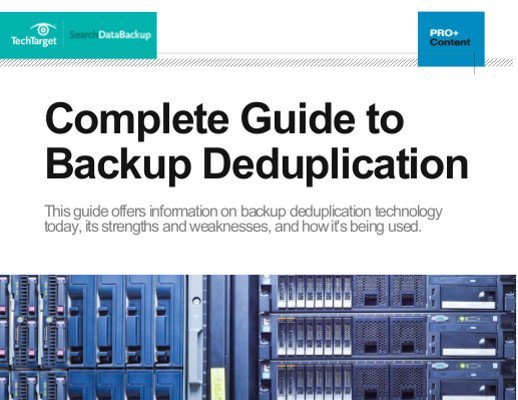 Free Download: Complete guide to backup deduplication
Access all of the 31 articles in our Data Deduplication Essential Guide by downloading our comprehensive PDF version so that you can access all of this expert content in one, easy-to-read resource.

Quantum today unveiled the DXi2500-D data deduplication device to back up remote offices and Vision 3.0, the latest version of its management application for disk and tape libraries. NEC added content-awareness to the deduplication algorithms in its Hydrastor data backup and archiving product.

Quantum targets remote data backup

The DXi2500-D is Quantum's smallest dedupe device, a 2U box with a network-attached storage (NAS) interface designed to work with the enterprise DXi7500 to centralize backups. The DXi2500-D offers RAID 6 protection, and Quantum claims a 300 GB per hour ingest rate. The DXI2500-D, based on a Dell server, is designed for companies looking to replace tape in from three to 10 remote offices.

The DXi2500-D is Quantum's first dedupe device built specifically for remote offices, and will compete most directly with Data Domain's DD120 among target-based data data deduplication products. Remote offices also use host-based software such as Asigra Televaulting, CommVault's Simpana, EMC Corp.'s Avamar and Symantec Corp. PureDisk to dedupe data at remote sites.

Quantum product marketing manager Steve Whitner said some customers have used the DXi3500 midrange system for remote offices, but he says the new system is a much better fit for remote sites.

"The 3500 is a more expensive solution with more overhead," he said. "It's something that people with higher performance needs would want, but it's a little more complicated and high cost for remote sites."

The DXI2500-D has a list price starting at $12,500, which includes a replication license plus a license for Symantec OpenStorage (OST) API support. Whitner said OSI support will become more significant for remote offices when Symantec adds support for Windows-based backup application Backup Exec. OST currently only supports NetBackup. Symantec is also expected to soon add support for tape creation, which should help Quantum because it also sells tape libraries and the DXi7500 supports tape directly.

Quantum hasn't changed the fan-out support for its replication software – it still supports 20-1 fan-in. Data Domain recently increased fan-in from one box to 90-1, which means it can support 90 remote sites. "It's something we will be increasing," Whitner said.

Quantum also upgraded Vision management software, adding enhanced file and cartridge-based replication reports, capacity planning information, and proactive email notifications of status changes for its disk and tape systems. It also reduced pricing for Vision to $3,750 for one license, and $5,500 for two. Previously, customers had to buy a minimum of two licenses for $7,500.

Analyst Jeff Boles of the Taneja Group said Quantum can benefit in a crowded field of deduplication vendors from its integrated approach of backing up data on tape and disk in the data center and remote sites.

"Quantum is taking a little bit of a leadership role in showing how to do fairly sophisticated dedupe in an integrated manner in the enterprise," Boles said. "Data Domain made its fame and fortune building dedupes in single boxes, but there is more value from taking dedupe outside of a single appliance and leveraging it across the enterprise."

NEC makes HydraStor content-aware

NEC's new deduplication feature, a free software upgrade for existing users and included with future Hydrastor systems, will support NetBackup and Simpana. NEC plans support for EMC NetWorker, Hewlett-Packard (HP) Co. Data Protector and IBM's Tivoli Storage Manager (TSM) to follow, according to NEC director of product management Gideon Senderov.

Senderov said the ability to separate the backup data "payload" from metadata injected into the backup stream by backup software will improve backup ratios for users.

Otherwise, if the data stream is broken up consistently by the deduplication app into the same block size, the insertion of metadata by the backup application within that stream can make similar chunks of data look totally different, meaning the dedupe app will record some duplicate data as if it was new.

"This will impact CommVault more than some other apps," according to Senderov, because other apps like EMC's NetWorker and HP Data Protector allow the block size to be configured, to better capture more similarities with more granular chunking, and NetBackup does file-level metadata only. Simpana inserts metadata at the sub-file level, meaning there's more of it, and the block size is not configurable, according to Senderov.

Other post-process delta-differential products from vendors such as ExaGrid Systems Inc., FalconStor and Sepaton also include some content awareness, according to Enterprise Strategy Group analyst Lauren Whitehouse.

"There's the potential for other deduplication vendors to take this approach, just as another layer of optimization," she said. "Vendors are now trying to wring out just a little bit more efficiency to differentiate themselves in this market."

FalconStor claims to dedupe fastest

FalconStor Software today is claiming the fastest disaster recovery time among virtual tape libraries (VTLs) with deduplication, based on internal testing. FalconStor said its VTL with deduplication using the OST API can ingest, dedupe, replicate data to a disaster recovery site and recover at the disaster recovery site in a total of 25.6 hours.

(Senior News Editor Beth Pariseau contributed to this story.)
Dig Deeper on Data reduction and deduplication