News
Stay informed about the latest enterprise technology news and product updates.
EMC wants to buy Data Domain for $1.8 billion to dominate data deduplication market
Seeking to own target-based as well as host-based data deduplication technology, EMC makes higher bid than NetApp for Data Domain.
If data deduplication is just a feature and not a technology as its detractors claim, then it's a $2 billion feature for EMC Corp.
EMC today offered $1.8 billion to acquire Data Domain, eclipsing NetApp's $1.5 billion offer for the target-based deduplication backup specialist fewer than two weeks ago. EMC paid $165 million for host-based deduplication vendor Avamar in 2006, and landing Data Domain will give it the two dedupe pioneers for just under $2 billion.

Download this free guide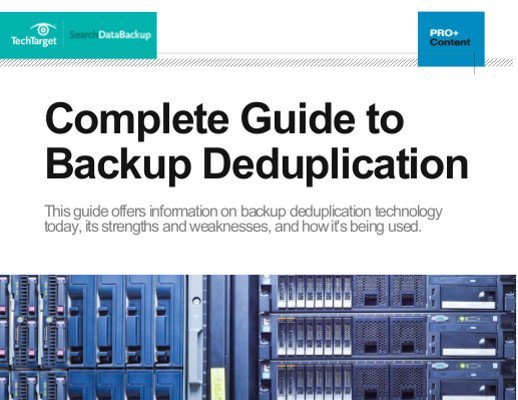 Free Download: Complete guide to backup deduplication
Access all of the 31 articles in our Data Deduplication Essential Guide by downloading our comprehensive PDF version so that you can access all of this expert content in one, easy-to-read resource.

By submitting your personal information, you agree that TechTarget and its partners may contact you regarding relevant content, products and special offers.

You also agree that your personal information may be transferred and processed in the United States, and that you have read and agree to the Terms of Use and the Privacy Policy.

EMC CEO Joe Tucci said his goal is to corner the market on deduplication by having the market leaders for both types of data backup and archiving dedupe. Data Domain's appliances are used for centralized backup, while Avamar is primarily used to back up data at remote offices and on laptop and desktop PCs.

"The company that figures out how to do source and target together is going to be a big winner," Tucci said today on a conference call to discuss the Data Domain bid. "By combining them and eventually having the source flow to target, you can really get to next generation of backup and archive."

EMC has licensed Quantum Corp.'s deduplication software on EMC Disk Library (EDL) hardware for approximately a year, but obviously considers Data Domain's deduplication superior to Quantum's.

Tucci said EMC would continue the EDL 4000 and add a bigger version, and he forecasts the combination of the Data Domain, Avamar, and EDL products to bring in $1 billion in revenue in 2010. "The DL 4000 is the largest product out there, and a kind of father for what is coming, which is bigger," he said. "We think we can make a nice family out of this."

He also said EMC would cooperate on development with other data backup software vendors if it acquires Data Domain. Data Domain's products work with all backup software, and it has a tight working relationship with Symantec Corp., chief competitor to EMC's NetWorker and Avamar backup products.

Like NetApp, EMC is proposing to keep Data Domain's management and make it a product division. But Tucci said EMC brings a larger global salesforce, more development resources and a superior track record with acquisitions than NetApp can offer.

"Look at our track record of integrating teams and meeting targets [after acquisitions]," he said. "I'll match that up against NetApp's any day."

NetApp still has one thing EMC doesn't – Data Domain's consent to the deal. Tucci sent a message to Data Domain employees during his Monday conference call – "I believe you'll love it here" – but says NetApp's pending deal has prevented him from talking directly to Data Domain management. EMC's offer is a tender deal to Data Domain shareholders.

Tucci denied EMC was making a defensive move to stop NetApp from getting Data Domain, but added "we've had our eye on Data Domain for some time. Obviously, somebody moved before we did."

Tucci also held out the possibility that Data Domain's technology could be used outside the data backup and archiving realms for some primary production workloads, although "I'm sure I'll be long retired before this will work on high-volume transaction processing workloads."

An EMC-Data Domain acquisition would be bad news for Quantum, which counts heavily on its OEM deal with EMC for deduplication revenue as well as its own hardware virtual tape library platform. Dell last year said it would also sell Quantum dedupe, but has yet to launch any products and Friday is expected to announce an extension of its OEM deal with CommVault for its Simpana software with dedupe.

Tucci said, "We will continue our relationship with Quantum," although that would likely be limited to its reselling of Quantum's tape if EMC buys Data Domain.

"This was a technology we wanted to own," he said of Data Domain. "We needed to own the target code base and product."

Data Domain declined comment on EMC's offer, and NetApp did not respond to a request to comment by press time.

Wikibon analyst Dave Vellante wrote in his blog that EMC's offer suggests Data Domain should have shopped itself around before agreeing to NetApp's terms.
Dig Deeper on Data reduction and deduplication