News
Stay informed about the latest enterprise technology news and product updates.
Acronis looks to scale data backup software to enterprise with Backup and Recovery 10
After focusing on SMBs for most of its history, Acronis has boosted scalability of its backup software by an order of magnitude; if they build it, will bigger shops come?
Acronis Inc. has rechristened its data backup application for businesses Backup and Recovery 10, and given it a new policy engine and data deduplication to try and bring it deeper into the enterprise.

Download this free guide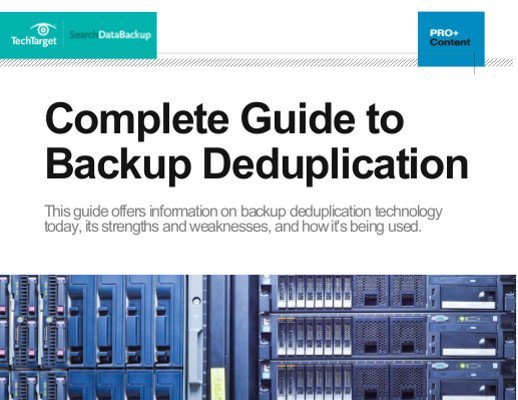 Free Download: Complete guide to backup deduplication
Access all of the 31 articles in our Data Deduplication Essential Guide by downloading our comprehensive PDF version so that you can access all of this expert content in one, easy-to-read resource.

By submitting your personal information, you agree that TechTarget and its partners may contact you regarding relevant content, products and special offers.

You also agree that your personal information may be transferred and processed in the United States, and that you have read and agree to the Terms of Use and the Privacy Policy.

Acronis is best known in the SMB/SME space for image-based bare-metal backups and restores of servers and PCs. The product that Backup and Recovery 10 replaces, Acronis True Image, represents 87% of the company's total revenue, Acronis CEO Jason Donahue said.

"Traditionally, 20 percent of our business has been in the consumer space," Donahue said. "Another 20 percent has been in the traditional enterprise, while the majority has been small to medium enterprises. Backup and Recovery 10 is replacing our SMB and enterprise suite of products, and is designed to address a wider market."

The existing enterprise version of True Image scaled to a maximum of 300 centrally managed nodes, including servers, workstations and laptops. With the new policy engine, refurbished algorithms and support for multicore processors in the new software, Backup and Recovery 10 can support 3,000 nodes.

Acronis is adding data deduplication

Backup and Recovery 10 is also adding new agentless support for Hyper-V and VMware virtual machines in an effort to boost its enterprise appeal. Finally, like several competitors in the enterprise backup space this year, Acronis is also adding support for data deduplication to disk in its software with this release.

Customers have the option of doing dedupe at the client or only on the backup target. Acronis is also offering a choice of file-level single instancing as well as block-level hash-based data deduplication.

Deduplication is a separately licensed add-on at a cost of 15 percent to 20 percent of the license per server or workstation. Customers can turn dedupe licensing on for all or part of the environment.

Enterprise Strategy Group analyst Lauren Whitehouse said licensing by server rather than physical or logical capacity could be a differentiator for Acronis. "Most vendors are more capacity-based in their pricing for dedupe," she said.

CA Inc. and IBM's Tivoli Storage Manager don't charge at all for the feature, but Whitehouse pointed out customers will see up-front costs to deploy data deduplication regardless. "The reality is you have to look at what type of system you're going to run the media server on to get the processing power for deduplication," she said. "There almost inevitably will be acquisition costs."

Acronis' pricing may be attractive, and the company has been proven in the market, growing from $0 to $128 million in revenue in the last six to eight years with a channel-only business model that has led to high margins. But Acronis isn't as well known in the data center as market leaders such as Symantec Corp. and EMC Corp., both of whom offer data deduplication in their backup software products. Symantec also preemptively announced earlier this week that its product most comparable to Acronis, Backup Exec, will add data deduplication later this year.

"They don't have any features their established counterparts aren't offering," Whitehouse said of Acronis. It takes "quite a bit of pain" for an enterprise to swap out backup software, and Symantec's deduplication announcement this week could prove a challenge for Acronis, she said. "I don't know if people are going to dump everything they have for a feature that will become available from their current provider in six months."
Dig Deeper on Data reduction and deduplication