News
Stay informed about the latest enterprise technology news and product updates.
EMC announces Retrospect 8.1 for Mac availability
Here's the latest data backup technology news: EMC announces Retrospect 8.1 for Mac availability; DS3 DataVaulting announces Data Lifecycle Management; FMS Solutions selects Secure2Disk online backup and recovery from SunGard; and more.
The following is a compilation of the latest data backup technology news.
EMC announces Retrospect 8.1 for Mac availability
EMC Corp. announced that EMC Retrospect 8.1, the company's data backup and recovery software for the Mac platform, is now available. Version 8.1 offers increased performance on Intel-based Macs, improvements to the new user interface introduced earlier this year in version 8.0, and now runs on PowerPC Macs, supporting organizations that use older Mac computers for their backups.

Download this free guide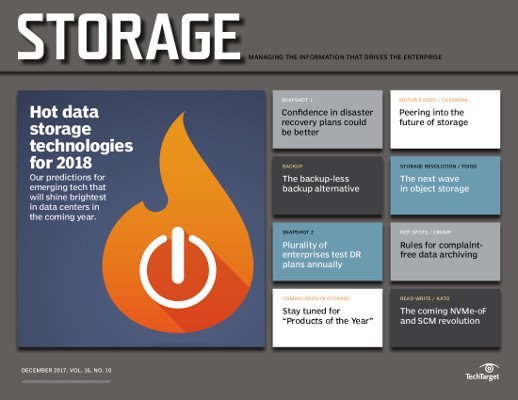 Snapshot of top 2018 backup tech: CDM, complaint-free archiving, ransomware detection vendors
The SearchStorage.com team names the most promising ransomware detection products, 4 rules for complaint-free archiving, how to use copy data management for effective recovery, and more. Download your e-zine copy here.
By submitting your personal information, you agree that TechTarget and its partners may contact you regarding relevant content, products and special offers.
You also agree that your personal information may be transferred and processed in the United States, and that you have read and agree to the Terms of Use and the Privacy Policy.
EMC Retrospect claims on average, users of Retrospect 8.1 on Intel-based Macs can expect to see local backup performance increase 10% to 15% over version 8.0 and 30% to 35% over version 6.1. Performance on PowerPC systems varies more with the power and speed of the processor, with faster, multiple G5 processor systems performing 10% to 15% better than with version 6.1.
Retrospect 8.1 has the following new features: a customizable user interface with remote management capabilities; disk-to-disk-to-disk (D2D2D) and disk-to-disk-to-tape (D2D2T) backups with point-in-time backup transfers between similar or different media types and disk grooming that removes out-of-date backup data to free up space; and certified AES-256 encryption of backup data.
EMC Retrospect 8.1 for Mac is available immediately as a free upgrade for owners of version 8.0.
DS3 DataVaulting announces Data Lifecycle Management
DS3 DataVaulting announced its Data Lifecycle Management (DLM) product, which gives organizations the ability to back up and restore data based on predetermined storage and recovery tiers. With DS3 Data Vaulting's DLM, data is categorized into three tiers: critical (integral to ongoing operations), important (valuable but not mission critical) or archival (required but not typically retrieved). With DS3's DLM product, all data is initially backed up online for fast, efficient backup and retrieval, moved to near-line disk-based storage after a period of time based on retention policies and finally transitioned to the offline archive storage tier. This migration of data reflects its declining value over time.
FMS Solutions selects Secure2Disk online backup and recovery from SunGard
FMS Solutions Inc., an accounting and consulting service provider to independent retail grocers, has selected SunGard Availability Services' Secure2Disk to provide online backup and recovery services. FMS is deploying SunGard's Secure2Disk to support critical business applications including accounting, payroll, reporting tools and email. SunGard will also provide recovery services for FMS' IBM iSeries and Intel servers, which will allow information to be restored to a SunGard recovery environment if an outage occurs.
InMage Systems presents disaster recovery for Linux environments at OpenSource World Conference and Expo
InMage Systems will exhibit its flagship InMage Scout software at OpenSource World Conference and Expo. InMage Scout is an application and data recovery platform that supports remote disaster recovery, local backup elimination, and application failover/failback at both remote and local sites. Built around block-based replication, InMage Scout also uses a WAN optimization technologies to minimize the amount of data that needs to be sent across WANs to enable recovery operations.
Tennis Channel selects Spectra Logic tape libraries
Spectra Logic announced that the Tennis Channel recently selected a Spectra T950 robotic tape library with six LTO-4 drives and 950 activated slots to store and protect 50 TB of video footage. Tennis Channel partitions the Spectra T950 into two virtual tape libraries, and conducts a full backup on weekends, with incremental backups on weekdays. The first, enterprise partition uses Symantec to back up the Windows environment using the two LTO-4 drives. The second XSAN partition uses BakBone NetVault software to back up Apple environment data.
Do you know have data backup news to share with us? Email the editors of SearchDataBackup.
Dig Deeper on Disk-based backup