News
Stay informed about the latest enterprise technology news and product updates.
Nexsan, FalconStor power data deduplication backup appliances
Nexsan and FalconStor combine on backup appliances that combine FalconStor's data deduplication software with Nexsan's disk spindown; with NAS interfaces, devices are targeted at EMC's Data Domain appliances.
Nexsan Technologies is teaming up with FalconStor Software on a data backup system with data deduplication and disk spindown that will compete with EMC Corp.'s Data Domain platform.

The Nexsan DeDupe SG consists of Nexsan SATABeast or SATABoy enterprise data storage systems with disk spindown and a server running FalconStor's File-interface Deduplication System (FDS) software. The network-attached storage (NAS) platform consists of six models ranging from 4 TB to 42 TB of usable capacity and ingest rates of 150 MBps to 750 MBps. They connect to servers through CIFS or NFS interfaces with either four or eight Gigabit Ethernet ports depending on the model.

Download this free guide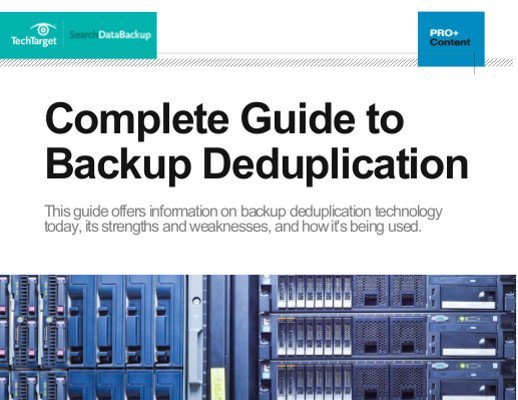 Free Download: Complete guide to backup deduplication
Access all of the 31 articles in our Data Deduplication Essential Guide by downloading our comprehensive PDF version so that you can access all of this expert content in one, easy-to-read resource.

By submitting your personal information, you agree that TechTarget and its partners may contact you regarding relevant content, products and special offers.

You also agree that your personal information may be transferred and processed in the United States, and that you have read and agree to the Terms of Use and the Privacy Policy.

Nexsan also offers a hosted backup option where backup software installs on the DeDupe SG node and moves data across the data bus instead of the LAN to eliminate the backup server.

Pricing begins at $49,000 for the entry-level 4 TB version.

The SG in the system's name stands for "Speed to Green," taking into account the spindown for energy savings. Nexsan's AutoMaid lets disk remain idle during the hours when it is not being used for backups. AutoMaid spindown lets customers set different levels of disk response times to save power.

MAID pioneer Copan Systems Inc. offers FalconStor deduplication on its hardware, but Copan uses FalconStor's first-generation Single Instance Restore (SIR) dedupe. Nexsan is shipping DeDupe SG with FDS, which includes replication for disaster recovery. FDS offers policy-based concurrent or post-process deduplication. Concurrent deduplication takes place while data is being backed up, and post-process dedupe happens after the backup completes.

Copan's systems are also used primarily with Fibre Channel virtual tape library (VTL) interfaces and aimed at higher end implementations.

"We're going from first generation to second generation dedupe, plus merging with energy efficiencies and green technology," Nexsan VP of marketing Bob Woolery said.

Disk spindown hasn't been a big seller -- Woolery said about one-third of Nexsan customers use it and other vendors say reaction has been lukewarm. But data deduplication is obviously a hot technology following EMC's $1.2 billion acquisition of Data Domain. Nexsan's systems are most similar to Data Domain's and built for midrange and small enterprise deployments.

"This is targeted to be a Data Domain killer," Enterprise Strategy Group senior analyst Lauren Whitehouse said. "Data Domain has a big 'X' on its back."

Killing Data Domain won't be easy. Others have tried, including EMC through a partnership with Quantum Corp. before it threw in the towel and bought its smaller rival. Data Domain established itself as the deduplication leader on its own, and now has the EMC marketing machine behind it.

Analysts said there may be a window for competitors to take advantage during the EMC-Data Domain transition.

"I'm sure Nexsan is going to take advantage of the confusion while EMC is digesting Data Domain," Whitehouse said. "There may be also customers who don't want to deal with EMC. Nexsan is also positioning its green capability -- the spindown."

Clipper Group director of enterprise systems Dave Reine agreed that Nexsan has a chance to win business with non-EMC customers.

"A lot of people like dealing with a smaller company," he said. "If you're an EMC customer to begin with, you'll probably stay with them. If not, Nexsan and FalconStor have a best of both worlds type of marriage -- FalconStor deduplication software running on a platform know for energy efficiency."
Dig Deeper on Data reduction and deduplication