News
Stay informed about the latest enterprise technology news and product updates.
Spectra Logic's BlueScale automates data replication across disk and tape with data deduplication
High-end tape library maker Spectra Logic updates its BlueScale management software to perform policy-based migration of data between disk and tape backup tiers.
Spectra Logic Corp. updated its BlueScale management software suite this week, adding the ability to migrate replicated data automatically between tiers of disk with data deduplication and physical tape.

Spectra Logic is best known for high-end physical tape libraries, but sells an nTier line of disk backup devices with FalconStor data deduplication under the covers. The company also integrates data backup software from Symantec Corp. into its management suite as a data mover, and supports the software for customers.

Download this free guide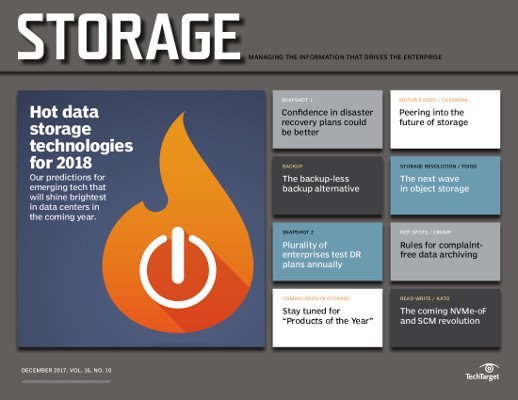 Snapshot of top 2018 backup tech: CDM, complaint-free archiving, ransomware detection vendors
The SearchStorage.com team names the most promising ransomware detection products, 4 rules for complaint-free archiving, how to use copy data management for effective recovery, and more. Download your e-zine copy here.

By submitting your personal information, you agree that TechTarget and its partners may contact you regarding relevant content, products and special offers.

You also agree that your personal information may be transferred and processed in the United States, and that you have read and agree to the Terms of Use and the Privacy Policy.

The new BlueScale 10.6 release lets users set policies that will automate the movement of data from primary storage, remote and branch offices to the disk repository, then to the physical tape library after a pre-set retention period.

"Before, the user would have had to configure all the boxes, and get the backup software involved," VP of marketing Molly Rector said. "Now they can set a single policy, for example, to have data from remote offices replicated four times daily to the data center, left in the deduplication repository for four weeks, and then copy it to tape after that, and it will happen automatically."

Analysts said the automatic migration across disk and tape is a differentiator for Spectra Logic in the data backup market. Other updates to BlueScale in this release, including the ability to add new capacity to nTier boxes and have it absorbed into the deduplication catalog, aren't unique among deduplication products, IDC analyst Robert Amatruda said.

BlueScale's Media Lifecycle Management (MLM), which reports on the health of tape cartridges and performs root-cause analysis on media errors, also has counterparts among competitors such as Quantum Corp. (based on the products it acquired from ADIC).

"There are others that have the individual capabilities [Spectra Logic is talking about], but the real value is in Spectra Logic being able to offer the features under the umbrella of the same management scheme, from a single pane of glass," Amatruda said.

While tape use is in decline, Rector said Spectra Logic serves a segment of customers at the high end who continue to use tape either because it's a familiar and stable technology or because their data sets are too large to store on disk given power and cooling requirements. "For those customers, we're working on making tape as reliable and easy to manage as disk," she said.

To that end, Spectra Logic is also adding the ability to keep a "hot spare" tape drive ready to automatically take over in case of a drive failure within its tape silos. "To the backup software, it looks like the drive went offline briefly," Rector said. "For libraries that are offsite or not easily reachable -- or in order to keep up with backup windows -- customers can fail over the drive and swap it out later."

Spectra Logic is also adding Hardware Lifecycle Management, which performs the same reporting on tape drives that MLM can do for tape cartridges within the library. MLM is also being updated to automatically report on new tapes when they are added to the library as a background process, rather than slowing down the library during a backup window to check the reporting information on a newly added drive.

Spectra Logic's competitors

Rector said IBM Corp. is Spectra Logic's top competitor, and the privately owned vendor is at a disadvantage against Big Blue when it comes to name recognition and mainframe integration. However, she sees new opportunities for an enterprise tape vendor as Sun Microsystem's StorageTek Powderhorn tape silos near the end of service.

StorageTek tape customers and resellers may also reconsider their tape vendor given the uncertain fate of Sun after it becomes part of Oracle Corp., said Illuminata analyst John Webster.

"Partners of Data Domain who may not quite be on board with the EMC acquisition also represent a potential opportunity for Spectra Logic," he said. "In order to get growth in this kind of market, you have to be predatory."

Spectra Logic claims it has been profitable for three years, but name recognition remains its biggest challenge, Webster added. "They haven't been all that marketing-oriented," he said. "They do have a name and a customer base, but I'm not sure they explained it well in the last couple of years."
Dig Deeper on Tape backup and tape libraries