News
Stay informed about the latest enterprise technology news and product updates.
BakBone phasing out virtual tape library, adds data deduplication with NetVault Backup 8.5
BakBone adds data deduplication to its NetVault Backup tool with SmartDisk, along with new encryption options.
BakBone Software Inc. will begin phasing out its software virtual tape library (VTL) in favor of its new SmartDisk plugin, which adds data deduplication to BakBone's NetVault Backup product.

SmartDisk is a software-based network-attached storage (NAS) interface into a disk-based data backup repository that also performs post-process data deduplication. It can be run inside the backup server, on a separate piece of storage hardware, or on a virtual machine supplied by the user.

Download this free guide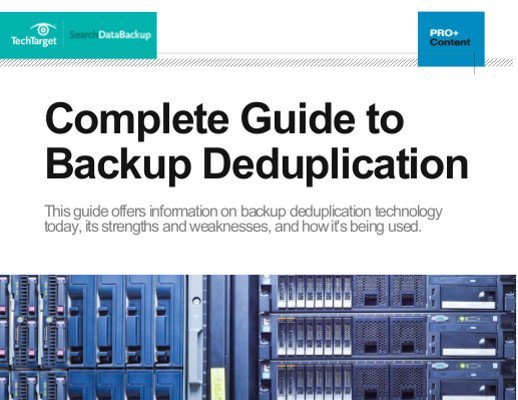 Free Download: Complete guide to backup deduplication
Access all of the 31 articles in our Data Deduplication Essential Guide by downloading our comprehensive PDF version so that you can access all of this expert content in one, easy-to-read resource.

By submitting your personal information, you agree that TechTarget and its partners may contact you regarding relevant content, products and special offers.

You also agree that your personal information may be transferred and processed in the United States, and that you have read and agree to the Terms of Use and the Privacy Policy.

The product will eventually replace BakBone's virtual tape library, according to product manager Dawn renee Campbell. "Over the next couple of releases, we'll be phasing out VTL and replacing it with SmartDisk," she said. Over the next three releases, which could take about two years to complete, customers will first have a choice between VTL and SmartDisk. The next major release will ship with SmartDisk but customers will have the option of buying VTL. In the third release, SmartDisk will be the only option.

BakBone is also planning to integrate SmartDisk more tightly with NetVault Backup over future releases, but also integrate the standalone SmartDisk offering with backup software from other vendors as part of BakBone's new Open Data Protection Platform strategy. The open data program will extend to heterogeneous access to other BakBone software.

SmartDisk includes job-level data deduplication settings, so customers can decide which data sets are to be deduplicated and which are not within the SmartDisk repository. Users can also set policies to deduplicate a primary copy of data and write a secondary copy to tape on the same data set.

Chris Stone, senior systems administrator for O'Reilly Media, said he plans to replace the virtual tape library with SmartDisk because provisioning SmartDisk will be less cumbersome than the VTL. "If you want to provision a VTL, it has to create the whole thing at once," he said. Provisioning a 1 TB VTL has taken as long as six hours in his environment. "This is running on a production backup server, and if you have to wait to build the VTL, that's time the server is offline," he said.

George Hirst, infrastructure engineer for marketing and advertising firm TracyLocke Inc., said he's looking forward to adding SmartDisk during his next budget cycle around the new year. "We plan on abandoning the VTL in favor of SmartDisk," he said. "It seems like a cleaner process, and as our backup needs have grown, we're not fitting all our data into the VTL anymore."

Hirst added that he'd like to see BakBone match CommVault Technologies Inc.'s support for dedupe to tape in Simpana 8. "If we could cut down on the number of tapes we have to pay to send offsite, that could save us some money," he said. "Things like that are the first things that get cut out of the budget."

NetVault Backup 8.5: new security options, support for VSS, new operating systems

NetVault Backup 8.5 also adds 256-bit encryption, along with new policy-based security options, so customers can dictate which jobs are encrypted and which should not be for offsite storage. They can set policies that a primary copy should be deduplicated and stored on disk without encryption, while a secondary copy should be written to tape encrypted.

NetVault Backup 8.5 will also include integration with Microsoft's Volume Shadow Copy Services (VSS) for application-consistent Hyper-V snapshots, and support for new operating systems including Windows 7, Windows Server 2008 R2, and Apple Inc.'s Macintosh Snow Leopard.

With this release, BakBone is keeping up with some of its competitors but isn't the first to add these features. "We all know, and it's been well publicized, that BakBone doesn't have the broad market presence or customer footprint some of the market leaders do," Enterprise Strategy Group analyst Lauren Whitehouse said. "But BakBone excels in certain use cases and markets, like Linux environments, small and midsized businesses, and the Asia-Pacific region."

Hirst said he's stayed with BakBone for more than three years because of its reliability. "We had been using another vendor I'd prefer not to name [before BakBone]," he said. "We'd try to restore tapes with that vendor, and tape after tape after tape would be corrupted. That has never happened to us with NetVault. In fact, we once had a set of tapes left outside in a garage over a hot weekend where it reached 100 degrees, and we were still able to recover them with BakBone."
Dig Deeper on Data reduction and deduplication