Data backup and recovery vendors dig into deduplication technology, aim for cloud backup
Symantec, CommVault, and FalconStor say data deduplication and the cloud drive their data backup roadmaps.
Data deduplication technology and cloud backup were hot topics of data backup and recovery vendors this week when they reported their earnings and discussed future product releases.

Symantec Corp., CommVault and FalconStor Software all spoke of initiatives in both those areas when discussing results and their 2010 roadmaps.

Symantec's storage and server management group reported an 8% revenue decline last quarter, but CEO Enrique Salem said data backup demand is strong as customers are still moving their backups from tape to disk.

Download this free guide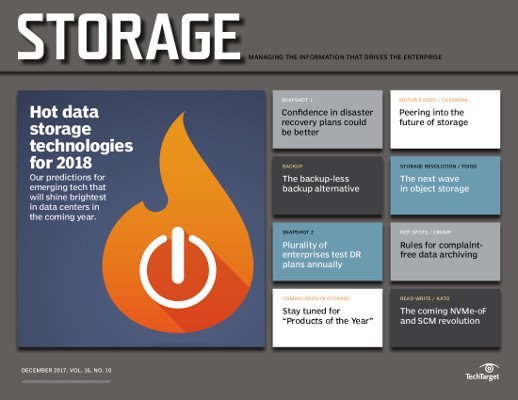 Snapshot of top 2018 backup tech: CDM, complaint-free archiving, ransomware detection vendors
The SearchStorage.com team names the most promising ransomware detection products, 4 rules for complaint-free archiving, how to use copy data management for effective recovery, and more. Download your e-zine copy here.

By submitting your personal information, you agree that TechTarget and its partners may contact you regarding relevant content, products and special offers.

You also agree that your personal information may be transferred and processed in the United States, and that you have read and agree to the Terms of Use and the Privacy Policy.

"We're continuing to see demand from customers based on the migration from tape to disk-based backup, and some of the new capabilities that we are going to be delivering," he said.

Those capabilities largely center on data deduplication. Symantec added deduplication for technology VMware and Oracle in its NetBackup PureDisk 6.6 that started shipping this month, and Salem said the next version of NetBackup will allow deduplication directly on the media server. The next upgrade to Backup Exec will also have integrated deduplication. Salem said NetBackup 7 for enterprises and Backup Exec 2010 for Windows are expected by the end of March.

Salem said Symantec is also pushing its backup services offerings by partnering with online data backup providers and pointed to the recently released FileStore clustered file system as a "scalable high-performance cloud storage solution."

CommVault says data deduplication sales growing

CommVault execs said deduplication was a big driver of its $66.7 million revenue last quarter, up 5.2% from last year and 10.6% from the previous quarter.

CommVault CEO Bob Hammer said his company added around 200 deduplication customers for Simpana 8 last quarter, bringing the total to more than 600 since it started shipping in January. "'We've overachieved our objectives there," Hammer said.

He said the main competition for deduplication is EMC Corp.'s Data Domain in data center accounts, and EMC Avamar in remote offices.

As with Symantec, CommVault is due for an upgrade of its core backup product in 2010. Simpana 9 is expected around mid-year, and Hammer said cloud capabilities will be a big part of the new release.

"People are trying to understand what the cloud is, and how they can deploy it on a practical basis," he said. "If you can solve security issues, ease access issues and enable new applications, there will be good demand for it."

He said Simpana 9 will include "significant enhancements to data management, including unique ways to move, search and mine data in the data center or remote locations, enhancements to deduplication, and the ability to manage CommVault data and other vendors' data in private or public clouds."

CommVault will also look to deliver archiving and e-discovery through the cloud, Hammer said.

FalconStor sees clearer dedupe picture

FalconStor's revenue of $21.5 million was down $3 million from the previous quarter and up 10% over last year. FalconStor CEO ReiJane Huai said the third quarter is traditionally slow for his company and revenue from an OEM deal with Sun Microsystems Inc. dropped $1.6 million because of uncertainty over the pending Oracle-Sun merger. Huai said several large deals were delayed and he expects them to close this quarter.

He laid out FalconStor's cloud strategy for backup and storage, consisting of the vendor's software moving data between physical pools of virtual and physical disk and tape. FalconStor executives said they have developed a new file system called HyperFS in collaboration with the Chinese Academy of Science to move data between off-the-shelf hardware.

"The cloud will provide a paradigm shift in data management," Huai said. "It will allow backup in minutes instead of hours or days. We can protect virtual machines in a heterogeneous fashion. That's the No. 1 issue in backup and data protection now. Traditional backup products were built without virtualization in mind."

FalconStor said while its revenue from software sold with Sun virtual tape libraries (VTLs) fell, its revenue from EMC increased 14% from the previous quarter and 16% from last year. FalconStor VP of business development Bernie Wu said that was because EMC's deduplication strategy changed after its $2.1 billion acquisition of Data Domain. EMC does not use FalconStor's deduplication, but does use its software for its Disk Library 4000 model.

Wu said instead of selling smaller Disk Libraries with Quantum Corp.'s data deduplication software, EMC is selling Data Domain deduplication appliances and using the 4000 strictly as a VTL with FalconStor software. He said this is creating less confusion with customers, and clears the way for FalconStor to benefit from EMC's pure VTL sales.

"EMC had been promoting several models of disk libraries, the 4000 powered by FalconStor and others powered by Quantum," Wu said. "Now that Data Domain is part of EMC, that whole other product line is being phased out. The distinction is much clearer now."
Dig Deeper on Disk-based backup