News
Stay informed about the latest enterprise technology news and product updates.
Arkeia takes aim at EMC Avamar with Kadena Systems data deduplication IP buy
Arkeia prepares to challenge EMC's Avamar by acquiring IP and engineering from Kadena Systems to add source-based data deduplication to its Network Backup software.
Arkeia Software has acquired intellectual property and engineering resources from Santa Clara, Calif-based Kadena Systems, which will add source-based data deduplication to Arkeia's Network Backup software.

Kadena, founded in 2003, had previously sold its Delta Backup data deduplication software to OEMs -- most notably SanDisk -- for use with Flash Drives. It also sold a version directly to end users called Pocket-Cache. Arkeia CEO Bill Evans said his company will no longer develop those products, and will soon reveal plans for offering support through a third party. Instead, Kadena's IP will be directly integrated into Arkeia's software.

Download this free guide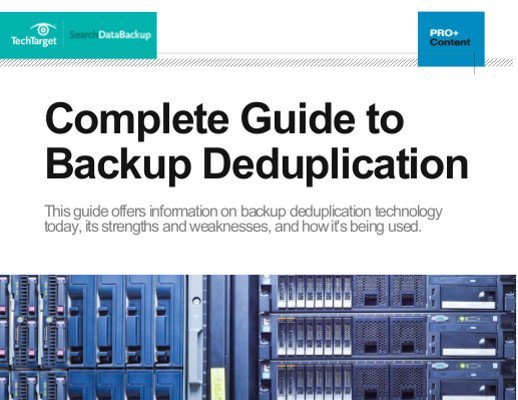 Free Download: Complete guide to backup deduplication
Access all of the 31 articles in our Data Deduplication Essential Guide by downloading our comprehensive PDF version so that you can access all of this expert content in one, easy-to-read resource.

By submitting your personal information, you agree that TechTarget and its partners may contact you regarding relevant content, products and special offers.

You also agree that your personal information may be transferred and processed in the United States, and that you have read and agree to the Terms of Use and the Privacy Policy.

Evans emphasized that Kadena has a different approach to block-based data deduplication than most of the products currently on the market, which use either fixed-block or variable-block approaches to identifying duplicate data. Kadena uses a sliding-window approach, which creates a different-sized "window" depending on the application being deduplicated. The software checks the data stream one byte at a time until it finds blocks that match what the application has seen before. Segments that don't fit into the window are zipped and sent to the central backup server. Segments that do fit are compared to known blocks using a scheme called "progressive matching," which calculates a relatively light checksum, then a heavier hash if the checksums still match the index. "The goal is to keep hashing calculations to a minimum," Evans said.

The Kadena/Arkeia combination will be positioned for virtual servers as well as remote and branch offices with Arkeia's centralized management features, bringing it into direct competition with EMC Corp.'s Avamar data deduplication software. One of the knocks frequently made by competitors on Avamar is that the transmissions it sends from client to backup server to determine block matches can cut into the bandwidth-reduction benefits of source-based data deduplication, though EMC insists this has not been an impediment to the product's scalability.

Evans said Arkeia will make Kadena's deduplication a part of its existing software without requiring add-on software or separate management of the feature, which means its existing customers can add source-based deduplication without swapping out data backup applications.

"What matters is the functionality, and that it be part of the backup solution," said Frank Basanta, director of technology for New York City-based Tristate Employment Services. Tristate has used Arkeia's EdgeFort appliances at its Manhattan headquarters and California secondary site for five years. Basanta said the chief advantage of adding data deduplication to the EdgeFort will be the ability to perform more operational restores of data from disk. "Deduplication is a key factor to keep the product in line with the competition, and I like the fact that it won't be bolted on," he said. "They're making it a part of the actual application."

Ken Baulderstone, president of Arkeia reseller Inovasoft Inc., agreed. "Quite frequently in the last 12 months or so [not having data deduplication] has been a problem in terms of responding to clients' requirements," he said. "How it works is not as big a deal, though in the long run, it does count if it reduces the amount of data you have to backup or reduces the time it takes to back up each branch [office]."

He'd also like to see the EdgeFort appliance offered in bigger sizes than 10 TB, but adding data deduplication is a start. "Customers are looking for more and more storage space," he said.

Keeping up with the Joneses for its existing customers and partners is one thing, but at this stage of the game it's unclear whether Arkeia will grab the attention of new customers with its data deduplication. Many established products are already on the market with data deduplication, although it has only been in recent months that data backup software vendors have begun adding data deduplication to their products.

"I think they still have a good opportunity," Forrester Research analyst Stephanie Balaouras said. "While the race for target-based deduplication is almost at the end and likely won, I think the market for source-based deduplication in backup software is still an open race -- although EMC Avamar does have a major lead."

Evans said Arkeia will not take most of Kadena's employees, except for some engineers and IP patent-holder Tamir Ram.
Dig Deeper on Data reduction and deduplication