News
Stay informed about the latest enterprise technology news and product updates.
HP expands laptop and desktop data backup with Data Protector Notebook Extension
Hewlett-Packard's Data Protector Notebook Extension uses continuous data protection to protect files on PCs, and lets users restore files without help from IT.
Hewlett-Packard (HP) Co. is extending Data Protector's data backup and recovery capabilities to files stored on corporate laptops and notebooks.

HP Data Protector Notebook Extension (DPNE) installs agents on client PCs to save files outside the data center. The agent creates a local repository on the computer and copies saved files there. When users connect to the corporate network, DPNE copies the changes to a central data vault. DPNE also includes a policy server that administrators can use to set user permissions, quotas and so on.

Download this free guide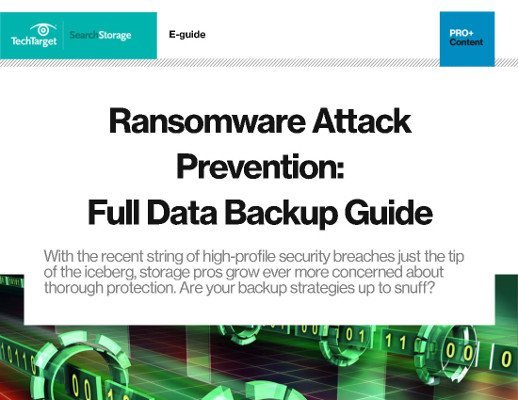 SearchStorage writers evaluate backup's role in ransomware detection
WannaCry, NotPetya, the list of dangerous ransomware viruses goes on and on, well beyond the most highly-publicized attacks. Use this guide to learn about the extent of the threat posed by ransomware, and bolster protection of your data, apps, and systems by using the backup strategies detailed within.

By submitting your personal information, you agree that TechTarget and its partners may contact you regarding relevant content, products and special offers.

You also agree that your personal information may be transferred and processed in the United States, and that you have read and agree to the Terms of Use and the Privacy Policy.

HP Data Protector Notebook Extension uses what HP calls continuous file protection -- actually continuous data protection (CDP) -- to save every change made to a file. Users can choose to use periodic snapshots instead of continuous protection.

Users can also restore their own files, and those using the continuous file method can go back to previous versions of files. Shari Cravens, product marketing manager for HP data protection, said DPNE deduplicates, encrypts and compresses data when saving it.

As critical information stored on laptops grow, data backup vendors are increasingly concentrating on that market. EMC Avamar added notebook and desktop support when upgrading the product this week. This capability isn't new -- data backup software such as IBM Corp.'s Tivoli CDP for Files, Symantec Corp. Veritas NetBackup's Desktop and Laptop option (DLO) and CA ARCserve Backup for Laptops and Desktops have been available for years. But that doesn't mean organizations are widely implementing backup products for PCs.

Laptop and PC data backup increasing, but still a way to go

"There's a couple of ways a company can go when it wants to back up laptops or PCs," IDC analyst Laura Dubois said. "They can use a laptop agent, they can use a point solution completely apart from their server backup, or back up online. The last few years we've seen an uptick in centralized backup for laptops and desktops but there's still a long way to go."

Dubois said a recent IDC survey showed barely half of organizations use a dedicated software or service to back up business data on PCs.

Roswell Park Cancer Institute in Buffalo, N.Y. recently installed Data Protector to back up about 20 TB a day, and is testing the Notebook Extension feature. Roswell Park uses HP medical archiving systems, EVA storage, VLS 9000 virtual tape libraries (VTLs) and tape drives, and network systems specialist John Ferguson said he switched to HP's backup app from NetBackup.

Ferguson said he has approximately 5,000 users on his campus who store research and business data on desktops and laptops. He said the notebook feature "fills an issue we have here with critical data on laptops and desktops."

Ferguson said the cancer center gave users the responsibility to copy files from their computers to network drives, but they often neglected to do so.

"People tend to say, 'Once I'm done with it, I'll back it up to the network' and don't do it," he said. "Working copies would not get backed up and we were exposed to lost data."

Ferguson said Data Protector Notebook Extension is easy for his users to handle, and he finds the continuous file protection especially valuable. "That's the part I really like," he said. "I can go back a couple of versions and pull back information."

Ferguson also likes the self-restore feature for users. "This lets them do it on their own without having to bother the help desk, which is a big plus," he said.

He said he hasn't noticed any performance impact, although "it's still early."

DPNE will start shipping this month. A 100-client license for Data Protector customers costs $2,500 and a 1,000-license bundle is $20,000. HP will also offer a DPNE bundle for non-Data Protector customers that includes a Data Protector backup server, starting at $3,500 for a 100-client license.
Dig Deeper on Remote data protection