News
Stay informed about the latest enterprise technology news and product updates.
Secure-24 switches to EMC virtual tape library -- sans data deduplication
Managed hosting provider Secure-24 considered data deduplication unnecessary when installing an EMC Disk Library 4200 to handle rapidly growing backup demands.
Data deduplication isn't always the best option for virtual tape libraries (VTLs) – at least not according to one hosting company that recently revamped its data backup and recovery environment.

Secure-24, a managed hosting company for critical ERP applications such as Oracle and SAP, installed an EMC Corp. Disk Library (EDL) 4200 VTL last summer after determining the type of data the company handles and the speed it requires for backups made a Fibre Channel interface without dedupe the best choice.

Download this free guide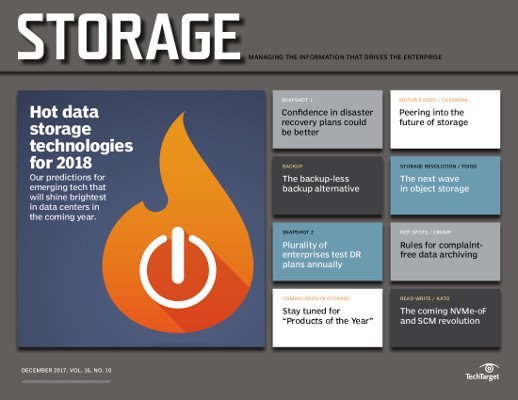 Snapshot of top 2018 backup tech: CDM, complaint-free archiving, ransomware detection vendors
The SearchStorage.com team names the most promising ransomware detection products, 4 rules for complaint-free archiving, how to use copy data management for effective recovery, and more. Download your e-zine copy here.

By submitting your personal information, you agree that TechTarget and its partners may contact you regarding relevant content, products and special offers.

You also agree that your personal information may be transferred and processed in the United States, and that you have read and agree to the Terms of Use and the Privacy Policy.

Secure-24's Chief Operating Officer Volker Straub said Secure-24 has 120 employees with three data centers in the Midwest and one in Phoenix. The hosting company opened a $5 million 18,000-square foot data center in Plymouth, Mich., in April because of rapid expansion and quickly moved to improve its backup flow. Straub said Secure-24 strives to make backups seamless for customers, mostly midsized companies who let Secure-24 handle mission-critical applications.

"Our clients access the application; they don't touch the backup environment," he said. "We manage the entire backup process for them."

Scott McIsaac, Secure-24's storage Lead, said the company has about 250 TB of EMC Clariion and 100 TB of NetApp FAS storage. When it came time to add a virtual tape library for the new data center in June, Secure-24 did a bakeoff between an EDL 4200 and NetApp VTL 1400. McIsaac said a major factor in the final decision was that Secure-24 uses EMC NetWorker backup software, and it integrated better with the EDL 4000. "The interface was more robust, we could do more reporting from it," he said. "We could see how much we backed up throughout the night. Once we create virtual tape libraries, we have very little management to do."

Secure-24 installed an EDL 4200 with 250 TB of raw capacity (500 TB compressed). Before switching to the VTL, Secure-24 did nightly disk-to-disk backups, then moved the data to a Quantum Scalar i500 LTO-4 tape library sold by Dell. "We felt we needed a more scalable facility to grow to what we're backing up now," McIsaac said.

What Secure-24 didn't need was dedupe. Secure-24 switched to a VTL before EMC acquired Data Domain and its line of deduplication backup devices. EMC sold Quantum Corp. dedupe software with its smaller EDL models, but the EDL 4200 lacked built-in deduplication – Secure-24 would have had to use an EDL 3D VTL behind the 4200 to get dedupe. McIsaac thought the tradeoff of no dedupe was worth it because he wanted a Fibre Channel interface for backups, and he didn't think dedupe would help him that much anyway.

"We hold a lot of database backups, Exchange, Oracle, SQL, and that data doesn't dedupe well," he said. "I wanted to stay with Fibre Channel, it's a tried and true solution. We didn't want to risk any network failure. The VTL has increased performance quite a bit; we do backups within eight hours now."

He said switching to the VTL reduced Secure-24's backup time by 43 percent despite a significant increase in the amount of data being backed up. McIsaac said Secure-24 will probably take a look at a Data Domain array now that EMC owns it, but he doesn't expect to make any changes any time soon.

"The challenge we have with deduplication is the processing power required," he said. "With the amount of throughput we have to throw into this VTL, it didn't make sense to bring in deduplication."

Tape is still involved in the backup process. Secure-24 backs up its customers' data to the new data center and ships tape to another facility. It doesn't send tapes out to a third-party company like Iron Mountain. McIsaac said Secure-24 plans to eventually replicate virtual tape library data between data centers, which would allow it to reduce its use of tape although "we're always going to use some tape" for disaster recovery.
Dig Deeper on Disk-based backup