News
Stay informed about the latest enterprise technology news and product updates.
Data backup and recovery briefs: Dmailer announces new backup software: Dmailer Backup v 2.9
This week's news in brief: Dmailer announces new version of backup software: Dmailer Backup v 2.9; Laserfiche and FileTek team up to create email archiving product.
The following is a compilation of the latest data backup technology and recovery news.
Dmailer announces new version of backup software: Dmailer Backup v 2.9
Dmailer announced a new version of its data backup software, Dmailer Backup v 2.9. The latest version of Dmailer Backup comes with the new Lexar Echo SE and ZE USB flash drives, as well as the online storage service, Dmailer Online, which allows users to back up their data to a remote server. Additional features include a new software utility, Dmailer Backup Manager, which allows users to back up data each time their computer is turned on, as well as a Cross-Platform Restore, which allows users in mixed PC and Mac environments to back up and restore data without installing additional software.

Download this free guide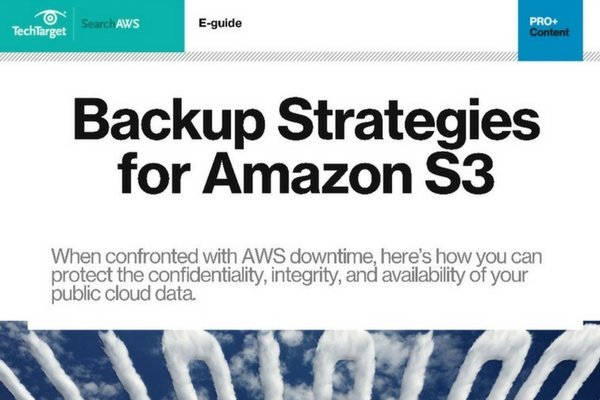 Amazon S3 in the spotlight: Your 34-page backup guide
In this guide curated by the SearchAWS.com editors, you'll evaluate and overcome the DR tradeoffs associated with Amazon S3, with guidance on solidifying an AWS backup plan and securing S3 buckets. Download your copy now.
By submitting your personal information, you agree that TechTarget and its partners may contact you regarding relevant content, products and special offers.
You also agree that your personal information may be transferred and processed in the United States, and that you have read and agree to the Terms of Use and the Privacy Policy.
Dmailer Backup v 2.9 is priced at $25.95. Pricing for online plans of Dmailer start at $5.99 a year for 3 GB, $34.99 for 30 GB and $69.99 for unlimited storage.
Laserfiche and FileTek team up to create email archiving product
Laserfiche and FileTek Inc. announced that they have teamed up to create a new email archiving product for LaserFiche: Trusted Edge Intelligent Email Archive. Trusted Edge has three main features: email classification, archive workflows and automated records declaration. Additional features include Microsoft Outlook and Lotus Notes integration for transparent mailbox management, message classification, full audits and reporting and Microsoft SharePoint archiving capabilities.
Integrated Document Technologies joins ProStor Systems' reseller program
Integrated Document Technologies Inc. (IDT) announced that it is now an authorized reseller for ProStor Systems, and that it will add ProStor InfiniVault to its product offerings. ProStor InfiniVault offers long-term data storage of digital information; one of its features is an RDX removable disk interface, a widespread technology across many hardware manufacturers.
Digi-Data launches Telefonica's terabox service
Digi-Data Corp. launched a terabox service for Telefonica, a large telecommunications provider. The terabox service, compatible with both Windows and Mac operating systems, enables customers to store, share, back up, organize and access documents and files anywhere with an Internet connection.
Lexar Media launches flash-based data backup drives
Lexar Media announced the launch of two new flash-based data backup drives, Lexar Echo SE and Lexar Echo ZE. The Echo SE reads data up to 28 MB/s and writes speeds up to 10 MB/s. The software backs up a history of files and has the option to incorporate AES 128-bit encryption, which protects data in case of a drive loss.
The Echo SE is available in capacities of 16 GB, 32 GB and 64 GB. The Echo ZE is available in 8 GB, 16 GB and 32 GB.
CloudBerry Lab releases CloudBerry Backup v. 1.3 for online backup to Amazon S3
CloudBerry Lab released CloudBerry Backup version 1.3, a backup and recovery product that lets users back up their data online to an Amazon S3 account. The Amazon S3 account acts as a small online data storage space, keeping backed up data secure. Pricing starts at $29.99 for a single user.
Do you have data backup and recovery news to share with us? Email the editors of SearchDataBackup.
Dig Deeper on Backup and recovery software