News
Stay informed about the latest enterprise technology news and product updates.
NetApp discontinues development on NearStore virtual tape library
NetApp confirms it has stopped development on its NearStore VTL. Analysts say it's now up to NetApp to partner or acquire a new data deduplication backup partner after failing to land Data Domain last year.
NetApp Inc. has discontinued product development on its NearStore virtual tape library (VTL), fueling speculation that the vendor is looking for a data deduplication data backup partner after failing in its attempt to buy Data Domain last year.

In response to request for comment on NearStore's status, Jay Kidd, senior vice president of NetApp's Storage Solutions Group, confirmed the VTL has been put on mothballs.

Download this free guide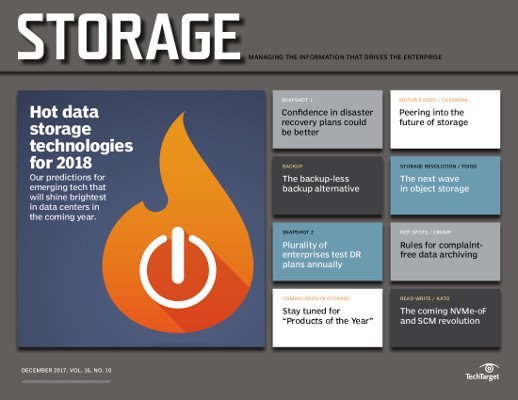 Snapshot of top 2018 backup tech: CDM, complaint-free archiving, ransomware detection vendors
The SearchStorage.com team names the most promising ransomware detection products, 4 rules for complaint-free archiving, how to use copy data management for effective recovery, and more. Download your e-zine copy here.

By submitting your personal information, you agree that TechTarget and its partners may contact you regarding relevant content, products and special offers.

You also agree that your personal information may be transferred and processed in the United States, and that you have read and agree to the Terms of Use and the Privacy Policy.

"NetApp decided to adjust investment in its NetApp VTL product line to better align resources to market opportunities and demands," Kidd said in a statement sent to SearchDataBackup.com. "We shifted some of the resources from our NetApp VTL development organization toward technologies that best serve our customer base and market demand such as virtualization and ITaaS [IT as a service] solutions. Therefore, our current investment in NetApp VTL is focused on helping our current customers be successful in their existing deployments and implementations.

Kidd added that NetApp's VTL remains on the price list and is available through NetApp and its resellers, but NetApp did not respond to follow-up questions about how long the product will remain available, or whether there is a plan in place for its end of life. NetApp disbanded its NearStore team last year.

NetApp launched NearStore in 2006 based on technology gained by acquiring Alacritus the previous year. Although NetApp has offered deduplication for primary data on its storage arrays since 2007, it didn't include dedupe with its VTL until 2008 – well after most of its competitors. NearStore VTL also fell behind the rest of the market in other features such as distance replication.

Industry experts expected NetApp to discontinue NearStore last year if it acquired Data Domain.

"I only had two instances in all my [end user] inquiries last year where the NearStore VTL showed up," Gartner, Inc. analyst Dave Russell said.

That wasn't the case in the early days of NearStore, he added. "When they first came out with it, the NearStore VTL was pretty compelling and hurting EMC," Russell said. "[NetApp was] first to market with the Hifn compression card, for example."

No NearStore virtual tape library, no Data Domain: What's next?

NetApp tried to expand its backup business by acquiring dedupe market leader Data Domain last year. NetApp made an initial offer of $1.5 billion, but EMC outbid its rival and grabbed Data Domain for $2.1 billion. After it lost Data Domain, many industry experts predicted NetApp would go after another vendor to expand its business but that hasn't happened.

"Nothing's ever going to be as good for them as Data Domain would've been," Wikibon analyst David Vellante said. "There are technologies out there, but none of them are the size of Data Domain or growing as fast."

NetApp still has some options to fill gaps in its disk-based backup and data deduplication portfolio.

Quantum Corp., which lost its OEM deal with EMC after EMC bought Data Domain, is open to new OEM partners. Quantum CEO Rick Belluzzo last week said Quantum has one new OEM signed up and is talking to other prospective partners. Fujitsu is believed to be the OEM partner Belluzzo referred to last week, because Fujitsu added deduplication to its Eternus data protection appliances on the same day as Quantum disclosed it had a new partner. But industry sources say NetApp and Quantum are still considering an OEM partnership, despite Quantum's recent launch of a DXi 6500 midrange NAS platform that is competitive with NetApp.

Other possible deduplication backup partners include IBM Corp., Symantec Corp., FalconStor Software, CommVault Technologies, ExaGrid, Sepaton and Arkeia Software. Some of the smaller vendors have been mentioned as possible NetApp acquisition targets.

"They have to have a vision for bringing deduplication to enterprise customers," said Taneja Group senior analyst Jeff Boles said of NetApp. "The question remaining is what's out there that's the right fit for NetApp – it has to cross the needs of multiple sizes of customer, from the SMB all the way to the enterprise."

Gartner's Russell said it's more likely that NetApp would find a dedupe partner than to acquire a deduplication vendor. "As a stopgap, they could do a meet in the field type of partnership [for data deduplication]," Russell said. "All this talk about how they could go buy Falconstor or Sepaton, I just don't see why they should spend a whole lot of money to buy yet another technology for something they already weren't selling."

Russell suggested NetApp could strike a deal to sell IBM's Diligent ProtecTier VTL with deduplication. IBM rebrands NetApp's product line as its NAS portfolio, so the vendors already have a relationship.

"That would be an easy way for them to make nice with IBM, and they ultimately probably have to have some kind of transition plan," he said.

Vellante said NetApp should forget about backup deduplication altogether. "I'd look to skate to the puck if I were NetApp," he said. "Another one of their strategies has been all about integrating storage with VMware. I'd bet the farm on virtualization and look to technologies in that space."

Boles added: "I have no doubt that this dimension of NetApp's problem is something EMC paid full attention to when it bought Data Domain."
Dig Deeper on Disk-based backup