News
Stay informed about the latest enterprise technology news and product updates.
Data backup and recovery briefs: Arkeia Software introduces Arkeia Network Backup version 8.2
This week's data backup and recovery news in brief: Arkeia Software introduces Arkeia Network Backup v8.2; Altaire selects CloudLinux OS for its shared servers and more.
The following is a compilation of the latest data backup technology and recovery news.
Arkeia Software introduces Arkeia Network Backup version 8.2
Arkeia Software announced the release of a new product, Arkeia Network Backup version 8.2, which has new agents for data backup and recovery of VMware and Microsoft Hyper-V virtual environments, new VSS-based agents for Microsoft Exchange, SharePoint and SQL, as well as new Novell and NetWare agents for Novell GroupWise, eDirectory and iFolder.

Download this free guide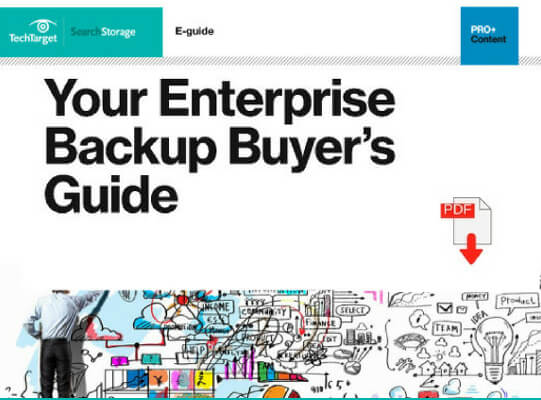 ATTN: Which backup software is right for your business?
"Do I still need an enterprise-level backup software app? How can I prepare for the top challenges I may encounter when buying restore software? Which products should be on my radar?" You'll find the answers to these queries and more, in this free, downloadable PDF.
The new agent for Hyper-V performs hot backups and recoveries of multiple Hyper-V virtual machines without requiring a backup agent to be installed on each virtual machine. An agent can also consolidate the management of several virtual machines (VMs). The VSS-based agents let Arkeia to capture snapshots of data without interrupting the operation of mission-critical applications or databases. And with these snapshots, Akreia can then perform both full and incremental backups of data. And with the Novell agents, the SMS interface can perform hot backups of Novell file systems and applications as well as forward and backward compatibility for data backup and recovery operations on Novell platforms.
Arkeia Network Backup version 8.2 is due to be available in April 2010 with prices starting at $800 for one backup server license.
Crossroads releases ReadVerify Appliance 3.1, offering centralized management of tape storage environments
Crossroads Systems Inc. announced the release of ReadVerify Appliance 3.1, the latest version of its tape backup monitoring product. The ReadVerify Appliance allows storage administrators to monitor, manage and optimize the performance and utilization of their tape storage environments. Version 3.1 now offers the ability to monitor multiple libraries from a single point of view within the same data center, or centralized management. ReadVerify Appliance 3.1 also offers Web-based access to storage administrators to they can manage their tape libraries and drives. Additional features include reduced tape media waste and added assistance with migration strategies.
Altaire selects CloudLinux Operating System for its shared servers
CloudLinux Inc. announced that Altaire has selected its CloudLinux Operating System (OS) to improve the density on its shared servers, and will offer the CloudLinux OS as an option for its shared servers. Altaire is a U.K.-based data center operator and managed hosting provider. They chose CloudLinux because of its Lightweight Virtual Environment that optimizes the number of users on a server while also maintaining a high level of server stability.
Spectra Logic has record-setting quarter for disk backup and data deduplication appliances
Spectra Logic announced that it had a record-setting quarter for its disk-based backup and data deduplication appliances. Some of the products that did well this past quarter from Spectra Logic include Spectra T-Finity, a high capacity tape library, their disk-based nTier data backup and deduplication appliance and the Spectra T950.
Do you have data backup and recovery news to share with us? Email the editors of SearchDataBackup.com.

Dig Deeper on Tape backup and tape libraries