News
Stay informed about the latest enterprise technology news and product updates.
Sepaton brings out smaller virtual tape library with data dedupe, supports EMC NetWorker
Sepaton aims to become more competitive with EMC's Data Domain in small enterprise and larger midrange accounts with a dual node virtual tape library bundled with data deduplication.
Sepaton Inc. today launched a virtual tape library (VTL) bundled with data deduplication for smaller businesses, as well as upgrades to its data dedupe and replication software.

The new S2100-MS2 is a rack-ready dual node system that scales from 30 TB to 160 TB of usable capacity and can be upgraded in the field to Sepaton's large enterprise S2100-ES2 virtual tape library (which scales to six nodes and 1.6 PB). Sepaton claims an ingest speed of 1,200 MBps. Sepaton is also adding support for EMC Corp. NetWorker data backup and recovery software to its DeltaStor 5.3 dedupe application and enhanced reporting and better bandwidth efficiency to its DeltaRemote 5.3 replication product. DeltaRemote now also supports six nodes.

Download this free guide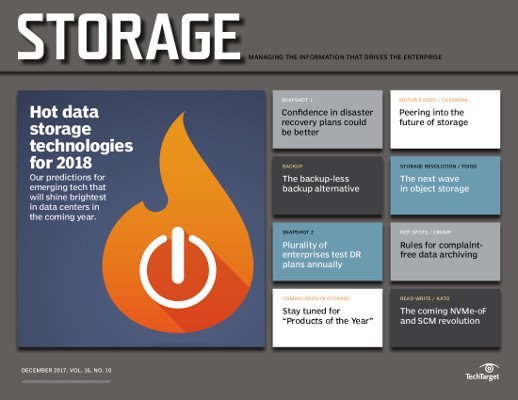 Snapshot of top 2018 backup tech: CDM, complaint-free archiving, ransomware detection vendors
The SearchStorage.com team names the most promising ransomware detection products, 4 rules for complaint-free archiving, how to use copy data management for effective recovery, and more. Download your e-zine copy here.

By submitting your personal information, you agree that TechTarget and its partners may contact you regarding relevant content, products and special offers.

You also agree that your personal information may be transferred and processed in the United States, and that you have read and agree to the Terms of Use and the Privacy Policy.

Pricing for the S2100-MS2 starts at $321,000 for 30 TB, including the DeltaStor license. DeltaRemote licensing starts at $11,000 per node. The new versions of DeltaStor and DeltaRemote are also available as an option for the S2100-ES2 enterprise VTLs.

The S2100-MS supports dedupe across two nodes. Sepaton said the system can provide dedupe for midsized enterprises hampered by scalability limitations of single-node systems, a poke at EMC's Data Domain deduplication devices. Data Domain systems do not handle global deduplication across nodes, although EMC's president of its backup and recovery division Frank Slootman said support for data dedupe over two nodes will be available with the next Data Domain product release this year.

Sepaton marketing VP Jay Kramer said Data Domain was mostly in midrange accounts before EMC acquired it last summer, but now has become more of a competitor to Sepaton in the enterprise under EMC.

"We used to say if Data Domain and Sepaton were in the same account, one of us probably didn't belong there," Kramer. "But EMC is pushing Data Domain to its enterprise customer base."

Data Domain is the market leader for data dedupe backup targets. Data Domain averaged more than $80 million in quarterly revenue during its last year as an independent company, and EMC said Data Domain sales have increased more than 40% since the acquisition.

Taneja Group analyst Christine Taylor said the lines are blurring between the two vendors' markets.

"Data Domain has never been as dedicated to SMBs and the midrange markets as Sepaton says, and Sepaton has never been so fully committed to large enterprises that it can't move down," she said. "But there are good reasons they appeal to different markets. Sepaton has a global [deduplication] index. Data Domain has the speeds, but not the global index. I don't believe Data Domain is as scalable as Sepaton. You can put in multiple controllers for Data Domain, but it lacks global dedupe and the grid architecture that Sepaton is built on. It's a question of scalability, global indexing and load balance – will Data Domain be able to do the trick?"

Taylor said if Sepaton wants to compete effectively in the midrange and smaller enterprises, it will need support for network-attached storage (NAS) protocols instead of just serving as a Fibre Channel virtual tape library. Most Data Domain systems are sold with NAS interfaces.

"Adding CIFS and NFS support will be vital for Sepaton," she said. "That's the big thing they'll need for the midrange. They're also still expensive for a lot of the midrange. Sepaton 's revenue model has always been to get customers to pay good money for advanced and scalable VTLs. But EMC doesn't sell at cut-rate prices either."

Kramer said Sepaton has a NAS interface on its roadmap. "Part of our long-term strategy is to enhance our products with additional protocols and file types to address any kind of customer backup scenario," Kramer said. "[NAS] would be a direction where we're going, but we're not announcing anything today."

NetWorker customers now can dedupe with Sepaton

One Sepaton customer that uses NetWorker for backup said she's just happy she can use Sepaton's dedupe now. The American Institute of Physics (AIP) has been a Sepaton customer since 2006, upgrading from 17 TB to 45 TB on its virtual tape library as its data capacity continues to grow, according to manager of business continuity and computer operations Stephanie Finnegan.

Melville, NY-based AIP couldn't use DeltaStor until version 5.3 because it only supported Hewlett-Packard (HP) Co. Data Protector, IBM Corp. Tivoli Storage Manager and Symantec Corp. NetBackup.

"The timing couldn't be better," Finnegan said. "When we got the call [that Sepaton now supports NetWorker], I was thrilled. Instead of increasing capacity in another six months, I'm hoping to get a lot more life out of the 45 TB of have now."

She said AIP has about 500 internal users and over the past year has added about 120 TB of storage a month, up from about 80 TB a month before that. She's hoping for a 25:1 data dedupe ratio, with most of the reduction on Oracle and Microsoft SQL Server databases, Exchange and file servers.
Dig Deeper on Disk-based backup