News
Stay informed about the latest enterprise technology news and product updates.
Data backup and recovery briefs: NovaStor launches SaaS portal for online data backup
This week's data backup and recovery news in brief: NovaStor launches SaaS portal for online data backup; Imation extends its RDX license agreement with ProStor Systems and more.
The following is a compilation of the latest data backup technology and recovery news.
NovaStor launches Storageline.com, a SaaS connection portal for online data backup
NovaStor launched a Storage-as-a-Service (SaaS) portal for online data backups, Storageline.com. Storageline.com is geared towards end users who need data protection that offers free local data backup. Storageline.com also includes a connection to the online data storage provider of the customer's choice -- storage providers are screened and certified before being admitted to the Storageline Service Provider Network.

Download this free guide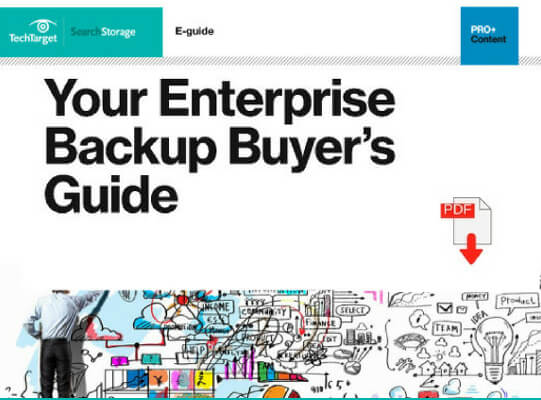 Which backup software is right for your business?
"Do I still need an enterprise-level backup software app? How can I prepare for the top challenges I may encounter when buying restore software? Which products should be on my radar?" You'll find the answers to these queries and more, in this free, downloadable PDF.
Biomedical research company reports that it relies on Spectra Logic tape libraries for data backup
Spectra Logic announced that a biomedical research company, Switzerland-based Friedrich Miescher Institute for Biomedical Research (FMI), relies on two Spectra T950 tape libraries for data archiving and backups. As a biomedical research company, FMI can produce up to 10 TB of data every week, so they chose the Spectra T950 tape library to archive data automatically from disk-based primary storage. They then implemented the second tape library at their disaster recovery (DR) site for additional data protection.
Buffalo Technology announces new partnership with NovaStor
Buffalo Technology recently announced a new partnership with NovaStor. The two companies teamed up in order to bundle together some of their most popular products: NovaBACKUP data protection software and the entire portfolio of Buffalo's network-attached storage (NAS) products (LinkStation and TeraStation). NovaBACKUP is due to be offered on all TeraStation and LinkStation products beginning in May, 2010.
Proxure Inc. introduces KeepVault Key, creating automatic offsite data backup of USB and flash memory cards
Proxure Inc. expanded its KeepVault online backup product by introducing the KeepVault Key, which automatically backs up a USB or flash memory card's data to an online data storage account. KeepVault Key can be configured to sync selected files from a USB drive or flash memory card to a PC or online service, which eliminates the need to upload content manually. It also comes with 128-bit AES encryption for safe data transfers. Online data storage accounts that KeepVault offers range in size from 40 GB to several terabytes.
Imation extends its RDX license agreement with ProStor Systems
Imation Corp. announced that it has extended its RDX license agreement with ProStor Systems. Under the extended license, Imation has the rights to market and sell RDX removable hard disk systems through 2020. Imation also announced that it has invested $5 million to help advance ProStor's technology.
RDX removable hard disk drive cartridges offer data protection, data security and expandable storage. They're available in 160 GB, 320 GB, 500 GB and 640 GB capacities. It also comes with 256-bit AES encryption.
ProStor's InfiniVault is a data storage management and retention storage system that integrates RDX hard disk drives to provide online, offline and offsite data storage. RDX and InfiniVault are available through authorized distributors.
Do you have data backup and recovery news to share with us? Email the editors of SearchDataBackup.com.
Dig Deeper on Tape backup and tape libraries