News
Stay informed about the latest enterprise technology news and product updates.
Data backup and recovery briefs: Imation to ship LTO-5 tape cartridges
This week's data backup and recovery news in brief: Imation to ship LTO-5 tape cartridges; Fujifilm begins LTO Ultrium Generation 5 production and more.
The following is a compilation of the latest data backup technology and recovery news.
Imation to ship LTO-5 tape cartridges
Imation Corp. announced that it will begin shipping its Imation Linear-Tape Open (LTO) Ultrium Generation 5 tape cartridges, which will offer nearly double the storage capacity as well as increased data transfer rates and a new partitioning functionality.

Download this free guide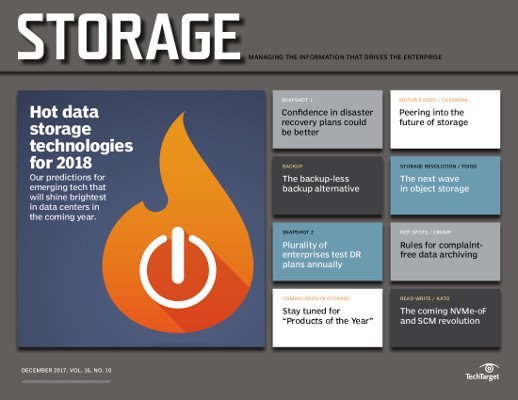 Snapshot of top 2018 backup tech: CDM, complaint-free archiving, ransomware detection vendors
The SearchStorage.com team names the most promising ransomware detection products, 4 rules for complaint-free archiving, how to use copy data management for effective recovery, and more. Download your e-zine copy here.
By submitting your personal information, you agree that TechTarget and its partners may contact you regarding relevant content, products and special offers.
You also agree that your personal information may be transferred and processed in the United States, and that you have read and agree to the Terms of Use and the Privacy Policy.
Features specific to Imation Ultrium LTO-5 include TeraAngstrom technology, servo-writing technology, a patented corner snap and three-piece tape spool. Imation says these features give added protection and make the tape cartridges smoother, more reliable and may give the tapes a longer life.
Fujifilm begins LTO Ultrium Generation 5 production
Fujifilm Corp. announced that it will be one of the first manufacturers to be certified by the LTO Technology Provider Companies (TPCs) after completing compliance testing.
Fujifilm LTO-5 will incorporate Fujifilm's advanced NANOCUBIC thin-film coating process with finer metal particles as well as nano-dispertion technology. Fujifilm says these features allow the tape cartridge to achieve a higher recording density.
Sony LTO Ultrium Generation 5 tape cartridge approved by TPCs
Sony Corp. announced that its LTO-5 tape cartridges have been approved by the LTO Technology Provider Companies.
Sony's LTO-5 tape cartridge has two technologies specific to it. The first is a super-fine metal particle which allows for more stable read/write capabilities. The second is a binder system with cross-linking and abrasion-resistance, making the magnetic layer more durable.
Paragon Software selected by Iomega for its Universal File system Drive technology
Paragon Software Group was selected by Iomega Corp. to provide its Universal File System Drive (UFSD) technology to them. Their UFSD technology will be bundled with other Iomega products to serve consumer storage, network storage and network appliance markets.
B&L Associates' Archived Data Manager now runs on Linux and Oracle
B&L Associates Inc. announced that their management system for tape catalogs, Archived Data Manager (ADM), now runs on Linux operating systems and Oracle databases.
ADM is a Web-based application that consolidates historical tape backup catalogs. It can extract information from backup catalogs and organize it into a centralized database, allowing users to access the information without using the original backup application. The ability to retrieve archived data quickly can reduce e-discovery costs.
Do you have data backup and recovery news to share with us? Email the editors of SearchDataBackup.com.
Dig Deeper on Tape backup and tape libraries