News
Stay informed about the latest enterprise technology news and product updates.
Hewlett-Packard launches LTO-5 tape
HP supports LTO-5 support with midrange MSL tape libraries, and enterprise tape libraries will follow. HP is also offering software utility TapeAssure to monitor the health of LTO-5 cartridges and tape drives.
Hewlett-Packard (HP) Co. today launched its first set of LTO-5 tape products, bringing out LTO-5 tape libraries, drives and cartridges, as well as a new free software utility that proactively monitors the health and performance of these devices.

LTO-5 tape pricing and specifications

LTO-5 tape cartridges have twice the capacity of LTO-4 tape, at 1.5 TB native and 3 TB compressed. Performance has increased from 120 MBps to 140 MBps native, and 240 MBps to 280 MBps compressed. LTO-5 carries over LTO-4's hardware encryption and adds a partitioning functionality that lets applications index data on tape to make it easier to access.

Download this free guide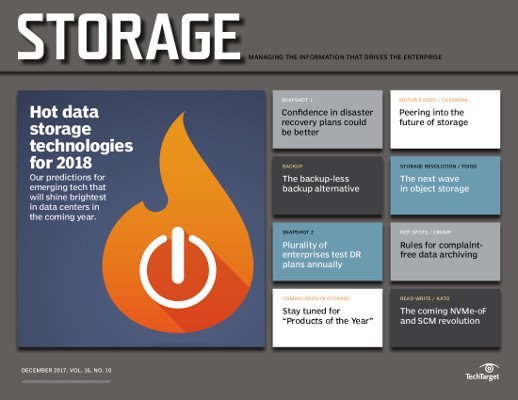 Snapshot of top 2018 backup tech: CDM, complaint-free archiving, ransomware detection vendors
The SearchStorage.com team names the most promising ransomware detection products, 4 rules for complaint-free archiving, how to use copy data management for effective recovery, and more. Download your e-zine copy here.

By submitting your personal information, you agree that TechTarget and its partners may contact you regarding relevant content, products and special offers.

You also agree that your personal information may be transferred and processed in the United States, and that you have read and agree to the Terms of Use and the Privacy Policy.

HP will make LTO-5 hardware products generally available this month for its MSL midrange series of tape libraries, including new cartridges, new drives and upgrade kits for existing MSL, and new standalone MSL LTO-5 libraries.

The LTO-5 tape cartridges are priced at $168.50 for a rewriteable cartridge and $185 for a WORM version. New drives are list priced at $3,559, while a kit to upgrade an existing MSL to LTO-5 is list priced at $12,000. An entirely new MSL 2024 LTO-5 tape library starts at $9,000. HP's EML and ESL enterprise tape silos and low-end autoloaders will add LTO-5 support around midyear.

HP is also offering TapeAssure, a software tool that monitors the health and performance of LTO-5 media, looking at performance rates, failures, drive head life, and cartridge and drive utilization for performance balancing.

HP's tape libraries have previously monitored tape performance reactively, according to HP StorageWorks product marketing manager for tape media Andrew Dodd. "This will show if, say, the error rate on a tape drive or media is increasing, and warn the customer to replace it before there are issues with their backups," he said.

HP is not the first to announce support for LTO-5. Quantum and Overland rolled out LTO-5 tape products earlier this month, and the format has been on the LTO Consortium's roadmap and discussed for years. The new standard hits the market at a time when disk has eclipsed tape as the main medium for day-to-day data backup and recovery.

However, tape vendors and industry analysts say tape storage is far from dead, especially when it comes to long-term offline data retention. IDC analyst Steve Scully predicted the boost in capacity and speed of LTO-5 will be bolster tape's value for long-term data archiving. "As tape's role changes from daily backup to long-term retention and archiving, people that really commit to using tape in that capacity will look for something that operates faster and stores more data," he said.

Wikibon analyst David Vellante said the LTO roadmap looks like it will keep pace with disk into the future. "I think they'll get [LTO] to over 30 TB," he said. "By having this roadmap, it means you can back up big, honking SATA disks however big they get in the near term."
Dig Deeper on Tape backup and tape libraries