News
Stay informed about the latest enterprise technology news and product updates.
Data backup and recovery briefs: Iron Mountain introduces new product for e-discovery
This week's data backup and recovery news in brief: Iron Mountain introduces new product for e-discovery; American Megatrends releases StorTrends iTX 2.7.1030 and more.
The following is a compilation of the latest data backup technology and recovery news.
Iron Mountain introduces new product for e-discovery
Iron Mountain Inc. introduced a new product for e-discovery, Connected Classify & Collect, which attempts to simplify the collection process for laptop and desktop data for legal hold requests.

Download this free guide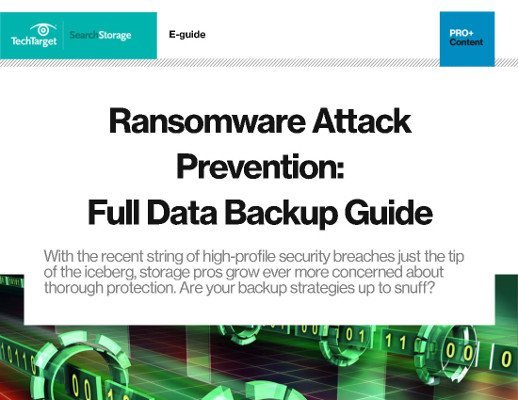 SearchStorage writers evaluate backup's role in ransomware detection
WannaCry, NotPetya, the list of dangerous ransomware viruses goes on and on, well beyond the most highly-publicized attacks. Use this guide to learn about the extent of the threat posed by ransomware, and bolster protection of your data, apps, and systems by using the backup strategies detailed within.
By submitting your personal information, you agree that TechTarget and its partners may contact you regarding relevant content, products and special offers.
You also agree that your personal information may be transferred and processed in the United States, and that you have read and agree to the Terms of Use and the Privacy Policy.
According to Iron Mountain, the Connected Classify & Collect product makes laptop and desktop data easily visible, searchable, and usable. It also comes with data protection to prevent accidental deletion and make the e-discovery process easier.
American Megatrends releases StorTrends iTX 2.7.1030
American Megatrends (AMI), released a new version of its network storage software, StorTrends iTX 2.7.1030 version 3. This version of StorTrends comes with high-availability (HA), support for clustered nodes, remote replication and data deduplication and auto provisioning for network-attached storage (NAS) volumes.
According to AMI, other features of this version of StorTrends include the standard features of the StorTrends series, including: snapshot technology, continuous data protection (CDP), information lifecycle management (ILM) and storage resource management (SRM) tools.
Index Engines announces Tape Assessment Program
Index Engines Inc. announced its new Tape Assessment Program, which is designed to allow companies to cost effectively remediate backup tapes. The Tape Assessment Program restores and extract backup files in its native format on tape libraries without having to use the original backup software.
Texas DataVault launches new online data backup and recovery website
Texas DataVault announced the launch of its new Online Remote Data Backup, Vaulting and Recovery Services Website. The website was designed to provide an educational resource for businesses that seek information on online data backup, recovery services and vaulting.
Rackspace releases free Jungle Disk application
Rackspace announced that Jungle Disk has released a free version of its Jungle Disk App. The Jungle Disk App enables users to access and manage their data that's stored on Junkle Disk's online data backup and storage product, either on the iPhone, iPod Touch or iPad.
Pro Softnet Corp. releases new cloud sync and share service
Pro Softnet Corp. announced the release of a new cloud syncing and sharing service, IDriveSync. IDriveSync offers synchronization of data for up to five PCs and share functionality of data for up to 10 PCs. IDriveSync also comes with data encryption for added security. Pricing for IDriveSync is $4.95 per month.
Do you have data backup and recovery news to share with us? Email the editors of SearchDataBackup.com.
Dig Deeper on Remote data protection