peshkova - Fotolia
News
Stay informed about the latest enterprise technology news and product updates.
Data backup and recovery briefs: Barracuda Networks launches Barracuda Backup Server 990
This week's data backup and recovery news in brief: Barracuda Networks launches Barracuda Backup Server 990; Cache-A introduces new LTO-5 archive appliance, Pro-Cache5 and more.
The following is a compilation of the latest data backup technology and recovery news
Barracuda Networks launches Barracuda Backup Server 990
Barracuda Networks Inc. launched the Barracuda Backup Server 990. The Barracuda Backup Server 990 has 24 TB of internal storage, is available in six models and offers offsite data backup storage to the cloud. According to Barracuda Networks, this backup server has more efficient backup transfer methods due to utilization of the available bandwidth between the server and the cloud. Therefore, large amounts of data are transferred in shorter amounts of time.

Download this free guide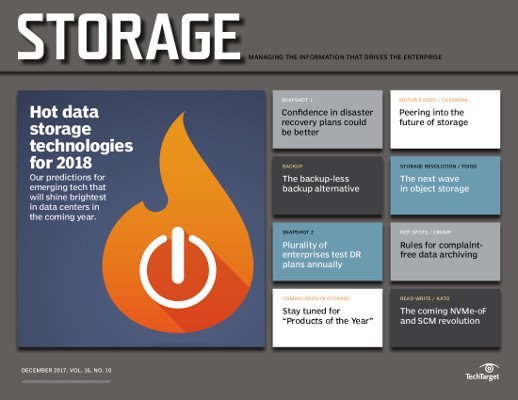 Snapshot of top 2018 backup tech: CDM, complaint-free archiving, ransomware detection vendors
The SearchStorage.com team names the most promising ransomware detection products, 4 rules for complaint-free archiving, how to use copy data management for effective recovery, and more. Download your e-zine copy here.
By submitting your personal information, you agree that TechTarget and its partners may contact you regarding relevant content, products and special offers.
You also agree that your personal information may be transferred and processed in the United States, and that you have read and agree to the Terms of Use and the Privacy Policy.
The Barracuda Backup Server 990 is priced at $44,999. And offsite data storage plans are priced at $50 per month for every 100 GB of storage.
Cache-A introduces new LTO-5 archive appliance, Pro-Cache5
Cache-A introduced Pro-Cache5, a new archive appliance for digital film. Pro-Cache5 is one of the first archive products on the market for LTO-5. Pro-Cache5 provides long-term archives, offers an internal 2 TB of RAID, offers SAS connections for high-speed mounts and can be upgraded to control robotic libraries.
Index Engines and B&L Associates announce partnership
Index Engines announced a new partnership with B&L Associates. The new partnership will allow Index Engines to incorporate the backup catalogs created by B&L's Archived Data Manager (ADM) into their product line. ADM is able to identify inactive backup catalog data and lets users migrate that data to a catalog archive. Index Engines is able to identify inactive online data and migrate that data to archival storage.
Combining the two products may improve backup speed and bandwidth utilization. Also, with the addition of the ADM catalog format, the backup tapes in ADM format can be searched and extracted using Index Engines' technology. All of this can be done without using the original backup software.
Atempo introduces new features to its Digital Archive product for media industry
Atempo Inc. introduced several new features for its Atempo Digital Archive product. These new features include archiving complex file formats as well as partial and full restoration of creative content archived in the video and audio editing program, Final Cut Pro. The new complex files that Atempo Digital Archive can store are MXF, DPX and MOV files, three widely used formats in the media industry.
Entertainment Tonight selects three-frame Spectra T950 to manage 1.3 PB of data
Spectra Logic announced that Entertainment Tonight selected a three-frame Spectra T950 tape library to manage 1.3 PB of data, which consists of Entertainment Tonight's aired programming and off-air checks that were created since it converted from analog to the high definition format.
Features of the Spectra T950 that suit Entertainment Tonight's standards include high performance, low power and cooling requirements, data security and monitoring tools.
Do you have data backup and recovery news to share with us? Email the editors of SearchDataBackup.com.
Dig Deeper on Tape backup and tape libraries