News
Stay informed about the latest enterprise technology news and product updates.
Data Domain provides Boost in data dedupe performance
The new version of Data Domain's integration with Symantec data backup software offloads some dedupe processing to the backup server; integration with EMC NetWorker is planned for later this year.
BOSTON -- EMC Corp. Data Domain at EMC World this week unveiled software that speeds data backups by offloading part of the data deduplication processing to the backup server. The software option, called DD Boost, is now supported by Symantec Corp.'s NetBackup and Backup Exec backup software with EMC NetWorker support planned for the second half of the year.

Download this free guide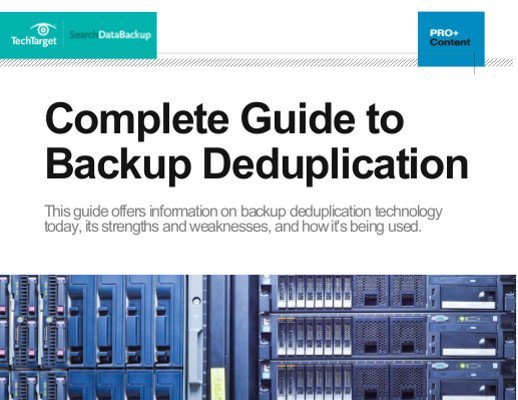 Free Download: Complete guide to backup deduplication
Access all of the 31 articles in our Data Deduplication Essential Guide by downloading our comprehensive PDF version so that you can access all of this expert content in one, easy-to-read resource.

By submitting your personal information, you agree that TechTarget and its partners may contact you regarding relevant content, products and special offers.

You also agree that your personal information may be transferred and processed in the United States, and that you have read and agree to the Terms of Use and the Privacy Policy.

Data Domain executives claim this software will boost performance by 50%. Like Symantec's OpenStorage API (OST), DD Boost integrates the target data dedupe device with the backup software, but goes the extra step of offloading processing to the server.

Data Domain said the DD Boost software library is distributed to the backup server and identifies data segments inline as they arrive. The Data Domain storage system determines which segments are new and compresses and forwards the unique segments.

DD Boost supports Symantec's backup software before EMC's NetWorker because Data Domain had been working to integrate OST for years before EMC acquired Data Domain for $2.1 billion last summer, and was further along in the development process with Symantec.

"Data Domain is a broadly heterogeneous sale and we have to keep it that way," added Brian Biles, vice president of product management for EMC's Backup Recovery and Systems (BRS) division.

Data Domain would like to extend DD Boost to IBM Corp.'s Tivoli Storage Manager (TSM) and CommVault Systems Inc.'s Simpana, Biles said, but neither vendor has shown interest in doing the integration.

BRS president Frank Slootman said Symantec customers will also get a reduction in LAN traffic between the media server and backup target along with the 50% performance boost. Slootman also said there's less performance impact on the backup server even with the additional data dedupe processing because it will make fewer copy requests and therefore fewer I/Os to the backup target disk. "It must sound counterintuitive to you – it did to me," Slootman said.

EMC customers said they're eager to try DD Boost, even if it means they have to wait for NetWorker integration. "Any time they put something new together, I don't want it rushed to the table," said Andrew Fuss, manager of technology and engineering at CharterCARE Health Partners.

Fuss said he uses a fully populated DD560 array with NetWorker. "When I first deployed Data Domain, it cut my backup time from 26 hours with tape to about three hours. If we can cut it down to an hour and a half [with DD Boost], great. Even if we can stay at a three-hour window as data grows, it's a win."

Global Deduplication Array for NetWorker and the evolution of Avamar

DD Boost is also a part of the dual-node Global Deduplication Array (GDA) that combines the DD880 with Symantec's software, and eventually will be the basis for GDA support with NetWorker.

GDA is only used with Data Domain's largest disk product. Guy Chapman, a NetBackup and DD690 customer who works as a senior engineer for enterprise storage and virtual infrastructure at SunGard in London, U.K., said if he outgrows his DD690 he'll put it in a remote office and move to a DD880 Global Deduplication Array at headquarters. "GDA is a nice-to-have for me," he said.

Slootman said DD Boost will also be the vehicle for integration between EMC's two data dedupe acquisitions, Avamar and Data Domain. While that integration is still on the distant horizon, Slootman said the combined product will short-circuit debate about the client/source, backup server or backup target as the ideal place for data dedupe processing. "The target versus source data [deduplication] debate is over," he said. "Users can get both."
Dig Deeper on Data reduction and deduplication