News
Stay informed about the latest enterprise technology news and product updates.
Spectra Logic releases high-performance disk appliance: Data backup and recovery news briefs
This week's data backup and recovery news in brief: Spectra Logic releases high-performance disk appliance; EASEUS offers free data recovery software and more.
The following is a compilation of the latest data backup technology and recovery news.
Spectra Logic releases high-performance disk appliance
Spectra Logic released its Spectra nTier700 disk appliance, which can hold up to 120 TB of disk storage and 16 GB of memory available in 4U of rack space. These features can be available for $1.00 per gigabyte.

Download this free guide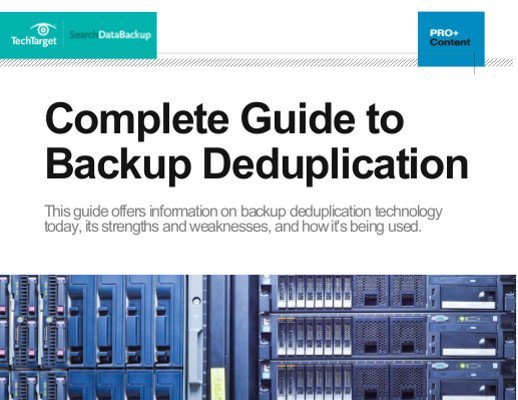 Free Download: Complete guide to backup deduplication
Access all of the 31 articles in our Data Deduplication Essential Guide by downloading our comprehensive PDF version so that you can access all of this expert content in one, easy-to-read resource.
By submitting your personal information, you agree that TechTarget and its partners may contact you regarding relevant content, products and special offers.
You also agree that your personal information may be transferred and processed in the United States, and that you have read and agree to the Terms of Use and the Privacy Policy.
The Spectra nTier700 can also be configured with up to six storage blades, which each contain 10 drives. And more blades can be added as capacity requirements increase in data storage environments.
The nTier700 is compatible with all of the major data archive and data backup software applications, and is available now.
LSI announces new software options for SATA and SAS controller cards
LSI Corp. announced four new software options for its MegaRAID 6 GBps SATA and SAS controller cards. The new software options are: MegaRAID CacheCade Software, MegaRAID FastPath Software, MegaRAID Recovery Software and MegaRAID SafeStoreSoftware. These software options are designed for channel partners with performance and data protection capabilities.
According to LSI, the CacheCade software works to accelerate the performance of hard disk drive arrays by configuring solid-state drives (SSDs) as a secondary tier of cache. The FastPath software is designed to boost application performance. The Recovery software is designed to enhance data protection through rapid file and snapshots. And the SafeStore software is designed to secure data from security breaches with self-encrypting drives (SEDs). The software packages are currently priced between $90 and $270.
Infineta introduces new data reduction technology, the Velocity Dedupe Engine
Infineta Systems introduced a new data reduction technology to address high-speed enterprise data center interconnects, the Velocity Dedupe Engine. The Velocity Dedupe Engine is a data deduplication technology that was designed to address the great volume of data center-to-data-center traffic. The main characteristics of the deduplication product are: distributed processing, non-sequential packet analysis combined with multi-stage redundancy removal, and high levels of data reduction ratios.
Index Engines updates platform to include simultaneous indexing of multiple tapes
Index Engines updated its 3.2 platform to include simultaneous indexing of multiple data backup tapes. According to Index Engines, this new function will allow companies to process a large amount of tapes in a short period of time because Index Engines' platform can now process up to six simultaneous streams of tape data at 1 TB per hour.
EASEUS offers free data recovery software
EASEUS Software released a free version of its data recovery software, EASEUS Data Recovery Wizard Free Edition 5.0.1, which allows users to recover up to 1 GB of data. The free Wizard edition can perform the same functions as the EASEUS Data Recovery Wizard 5.0.1, which include recovering files emptied from the Recycling bin, recover files lost due to a software crash and formatting a damaged hard drive due to a lost partition or virus attack.
The Data Recovery Wizard Free Edition is available now for download and is compatible with Windows 2000, XP, 2003, Vista, 2008 and Windows 7.
Safety National chooses SunGard Secure2Disk for data backup and recovery
Safety National has chosen SunGard's Secure2Disk data backup and recovery purposes. Powered by EMC Corp. data deduplication systems, Secure2Disk is designed to deliver on-site restart capabilities and offsite data recovery for production applications, which may help to speed up recovery times, an important aspect in disaster recovery (DR). These features may also help with data reduction.
Do you have data backup and recovery news to share with us? Email the editors of SearchDataBackup.com.

Dig Deeper on Data reduction and deduplication