News
Stay informed about the latest enterprise technology news and product updates.
EMC MozyPro 2.0 adds local backup, remote data backup performance improvements
Customers say the performance of MozyHome and MozyPro backups and restores has improved in the last two years, but some still won't depend on it for primary backup.
EMC Corp.'s Mozy online data backup subsidiary launched MozyHome and MozyPro 2.0 today, adding support for local backup, better performance and a streamlined user interface for the consumer and small business software.

According to Mozy chief marketing officer Russ Stockdale, the new versions encode data inside the Mozy data center vendor rather than on a customer's workstation or server. "The initial backup experience will be shorter and faster," Stockdale said. "Ongoing backups will be faster and involve less processing."

Download this free guide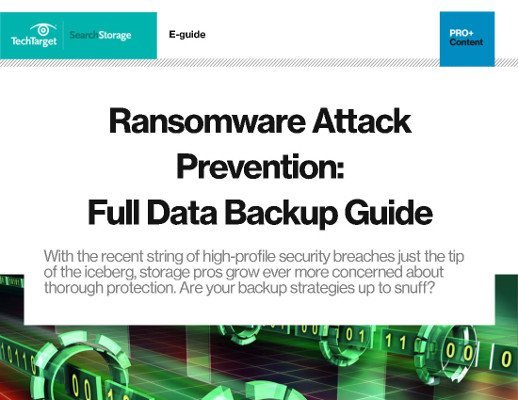 SearchStorage writers evaluate backup's role in ransomware detection
WannaCry, NotPetya, the list of dangerous ransomware viruses goes on and on, well beyond the most highly-publicized attacks. Use this guide to learn about the extent of the threat posed by ransomware, and bolster protection of your data, apps, and systems by using the backup strategies detailed within.

By submitting your personal information, you agree that TechTarget and its partners may contact you regarding relevant content, products and special offers.

You also agree that your personal information may be transferred and processed in the United States, and that you have read and agree to the Terms of Use and the Privacy Policy.

Mozy is also now supporting backup to a local hard drive as well online backup to its cloud data center, a feature it calls 2xProtect. Stockdale said this feature will automatically copy data to a local external drive and from the external drive to the cloud. The client will support just about any standard hard drive, but there isn't any special integration with EMC's own Iomega external hard drives with this release. Currently, EMC ships Iomega drives bundled with a wizard that prompts an Iomega user to look at Mozy's sign-up page. Stockdale said Mozy and Iomega representatives are discussing deeper integration, though Iomega systems already ship with EMC Retrospect software for local backup.

The Mozy software also has a redesigned interface that Stockdale said has cleared up some of the confusing parts of the old UI. For example, the old UI would show a progress bar that said just "Forty percent finished," said Stockdale. "Does that mean it hasn't backed up anything and 40% of the thinking is done? Or has it backed up 40% of my files? I have no clue," he added. The new progress indicator will show the number of files that have already been completely backed up.

Clean Data computer consultant Patrick Siefe, one of the most vociferous critics of Mozy, said he has continued to use Mozy's products with his consulting clients despite experiencing frustratingly slow restore performance two years ago. At the time, if a customer wanted to restore a whole block of data (in Siefe's case, 55 GB), Mozy would first construct a manifest of files before starting the download. That process took days before the download process even started. Depending on the customer's bandwidth, the download could also take days.

Siefe, an early adopter of MozyPro 2.0, said he's been pleased with Mozy's adjustments to its restore process, especially eliminating the need to gather all files before starting the restore. Files can now start being restored immediately, Siefe said, adding that he had noticed performance improvements on the data backup side as well.

"With the old version, at the very beginning when it was detecting which files it needed to backup, I don't care what you have as far as a computer -- it stopped it," Siefe said. During that first backup process, a dual-core processor PC could take an extra three to four minutes to boot up as well. "I've noticed [that performance improvement] with 2.0 very specifically," Siefe said.

Siefe said he's happy with the changes and will continue to use Mozy, though he'll hold off on the local backup feature for now. "I don't use new features on a new product before they've been tested for a while," he said. "I'll probably test it out in the next three months."

Interest in online backup services has increased in the last year, but some customers say they're still not ready to rely on Mozy as their sole backup.

Dustin Stone, director of information systems for Madison, Wis.-based Wisconsin Credit Union League, said he's pleased that Mozy will improve backup performance. "It's always an issue with cloud services to balance speed and ease of use with bandwidth constraints," Stone said. "If you have many hundreds of gigabytes like my organization has, it could be days or weeks for the initial backup. If they can speed that up, it would be great."

The local option could improve local backup and restore speeds as well, but Stone is also shying away from adopting the new feature right away. His company already uses Symantec Corp.'s Backup Exec to make tape backups and Stone said he prefers the added insurance of multiple backup tools. "I actively recommend MozyHome, which I also use -- its ease of use is great for home users," he said. "But on the business side, it's not ideal as the sole backup method." For his business, Mozy is an offsite backup of "last resort" for disaster recovery purposes that's more affordable and accessible than a second data center.

Stone said he'd like to see Mozy allow data to be retained for longer at its data centers than the current 30-day limit. "We could go with other services like Iron Mountain, but they can be up to five to six times more expensive than Mozy," Stone said.
Dig Deeper on Remote data protection