News
Stay informed about the latest enterprise technology news and product updates.
RHED Pixel hooks up Drobo FS to Apple Time Machine for disk-based backup
RHED Pixel, a 10-employee firm, manages some 50 TB of video storage with various Drobo devices, including a Drobo FS newly integrated with Apple software for disk-based backup.
A 10-employee video production firm RHED Pixel Inc. has added disk-based backup to its data storage environment using a combination of Data Robotics Inc.'s Drobo FS and Time Machine backup software from Apple Inc.

Download this free guide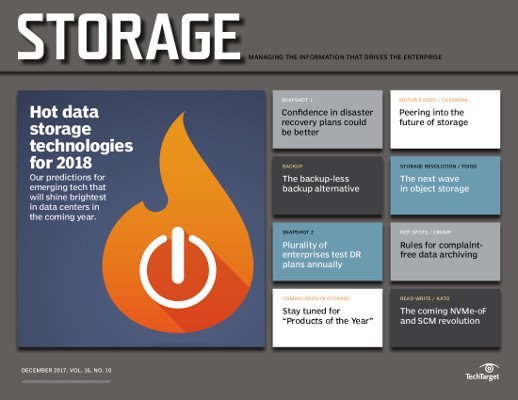 Snapshot of top 2018 backup tech: CDM, complaint-free archiving, ransomware detection vendors
The SearchStorage.com team names the most promising ransomware detection products, 4 rules for complaint-free archiving, how to use copy data management for effective recovery, and more. Download your e-zine copy here.

By submitting your personal information, you agree that TechTarget and its partners may contact you regarding relevant content, products and special offers.

You also agree that your personal information may be transferred and processed in the United States, and that you have read and agree to the Terms of Use and the Privacy Policy.

The two products were recently better integrated by their respective vendors, giving Data Robotics customers features not natively available with the two products separately. These include the ability to set volume limits on Time Machine shares and perform automated simultaneous backup from multiple users on the same network to one Time Machine target.

Drobo started as direct-attached consumer desktop storage, but RHED Pixel CEO Richard Harrington said he waited for the original USB-attached Drobo product to add support for FireWire so he could use it in his business. "We'd used external disks before," he said. "It soon became clear to us that we needed robust storage with really good fans, something with a robust cooling system and alerting capability if it failed."

Harrington said Drobo appealed to him over other low-end storage products because it can use any type of disk drives. "Storage is one of the main consumables that other vendors only allow you to buy from them, sometimes for three times as much for a new disk chassis with a firmware chip than you paid for the original device," he said. "It seems like a lot of companies like to make a lot of money off you when you add capacity. Drobo seemed to understand -- they make the enclosure, not drives, and they have suggestions about what to use, but we can do whatever we want."

While RHED has 50 TB to 60 TB total of data, it doesn't have a lot of staffing resources to babysit storage, so Drobo's alternative approach to RAID also appealed to Harrington. The box has simple indicator lights on the front of it to show when disks are getting full, showing a warning, or have failed, and it will automatically rebuild and restripe data across the array when a disk fails or reaches capacity and is replaced.

Harrington said as a Final Cut Pro and Adobe Creative Suite shop, the ability to support Macs and PCs was also an important feature of the Drobo because it allowed graphic artists to share the Drobo FS.

RHED previously deployed two iSCSI Drobo Elites for primary video storage, two Drobo Pros used for archiving, and a Drobo S directly attached to a photo editing station. Those models allow multiple systems to send data to a centralized repository, but only one user can connect to a volume at a time. With the Drobo FS, all 10 users at the company can back up data at the same time through Time Machine or access data they've backed up, though "obviously, [with] 10 users accessing [the Drobo FS] at the same time, you see a big drop in performance," Harrington said.

Harrington said the Drobo environment is an improvement over a Sony AIT tape drive the company had relied on before for backup, but he'd like to see Drobo step up sharing capabilities across all its storage products. "I would be really happy to see shared capacity [with the FS] to help our workgroup," he said. "I don't know, but I hope we'll see that spread across the rest of the product line."
Dig Deeper on Disk-based backup