News
Stay informed about the latest enterprise technology news and product updates.
NEC scales down 'mini-Hydra' for SMB backup and archiving
NEC sees single-node mini version of HydraStor data backup and archiving appliance as a better fit for SMBs and remote offices; mini-Hydra shares software code base with larger systems, including inline deduplication and replication.
NEC Corp. of America today launched the "mini-Hydra," a single-node version of its HydraStor backup and archiving grid storage system with data deduplication.

Download this free guide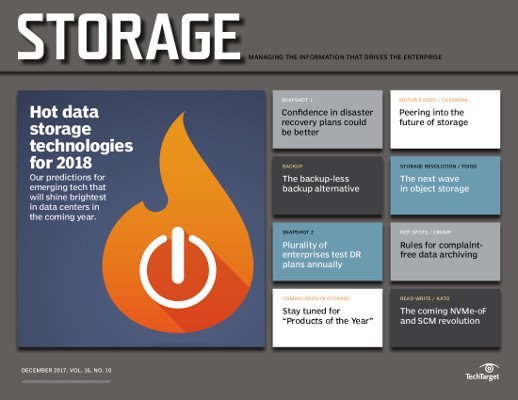 Snapshot of top 2018 backup tech: CDM, complaint-free archiving, ransomware detection vendors
The SearchStorage.com team names the most promising ransomware detection products, 4 rules for complaint-free archiving, how to use copy data management for effective recovery, and more. Download your e-zine copy here.

By submitting your personal information, you agree that TechTarget and its partners may contact you regarding relevant content, products and special offers.

You also agree that your personal information may be transferred and processed in the United States, and that you have read and agree to the Terms of Use and the Privacy Policy.

The mini-Hydra's official name is the HYDRAstor HS3-210. It's a 2u rackmounted system that comes in configurations of 4 TB, 8 TB and 12 TB with four Gigabit Ethernet ports that can be tied together for maximum performance of 350 MBps or 1.3 TB per hour. NEC targets the mini-Hydra at small- to medium-sized businesses (SMBs) and branch offices.

The mini-HydraStor shares the same code base with the HS3-2000 full HydraStore platform, including the DataRedux inline deduplication and new read-only file system snapshots, and read-write file system cloning applications NEC is also launching today. Users can replicate data from the mini-Hydra across any HydraStor system. The mini-Hydra also supports the same data backup applications, including Symantec's OpenStorage (OST) interface for NetBackup.

Unlike the larger HydraStors, the mini-Hydra cannot be clustered. While the HydraStor consists of a combination of accelerator nodes for performance and storage nodes for capacity, the mini-Hydra is comprised of a storage node with processing built in. At its maximum capacity, the mini-Hydra supports half the capacity of the smallest full HydraStor system. Upgrading from a mini-Hydra to full HydraStor requires migrating data across systems.

List pricing for the mini-Hydra starts at $40,000 for 4 TB, $65,000 for 8 TB and $90,000 for 12 TB. The smallest full HydraStor system starts at $120,000. Replication, OST and write once, read many (WORM) support are separately licensed options for all HydraStors.

Gideon Senderov, NEC's director product management for storage, said the mini-Hydra competes most directly with the EMC Data Domain DD630, which also scales to 12 TB.

"This fills a significant gap in the product line," Senderov said. "It's a smaller scale -- there's only so much you can scale down with the grid approach before you reach the bare minimum. And that bare minimum is too large for small companies and remote offices of larger organizations."

IDC analyst Noemi Greyzdorf called the HydraStor platform "a hidden treasure" because "it's good technology and has all the right functions, but it's not something you hear a lot about in conversations with end users."

She said HydraStor's snapshots and cloning features make it good for more than just data backup, but NEC could go further to push the HydraStor as a primary platform for non-transactional primary data. "The technology has adequate performance to do lower-end primary file services," she said. "It might help them to go after iSCSI for block storage or do a proof-of-concept with virtualization for VMware. Those might be interesting, as well as some reporting capabilities."
Dig Deeper on Disk-based backup