News
Stay informed about the latest enterprise technology news and product updates.
D-Link adds online data backup service to its NAS product and other data backup news
This week's data backup and recovery news in brief: D-Link adds online data backup service to its NAS product; Hosted solutions releases Stratus Cloud Storage product and more.
The following is a compilation of the latest data backup news.
D-Link adds online data backup service to its NAS product
D-Link announced that its D-Link ShareCenter Network Attached Storage (DNS-323) appliance now comes with an online backup service from CTERA. The CTERA online data backup service works directly from the NAS appliance. Users can back up and recover their data to and from the cloud using a Web browser.

Download this free guide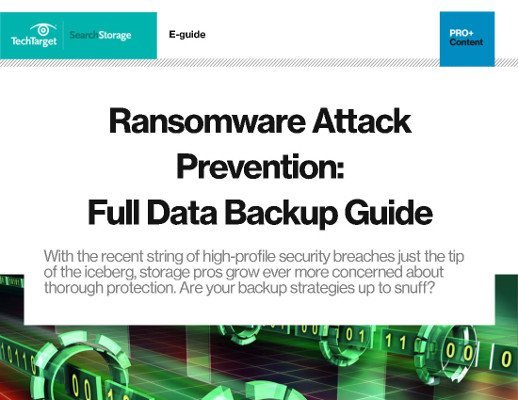 SearchStorage writers evaluate backup's role in ransomware detection
WannaCry, NotPetya, the list of dangerous ransomware viruses goes on and on, well beyond the most highly-publicized attacks. Use this guide to learn about the extent of the threat posed by ransomware, and bolster protection of your data, apps, and systems by using the backup strategies detailed within.
By submitting your personal information, you agree that TechTarget and its partners may contact you regarding relevant content, products and special offers.
You also agree that your personal information may be transferred and processed in the United States, and that you have read and agree to the Terms of Use and the Privacy Policy.
Online data backup and cloud storage for the DNS-323 will be available in June 2010 for an annual fee or a pay-as-you-go plan.
Hosted Solutions releases Stratus Cloud Storage product
Hosted Solutions announced the release of its Stratus Cloud Storage product. The product is offered as either part of the Hosted Solutions' Stratus Trusted Cloud platform or as a standalone service. Its main features were designed to support typical data backup functions such as data replication, data backups and restores, data archiving, disaster recovery (DR) and data security.
Healthcare companies implement FalconStor data protection products
FalconStor Software Inc. announced that healthcare organizations are deploying its data protection products for high-availability (HA) and disaster recovery of business-critical applications. The healthcare industry has strict requirements, and many companies said they have implemented FalconStor data protection products because it provides them with fast restore times and quick access to the company's data.
Datacastle partners with Bayleaf to launch Endpoint Data Protection product
Datacastle announced that it has partnered with Canada-based service provider, Bayleaf, to launch a new product, the Datacastle Endpoint Protection Suite. The service is one of the first data backup, recovery and protection offerings hosted in Canadian data centers, which will enable organizations to comply with Canadian federal and provincial privacy laws.
The Datacastle Endpoint Protection Suite service offers online PC data backup and recovery, AES data encryption and remote data deletion.
Oxygen Cloud and Data Robotics partner to offer private storage clouds
Oxygen Cloud and Data Robotics Inc. announced that they have partnered to deliver private storage clouds to businesses. The Oxygen private cloud will be offered as a downloadable software package for Data Robotics' Drobo FS. With the Oxygen private cloud, a business can plug into multiple cloud drives to create a big storage cloud, or back up to another cloud drive. The Oxygen private cloud also offers data encryption and data expansion up to 10 TB.
The Oxygen private cloud will be available to download in late summer 2010.
R1Soft announces new continuous data protection software
R1Soft announced the release of CDP Standard Edition 3.0, the latest version of its continuous data protection (CDP) software. R1Soft's new CDP Standard Edition product functions as standalone server backup software requiring no dedicated hardware. It supports internal hard disk drives, iSCSI, Fibre Channel-attached storage, or network file servers. R1Soft said in a press release that this product is geared toward small- to medium-sized businesses (SMBs).
For more information, check out the latest data backup news.
Do you have data backup and recovery news to share with us? Email the editors of SearchDataBackup.com.
Dig Deeper on Remote data protection