News
Stay informed about the latest enterprise technology news and product updates.
IDC: Purpose-built backup appliances market grows 16.5% year over year
The purpose-built backup appliances market reportedly experienced 16.5% year-over-year growth, totaling $679 million in Q1 revenue, IDC said.
The purpose-built backup appliance (PBBA) market experienced 16.5% year-over-year growth, totaling $679 million in revenue in the first quarter of 2013, according to market research firm IDC. In addition, total worldwide PBBA capacity shipped increased by more than 45%, reaching 361,289 terabtyes (TB). IDC said that the PBBA market grew faster than the external disk storage system or data protection and recovery markets, as well.

Download this free guide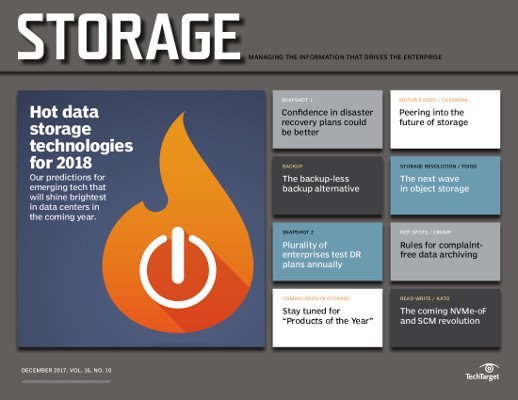 Snapshot of top 2018 backup tech: CDM, complaint-free archiving, ransomware detection vendors
The SearchStorage.com team names the most promising ransomware detection products, 4 rules for complaint-free archiving, how to use copy data management for effective recovery, and more. Download your e-zine copy here.
The biggest player in the PBBA market -- EMC -- held on to its lead and brought in nearly $400 million in revenue in Q1, although its market share dropped 4.4%, to 58.9%, from Q1 in 2012 to the same period this year, IDC said. Its revenues rose from $369.9 million.
But Symantec saw the most dramatic shift -- its market share more than doubled between the first quarters of 2012 and 2013, reaching 15.1%. Its revenues saw similar growth, jumping from $41 million in Q1 2012 to $102.3 million in Q1 2013, according to IDC.
Meanwhile, the remaining vendors in the PBBA market top five -- IBM, HP and Quantum -- all saw declining market share from Q1 in 2012 to the same period in 2013, IDC said.
IBM took the largest tumble -- its revenues dropped by $21.1 million, to $48.2 million -- and its market share dropped to 7.1% from 11.9%. HP, which has been struggling for the past few years, saw its PBBA revenue drop by about $1.9 million, to $28.7 million, and its market share fall by 1.1%, to 4.2%, according to IDC. While losing market share (about 0.4 %, falling to 2.7%), Quantum did post a revenue increase of about $500,000 during that time, hitting $18.5 million, IDC said.
The rise in backup appliance revenue is part of a well-known trend of overall growth in the need to store and back up data for business operations. In a recent SearchStorage Purchasing Intentions survey, more than a quarter of respondents said they stored more than 100 TB of data per week, and nearly half said their spending on disk hardware for backup would increase. And in a Forrester survey, analysts found that the average amount of data stored for server backups rose by 46% from 2010 to 2012.
Dig Deeper on Disk-based backup