Restoring data remains a challenge, but new technologies emerge
The lines between backup, DR, archive, file sync and primary storage blurred in 2014 to streamline processes, reduce redundant copies and help with protecting and restoring data.
In 2014, data protection remained a pain point for many organizations. Eighty-two percent of respondents to a recent survey conducted by research firm Vanson Bourne for Veeam Software said there they could not provide the level of availability that end users require.

Download this free guide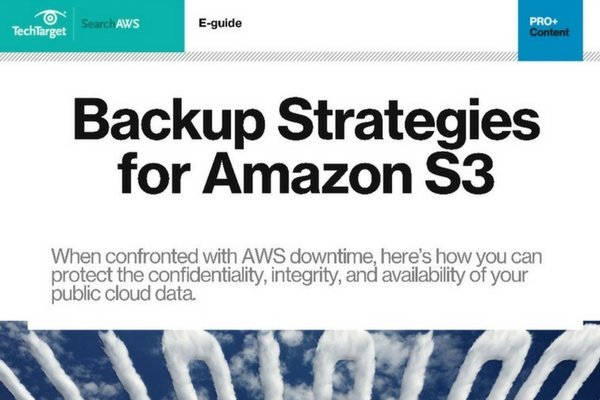 Amazon S3 in the spotlight: Your 34-page backup guide
In this guide curated by the SearchAWS.com editors, you'll evaluate and overcome the DR tradeoffs associated with Amazon S3, with guidance on solidifying an AWS backup plan and securing S3 buckets. Download your copy now.
This is really no surprise, as organizations have been struggling with protecting and restoring data for years, and people (and machines) are creating more data than ever today.
However, we have been watching a few areas where backup is converging with other technologies aimed at streamlining processes, reducing the amount of redundant copies and increasing employee productivity.
Backup + archive
A recent ESG survey shows IT groups are increasingly taking a converged approach to backup and archiving. Eighty-three percent of respondents said that they were using their backup software for all or part of an archiving strategy. And, forty-one percent use only their backup software to create archives.
Historically, backup software was designed to do one thing -- restore data following a failure. This isn't great for archiving because the data is not easily searchable, which is a key feature of an archive. But, keeping backups and archives separate makes for a lot of redundant data. So, many backup vendors are adding archiving features to their backup software products in an attempt to address this issue. While these products may not offer the robust functionality of a dedicated archiving software platform, their capabilities will likely meet the needs of many organizations.
Some call the concept of reducing redundant copies across backup and archive "copy data management." The term was coined by data protection vendor Actifio to describe its software, but it is catching on generically as well.
Backup + disaster recovery
Another area of convergence we've been watching is between backup and disaster recovery. The combination of snapshot, replication and virtualization has made failover feasible for many organizations by reducing costs.
The process works like this: a replica virtual machine is created at a secondary location. This could be another location operated by the organization or in the cloud. Changes to data are periodically copied to the replica VM throughout the day at intervals set by the organization. If an outage or problem occurs with the primary VM, operations are failed over to the secondary VM so the application or applications running on the VM remain available. This is known as "instant recovery" or "recovery-in-place." Once the primary VM is restored, operations are failed back.
Many backup software products today allow users to conduct this process. For example, Symantec NetBackup offers a feature called Instant Recovery for VMware. Other products, such as CommVault Simpana, Veeam Backup & Replication and EMC Avamar offer similar capabilities.
Backup + file sync-and-share
The chatter about mobile device data protection seems to have shifted a bit this year. To be certain, enterprise file sync-and-share is not backup. However, for many organizations, that just might not matter.
Backing up mobile devices presents a number of challenges. One is that many devices make it difficult for backup apps to extract data. Connectivity can also be an issue. Finally, most users have personal as well as corporate data stored on their devices, and the personal files should not be copied to a corporate backup repository.
Selective file sync-and-share can be set up so users have access to corporate data they need from any device at any time. If they alter a document using their mobile device, laptop or any other remote computer, the changes are synchronized with the original copy. Many file sync-and-share products even allow users to revert back to previous versions of files in the event of corruption, user error or accidental deletion.
These products are, at their core, about user productivity, but because corporate data remains centralized where it can be backed up using traditional methods, many organizations may find them to be a good alternative to mobile device backup.
Backup + primary storage
EMC added ProtectPoint to the latest version of its VMAX enterprise primary storage array in July, allowing customers to back up data from VMAX directly to Data Domain without using backup software. Hewlett-Packard did something similar in December with StoreOnce Recovery Manager Central for VMware, which backs up directly from 3PAR StoreServ arrays to StoreOnce backup libraries through VMware vCenter. This trend can expand -- vendors such as Dell and IBM have the pieces to do something similar. But even if no other vendors pick it up, we'll see more of it. EMC intends to add ProtectPoint support for its other storage arrays and eventually non-EMC arrays.
So, there's some cool stuff going on in the backup world, but it's probably a ways off for most shops given the snail's pace that changes happen when it comes to storage and backup.
In 2015, it would be great to hear from some users that say these technologies are saving time and money and increasing productivity. I'm not going to hold my breath, though -- I'm pretty sure backup is still going to be a complete pain in 2015.