Mopic - Fotolia
News
Stay informed about the latest enterprise technology news and product updates.
Cohesity storage adds Cloud Edition for AWS, Azure
Startup Cohesity launches DataPlatform Cloud Edition, a version of its converged secondary storage software designed to run on Amazon Web Services and Microsoft Azure.
Startup Cohesity Inc. today unveiled a cloud edition of its converged secondary storage software designed to run on Amazon Web Services and Microsoft Azure.

Download this free guide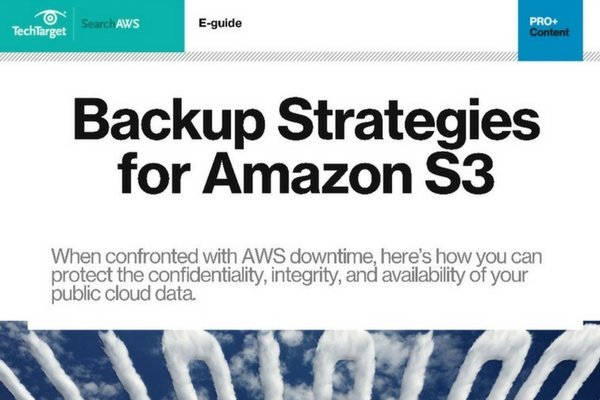 Amazon S3 in the spotlight: Your 34-page backup guide
In this guide curated by the SearchAWS.com editors, you'll evaluate and overcome the DR tradeoffs associated with Amazon S3, with guidance on solidifying an AWS backup plan and securing S3 buckets. Download your copy now.
The Cohesity DataPlatform Cloud Edition (CE) is due for general release in the first half of next year on AWS Marketplace and Azure Marketplace. A preview edition of the new Cohesity storage software is currently available through an early access program.
Cohesity's DataPlatform CE can run on Amazon's Elastic Compute Cloud servers and use Amazon's Elastic Block Store, as well as the equivalent compute and storage services in Microsoft Azure, according to Patrick Rogers, vice president of marketing and product management at Cohesity.
Using a newly available CloudReplicate feature, customers can replicate data from on-premises DataPlatform deployments to DataPlatform CE instances in the public cloud. The Cohesity storage software takes care of any necessary data format conversions, Rogers said.
DR, DevOps in the cloud
We now can offer full disaster recovery in the cloud, and, more importantly, now that the data is copied over into the cloud, you can spin up DevOps instances.

Patrick Rogersvice president of marketing and product management, Cohesity
"We now can offer full disaster recovery in the cloud, and, more importantly, now that the data is copied over into the cloud, you can spin up DevOps instances," Rogers said. "Say you want your developers working out of the cloud rather than on premises, now you can use Amazon and provision dev/test copies."
Customers can also take advantage of the extensive compute resources available in the cloud to run Hadoop-based analytics or large queries against Cohesity's DataPlatform CE, Rogers added.
"We've taken the requirement away that you have to run on premises," he said.
Rogers said customers license the new Cohesity DataPlatform CE through the public cloud service providers. Cohesity storage software is licensed by node, whether virtual or physical. Users have the option to move a license from on premises to the cloud, according to Rogers.
"Practitioners are looking for solutions that can fit into their cloud strategy, so offerings like Cohesity's DataPlatform Cloud Edition give users the ability to use a common tool set across public and private cloud environments," Stu Miniman, a senior analyst at Wikibon, wrote in an email.
Miniman noted that Rubrik Inc., a director competitor to Cohesity, launched similar capabilities in August and supports AWS and Azure.
'True software-defined storage'
Arun Taneja, founder and consulting analyst at Taneja Group Inc., said the Cohesity DataPlatform is true software-defined storage, so he expects the Cloud Edition will offer identical capabilities to the on-premises version. He noted that Cohesity CEO and founder Mohit Aron, who also co-founded hyper-converged pioneer Nutanix, built the Google File System.
"There's no way on earth a guy like that is building something for on-prem that wasn't 100% software-defined. Every bit of his DNA has software-defined in it," Taneja said.
He said making a cloud version was probably not as big a deal for Cohesity as it would be for a vendor with an on-premises product that was not originally designed as software-defined. With software-defined storage, the storage hardware is decoupled from the software that manages it. The Cohesity DataPlatform runs on standard server hardware.
"Once you set the architecture, you reap the benefits of that," Taneja said. "So, this is much more of a natural progression for Cohesity than it might be for a lot of other companies that all have no choice but to do something similar to this. Maybe when [the other vendors] bring their cloud version over it's not going to look and smell and feel exactly like the one on-prem."
Cohesity storage debut
Cohesity emerged from stealth in June 2015 with a mission of converging data protection, archiving and analytics onto a single distributed platform to eliminate the need for multiple secondary storage products, such as backup software and deduplication appliances.
Earlier this year, Cohesity made available a CloudArchive capability to enable customers to archive data to the cloud through prebuilt integrations with services such as Amazon's Simple Storage Service (S3) and Glacier, Google Nearline, and Microsoft Azure. Cohesity also released a CloudTier feature to enable customers to move infrequently accessed data to the cloud based on policies.
Rogers said that in addition to Amazon, Azure and Google, Cohesity supports any S3-compliant public and private cloud deployments, such as OpenStack.
Dig Deeper on Archiving and backup