jules - Fotolia
Index Engines supports tape data migration to AWS
For Index Engines' new feature, the information management and archiving provider remotely installs software, processes tapes and migrates data of value to Amazon Web Services.
Index Engines Inc. wants to help organizations that still have backup data on tape move into the cloud age. The vendor's data extraction software now provides a path for migrating tape data to the Amazon Simple Storage Service cloud.
Index Engines migrates a culled data set -- or single instance of the tape contents -- to ensure all metadata remains forensically sound. It stores native deduped data, including unstructured files, email and databases, on the Amazon cloud. A metadata or full content index remains available to search, manage based on retention policies and access for quick data retrieval based on business needs, according to the vendor.
The feature is especially important for legal and compliance purposes, as it makes data more available, said Jim McGann, vice president of business development at Index Engines, based in Holmdel, N.J.
For 10 years, Index Engines has had the ability to get data off tape, but restored it on other formats, such as disk, not the cloud.
"It's a natural fit for us," McGann said of the migration to Amazon Web Services (AWS).
Storage expert Brien Posey wrote in an email that the feature can prove valuable, but serves a "niche market" of companies that have heavily invested in tape.
"It will be good for organizations that have high tape storage costs, or that have to perform e-discovery of archived data on a regular basis," Posey wrote. "For other organizations, I think that the cost will outweigh the benefit."
Accessibility, manageability stressed
Target customers are ones that require long-term retention of data and need to be able to access it, especially those in financial services, healthcare, manufacturing, pharmaceutical and insurance.
"You can really manage it the way data should be managed," McGann said.
Index Engines provides a Legacy Data Migration Assurance Program to help facilitate the migration to AWS. Processing occurs within the client's secure data center, and Index Engines remotely installs the software, processes the tapes and migrates data of value to the cloud.
The client needs to provide the server connected to a tape library for access to the backup images. The original backup software is not required. Organizations can implement the migration to AWS in their data center or ship tapes to a secure processing lab.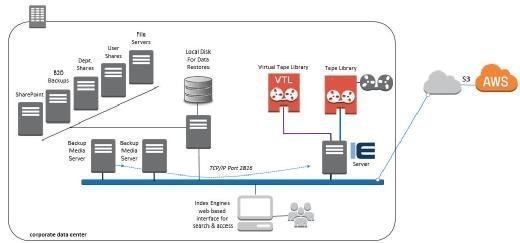 The service is priced on a per-tape basis, in the tens of dollars per tape or less, McGann said. The total cost depends on volume and capacity. The vendor cites eventual cost savings in the areas of tape storage and retrieval, library and server maintenance, and tape purchases.
Users can search metadata, mailboxes or full-text content, depending on the level of indexing that is purchased, according to the vendor.
McGann said he expects Index Engines to eventually support other cloud providers for the backup tape migration.
Index Engines supports common backup formats, including IBM Spectrum Protect, Veritas NetBackup, Commvault, Hewlett Packard Enterprise Data Protector and Dell EMC NetWorker.