ra2 studio - Fotolia
Altaro backup product steps 'inline' for VM protection
Altaro VM Backup version 7 includes an augmented inline deduplication feature for the data protection software as it tries to cut backup size and costs.
SMB backup vendor Altaro incorporated a new method of data reduction in the latest edition of its backup software for virtual servers, shifting to inline deduplication.
Altaro VM Backup version 7, which became generally available this week, protects Hyper-V and VMware virtual machines. The new augmented inline deduplication of backups across VMs results in lower storage requirements and less bandwidth needed than with previous Altaro backup using its Reverse Delta.
"The more VMs you back up, the better it becomes," Altaro co-founder and CEO David Vella said of the inline dedupe. "[Deduplication] translates to much faster backups and savings for the customer."
Altaro tested the deduplication feature on 70 customers and claims its tests found that VM Backup 7 provided a smaller backup than Veeam Backup & Replication 9.5 and Acronis Backup 11.7 when using the same hardware and data for each test case.
Altaro previously used a Reverse Delta method of data reduction. During backups the software placed the most recent backup set in one file while compressing older data into smaller delta files for historical backup. That made the latest version of a file available without having to rebuild it from delta files. But Reverse Delta only removed duplicate copies of data on a per-VM basis. If two copies of a data set were on different servers, backups stored two copies of data in the backup repository. That meant you needed more storage and more time to complete backups.
Altaro's new dedupe works across all versions on the backup drive, offers variable block size and -- because it is inline -- dedupes data before writing to disk. Because the dedupe doesn't work on a per-job basis, users don't need to group similar VMs in the same backup job, as they did with Reverse Delta.
Another new feature, the "Instant Boot from Backup," allows users to boot any VM version directly from the backup location, reducing recovery time objective.
The Altaro backup product has a single management console that allows providers to easily monitor their customers, Vella said.
'Get what you see' with Altaro backup
Joe McAndrew, controller and systems administrator at used car dealer Credit Now Auto Co. and its financing arm Atlantic Acceptance Corp. in Ellsworth, Maine, said he appreciates the intuitive interface of Altaro VM Backup and the ease of running backups and restores.
"You kind of get what you see," McAndrew said. "Someone with very little IT knowledge could do it."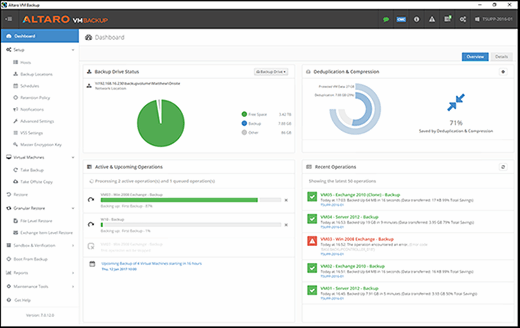 McAndrew put the Altaro backup to the test last year when his company was hit with a virus that encrypted files on one VM. McAndrew chose to restore the VM from a backup within the last few days to be safe, and didn't lose any data.
"We were up and running in a few hours," McAndrew said.
The small business has been using Altaro for Hyper-V backup for about three years and upgraded to version 7 last month. The product protects 600 GB over nine VMs. McAndrew's company does a nightly local backup plus an offsite backup after that. He gets an email each night stating the size of the backup and how long it took. For example, it recently took eight minutes to back up 21 GB on one VM and 22 minutes to back up 180 GB on another.
The more VMs you back up, the better it becomes.

David Vellaco-founder and CEO, Altaro
With the new version of Altaro backup and its inline deduplication, McAndrew said he has noticed a significant reduction in backup time.
In the event of an error or failed backup, the product provides a code for why there was a problem, and McAndrew typically has to reach out to Altaro for an explanation of what it means. He said it would be helpful if the product could define what the problem is without the need for a call, but he noted that errors are rare and the Altaro support is timely.
McAndrew looked into other software before deciding on Altaro backup. For example, he found that Veeam Software, one of Altaro's main competitors, was more expensive and harder to use.
Altaro's Vella acknowledged that the backup and recovery market is crowded.
"That makes us work harder," he said.
Altaro VM Backup v7 is priced per host. The Unlimited Edition at $625 per host includes all functionality for an unlimited number of VMs. The Standard Edition at $515 per host features most functionality with protection of up to five VMs. The Free Edition protects up to two VMs.
Founded in 2009, Altaro claims more than 30,000 customers.