Dell EMC IDPA changes vendor's backup strategy
The Dell EMC Integrated Data Protection Appliance is the vendor's first integrated enterprise backup target. What does this mean for physical Data Domain appliances?
LAS VEGAS -- Dell EMC launched its first enterprise integrated backup appliance today at Dell EMC World 2017, packaging its data protection software with commodity hardware.

Download this free guide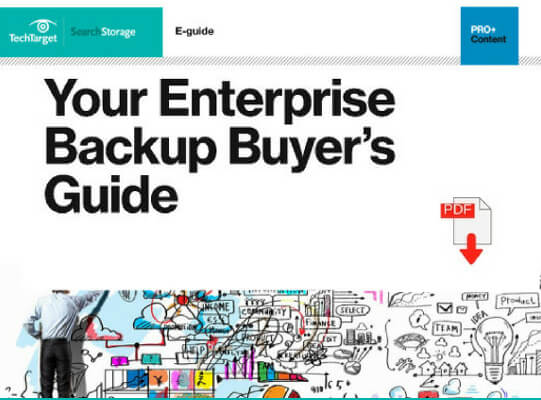 Which backup software is right for your business?
"Do I still need an enterprise-level backup software app? How can I prepare for the top challenges I may encounter when buying restore software? Which products should be on my radar?" You'll find the answers to these queries and more, in this free, downloadable PDF.
The Dell EMC Integrated Data Protection Appliance (IDPA) marks a departure in EMC's enterprise data protection strategy. Instead of only selling backup software separate from its Data Domain backup targets, it will sell IDPA as a turnkey appliance with software bundled.
Data Domain's inline deduplication is a key piece of the Dell EMC IDPA, providing the data reduction to go with Dell EMC NetWorker and Avamar backup software.
Dell EMC IDPA: Four hardware options, single software bundle
The software package is the same on all Dell EMC IDPA turnkey appliances. There are four appliance models -- the DP5300, DP5800, DP8300 and DP8800 -- ranging from 34 TB to 1 PB of usable capacity. The appliances are Dell EMC PowerEdge servers.
It's a one-stop shop for software. The only decision is the capacity points.

Sam GrocottDell EMC senior vice president of marketing for storage and data protection, on the IDPA
"It's a one-stop shop for software," said Sam Grocott, senior vice president of marketing for storage and data protection at Dell EMC. "The only decision is the capacity points."
The DP5300 appliance scales to 130 TB of usable capacity, and it's rated for a maximum throughput of 24 TB per hour using Data Domain (DD) Boost software. The DP5800 stores up to 288 TB of usable capacity, with a throughput of up to 31 TB per hour with DD Boost. The DP8300 stores up to 780 TB of usable capacity, with a maximum throughput of 41 TB per hour with DD Boost. The DP8800 stores up to 1 PB of usable capacity, with a maximum throughput of 68 TB per hour.
The DP5300 and DP5800 are midsize enterprise models, while the DP8300 and DP8800 are for large enterprises.
Dell EMC claims an average 55-to-1 deduplication rate for the IDPA platform. Other built-in features include native cloud tiering, encryption and data analytics.
The EMC Data Domain platform has long been a favorite backup target not only for EMC NetWorker and Avamar software, but for other vendors' backup applications. Data Domain has dominated the backup target market for years, but it has lost ground to Veritas NetBackup integrated appliances over the past year.
Integrated data backup appliances remove the need for media servers and the need to buy backup software separate from the hardware. They are also simpler to set up and manage, although they may not scale as well as stand-alone disk backup targets.
The concept is hardly new. Veritas -- then Symantec -- launched its first integrated appliances in 2010. Other traditional backup vendors, such as Arcserve and Unitrends, have since adopted integrated appliances, and well-funded startups Cohesity and Rubrik have launched what they call converged secondary data platforms over the past two years.
EMC's first departure from its long-standing Data Domain backup strategy came in April 2016, when it launched a Data Domain Virtual Edition. DD VE separated the data deduplication software from the hardware and will be part of the Dell EMC IDPA.
Last summer, EMC brought out a VCE Data Protection appliance for entry-level and midrange customers that scaled from 21 TB to 288 TB and only included Avamar and Data Domain software.
Unlike traditional Data Domain appliances, the Dell EMC IDPA requires customers to use Dell EMC backup software, as well as its hardware.

Data Domain still important to Dell EMC data protection
Jason Buffington, a principal analyst at Enterprise Strategy Group Inc. in Milford, Mass., who focuses on data protection, said Data Domain remains a key piece of Dell EMC's data protection strategy. He called it the "secret sauce" in the IDPA, and he said a place remains for stand-alone Data Domain appliances for customers using non-Dell EMC backup software.
"I would make the case that the secret sauce in the Data Domain dedupe architecture still trumps what most folks do in software-based dedupe," he said. "But it's not uncommon for someone to have Veeam or Oracle RMAN or other backup software running, and they still can use Data Domain as their centralized storage."
Buffington pointed out that the Dell EMC IDPA scales into petabytes of logical data with dedupe, which makes it scalable enough for enterprises.
"The customers I talk to like the idea of an integrated appliance, the idea of a data mover, software and repository all part of the same system," he said. "But almost everyone I talked to said, 'We love them until we max them out.' If the turnkey appliance vendors made bigger appliances, you can scale higher."
Dell EMC also launched DD VE 3.1, which now enables backup of workloads in Amazon Web Services and Microsoft Azure. Organizations using DD VE and Dell EMC Data Protection Suite will be able to restore virtual machine images from within Amazon Web Services for disaster recovery.
The Dell EMC IDPA is scheduled for general availability over the summer.
Can Dell EMC count on IDPA to reverse share slip?
EMC has long been the dominant backup appliance vendor, according to IDC, powered by Data Domain sales. However, its dominance slipped in 2016.
Dell EMC's backup appliance revenue for the fourth quarter of 2016 dropped 18.6% from the previous year, while No. 2 Veritas increased 31%. The overall market dipped 4.1% in the fourth quarter. Dell EMC's market share dipped from 69.6% in the fourth quarter of 2015 to 59.1% in the same quarter in 2016, while Veritas improved from 12.1% to 16.5%.
For the full year, Dell EMC revenue slipped from $2.1 billion in 2015 to $1.97 billion in 2016, while the overall market increased 2.5%. Dell EMC's market share went from 61.4% in 2015 to 59% for 2016. Meanwhile, No. 2 Veritas increased from $479 million in 2015 to $530 million in 2016, and its market share increased from 14.3% to 15.8%.