kantver - Fotolia
VeeamON puts ransomware, cloud DR, CDP on stage
Microsoft, Quantum and DataGravity were among the Veeam partners offering new backup and recovery services at VeeamON. The products include tape and cloud data protection.
NEW ORLEANS -- Besides adding continuous data protection to its flagship Veeam Availability Suite, Veeam Software had a focus on integrations with partners for product news at its 2017 user conference.
At VeeamON last week, the vendor launched Veeam Availability Suite v10, along with products that incorporated its technology with Microsoft's cloud, Quantum's backup hardware and DataGravity's data management software. Those integrations covered cloud disaster recovery (DR), ransomware protection, data analytics and good, old-fashioned tape backups.
Veeam, which began in 2006 with backup software specifically for virtual machines, has expanded in recent years with features commonly found in legacy backup apps. Veeam added support for physical and tape backups over the past few Availability Suite releases. This year, it incorporated continuous data protection (CDP) in Availability Suite v10. While CDP is not a new technology, it is a valuable feature in any availability product.
The continuous data protection "integrated into [Availability Suite v10] backup software is very compelling," George Crump, president of IT analyst firm Storage Switzerland, said of the main VeeamON product launch.
Veeam powers up for improved cloud DR
Veeam combined with Microsoft to add DR as a service capability for the Azure public cloud.
Disaster Recovery in Microsoft Azure combines the Direct Restore to Azure feature in Veeam's availability software with the new Veeam Powered Network tool. The Veeam Powered Network uses lightweight software-defined networking to set up a virtual private network between an office and Azure.
The Veeam Powered Network is a free download from the Microsoft Azure Marketplace and through the Veeam website for on-premises and cloud deployments. Direct Restore is part of Veeam Availability Suite, Veeam Backup Essentials and Veeam Backup & Replication, and it's also available for download from the Azure Marketplace. It allows organizations to back up and restore data protected by Veeam to the Azure cloud.
In another Microsoft update at VeeamON, Veeam Backup for Office 365 1.5 includes a multi-tenant architecture for protecting larger Office 365 deployments, and enhanced automation options through RESTful API and PowerShell Software Development Kit. Veeam plans to support SharePoint Online and OneDrive for Business in the next release of Backup for Office 365.
Quantum sharpens data protection with iBlade integration
Quantum's new Scalar iBlade for Veeam installs into Quantum Scalar i3 or i6 tape libraries, and it allows Veeam customers to write to tape without requiring physical servers. The iBlade connects from virtual servers to a Scalar library through the network to provide access to tape drives inside the library.
"It gives us a really unique, differentiated position with Veeam," said Eric Bassier, senior director of data center solutions at Quantum.
Due to ransomware fears, backup experts suggest organizations take another look at tape as an offline storage medium. Because tape cartridges can be removed from libraries, they have air-gap protection from hackers.
"With a disk-based-only approach to data protection, you're leaving all copies hot," said Jason Buffington, principal analyst at Enterprise Strategy Group Inc. in Milford, Mass.
The Scalar iBlade will be available in limited quantities in June, with general availability scheduled in July. Pricing starts at $7,900. No additional Veeam licensing is required.
The vendors also combined on the disk backup front at VeeamON. Quantum DXi data deduplication appliances running the Veeam Data Mover now support Veeam's instant virtual machine recovery and synthetic full backup.
DataGravity provides 'intelligent data protection'
DataGravity Inc., which sells software that monitors and analyzes data to secure it, launched DataGravity for Availability with Veeam technology.
DataGravity for Availability monitors user and file behavior, in an attempt to identify and stop attacks against data, such as ransomware. DataGravity complements Veeam's restore capabilities, providing forensics-level recovery based on a full audit trail of the changes that occurred in the backups.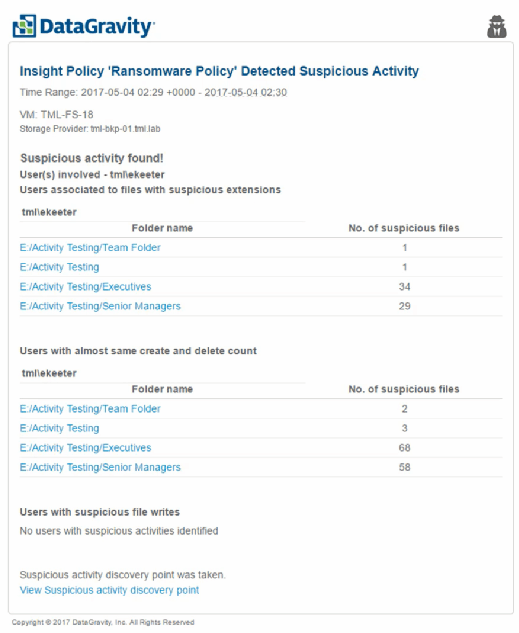 "With that information, you can unwind," said Paula Long, CEO at DataGravity, based in Nashua, N.H. "It's much more intelligent data protection."
Customers can define a set of actions that are activated when specific content or irregular user behavior is detected. The product is targeted toward organizations such as healthcare and financial industries that have compliance regulations and critical data they need to protect.
The recovery point objective is typically 10 to 15 seconds, said DataGravity CTO David Siles.
DataGravity for Availability is shipping now. The vendor did not give specific price information, but current DataGravity customers get it for free.