New Quest data protection takes off with VROOM
Quest VROOM protects VMware and Hyper-V, and it provides DRaaS in Microsoft Azure. It's the vendor's first data protection product since Dell sold off the company.
Quest Software Inc. has taken its initial journey into the data protection market following a spinout from Dell last year, setting its sights on virtual infrastructure monitoring and recovery management.
Quest VROOM manages, monitors and protects data and applications across multi-hypervisor and hybrid virtual infrastructures. The Quest data protection product supports VMware and Hyper-V platforms, and it provides disaster recovery as a service (DRaaS) in Microsoft Azure.
Following its megamerger with EMC that closed in late 2016, Dell sold Quest to private equity firm Francisco Partners and hedge fund manager Elliott Management.
'More proactive' data protection
The Quest data protection software provides visibility into VMware and Hyper-V environments with monitoring and management across the entire infrastructure stack. Organizations can protect and recover full systems, applications and data across physical, virtual and cloud deployments, according to the vendor.
Quest VROOM, which uses Rapid Recovery technology, can monitor a virtual machine (VM) as it's running and show what could happen to it in the case of an outage, said Chris Jones, product manager at the company, based in Aliso Viejo, Calif.
"If you're exposed, we want you to know you're exposed," Jones said.
The integrated monitoring and analysis features detail what's causing trouble in the backup system, said George Crump, founder and president of IT analyst firm Storage Switzerland LLC.
"This allows the data protection solution to become more proactive," he said.
Crump said he expects Quest, like many vendors, to add monitoring specifically for ransomware.
The Rapid Snap for Virtual and Applications feature allows administrators to take incremental-forever snapshots of an entire application and its relevant state as often as every five minutes, for complete application and system recovery in minutes, according to the vendor.
The Quest data protection product also offers virtual standby and DRaaS in Azure. Users can continually send updates to a VM to be activated immediately if there's an issue with the primary machine. They can create virtual standby machines in an Azure account for DRaaS.
Quest VROOM is geared toward Hyper-V and VMware administrators, from SMBs through the enterprise, Jones said.
The product is generally available now. It costs $1,761 per CPU socket and includes support.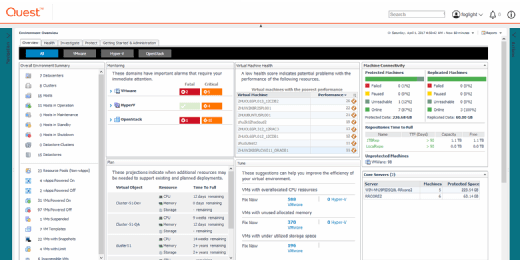 'KACE' closed: Independent Quest restructures
Quest relaunched in November as a stand-alone company. The vendor reorganized its structure into four business units: data protection and KACE endpoint management and security; identity and access management; information management; and Microsoft platform management, said Matt Vitale, vice president of North American sales for Quest Data Protection and KACE.
Quest claims 100,000 customers in its data protection and KACE platform. In April, the Quest data protection and KACE unit reported a 23% year-over-year growth in global channel bookings.