Nmedia - Fotolia
Comtrade Software launches HYCU for Nutanix backup
Comtrade seeks poetry in hyper-converged infrastructure backups with HYCU (pronounced like haiku) application that protects Nutanix Acropolis hypervisor virtual machines.
Comtrade Software Inc. today launched HYCU, a backup software application designed for Nutanix Inc. hyper-converged appliances.
HYCU -- pronounced like haiku -- is the first software application built only for hyper-converged infrastructures. But is a backup app for HCI even necessary? Most backup software apps already protect hypervisors built into hyper-converged infrastructure appliances.
HYCU's selling point is that it is tailored specifically for virtual machines (VMs) running on Nutanix's native Acropolis Hypervisor (AHV). AHV is included as part of the Nutanix Enterprise Cloud platform. Commvault Systems Inc. is the only major software vendor to support KVM-based AHV, which is adopted on approximately 25% of Nutanix nodes.
"It's a niche within a niche within a niche," said W. Curtis Preston, lead analyst for Storage Switzerland. "It's for people using a hyper-converged product. A subset of those people want Nutanix, and a subset of those people want AHV. But it's probably a big enough niche for Comtrade to carve out and do fine with. Comtrade has the advantage of being first. Right now, it's about the only game in town."
Preston pointed out that the niches HYCU targets are growing. The HCI market is rapidly expanding, and market leader Nutanix added about 2,700 customers in 2016, and close to 800 in the first quarter of 2017. As Nutanix gains customers, and its current customers expand their reliance on its products, Acropolis adoption is sure to increase.
Comtrade Software president Simon Taylor said HYCU will support VMware ESX hypervisors in future releases. For now, he would be happy to establish HYCU as the go-to data protection product for Acropolis.
"We strategically target platforms that we think will be market leaders," Taylor said, explaining why Comtrade Software has backup software specifically for Nutanix.
Integration through APIs
HYCU is integrated into the Nutanix software stack through AHV APIs, and its dashboards have a similar look to Nutanix management tools. Boston-based Comtrade's specialty is application monitoring software, and it already has monitoring software for Nutanix appliances. It draws on that technology to automatically discover applications such as Microsoft SQL, Microsoft Exchange and Citrix virtualization software, and to provide application-aware backups.
"Comtrade's good at two things: data protection and monitoring," Taylor said. "We need to develop new and better backup for hyper-converged. Why are we still backing up VMs? We should be backing up and recovering applications."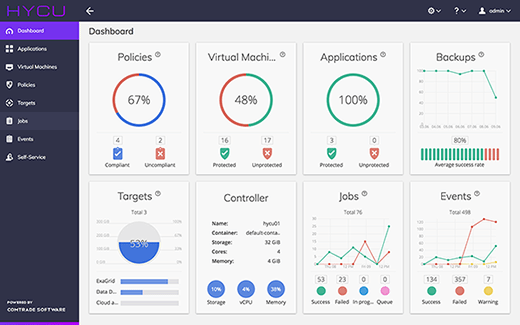 HYCU customers can set backup policies for how often it should back up an application or VM, how long it should take to recover and how long data should be retained.
HYCU takes storage-level snapshots and stores a full copy of each snapshot on the backup target, while leaving some on the local appliance for quick restores.
Beta customer likes ease of use, wants VMware support
HYCU beta customer Telecom 3 Sverige (T3), a telecom provider in Sweden, has tested the software on its AHV cluster. Mattias Sundling, T3's head of cloud services, said he plans to become a paying customer now that HYCU is generally available.
Sundling said Comtrade Software made good on its promise to make HYCU installation as easy as creating a VM.
"It follows the Nutanix UI and ease of use model," Sundling wrote in an email. "It integrates with Nutanix AHV, and you can assign policies easily, so your environment gets automatically protected, including new VMs that you deploy."
Comtrade's good at two things: data protection and monitoring.

Simon TaylorComtrade Software president
Sundling said T3 has 300 VMs running across a four-node cluster of Nutanix NX-3450 appliances using VMware, and another four-node NX-3460 cluster running AHV in production. Sundling wrote that he intends to use AHV as his "strategic platform going forward." He said he uses Nutanix HCI mostly for his servers, and some for virtual desktop infrastructure.
T3 backs up its VMware Nutanix clusters with Veeam Software. Sundling said VMware support heads his wish list of things for Comtrade Software to add to HYCU.
"It's unlikely for a customer to be 100% on a certain hypervisor," he wrote. "To be successful, Comtrade needs to have multi-hypervisor support. I have requested VMware support and hope to see that in the near future."
HYCU pricing is $999 per socket for Nutanix Xpress customers, and $1,500 per socket for other Nutanix editions.
Comtrade Software has no formal go-to-market relationship with Nutanix, but Taylor said his company is working with large Nutanix distributors. Comtrade's strategy with Nutanix is similar to the path it followed with Citrix in recent years. Comtrade developed and sold management packs that monitored Citrix applications. Citrix acquired those products from Comtrade in early 2016.