Olivier Le Moal - Fotolia
Rocket Servergraph software passes university's backup test
The University of Edinburgh sought better backup data monitoring and reporting, and landed on Rocket Software. Servergraph reports on the school's IBM Tivoli Storage Manager.
When you're an IT administrator for a university that's more than four centuries old and has approximately 12,500 staff and 40,000 students, you better be sure that its backups are safe and managed well.
The University of Edinburgh in Scotland needed improved visibility into its backup data, better capacity planning and more efficient reporting, so it implemented Rocket Software Inc.'s Servergraph about two years ago.
The university uses Rocket Servergraph Professional backup management software to report on its IBM Tivoli Storage Manager (TSM) -- now named IBM Spectrum Protect -- backup software.
The best benefit of Rocket Servergraph is the ability to alert the university to the TSM health status and the backup jobs status, said Martin Campbell, Unix and virtualization team lead for the university. It also helps with capacity planning, he said.
After prior problems on the ground, Rocket takes flight
The university, which was founded in 1583, sought to automate the reporting process so that administrators would no longer have to pore over large amounts of data. For example, before the university installed Servergraph, half of a full-time employee's time was dedicated to collecting and manually plotting information to gain a sense of what was happening in the backup environment.
Campbell said it was difficult to determine the status of all his backup drives, whether a TSM instance was crashing and how many backups may have been missed in recent months. The university now receives the reports it needs to properly protect the whole IT infrastructure, he said.
Rocket Servergraph reports against the university's two TSM instances. The primary TSM instance is for core IT -- for example, backup of corporate systems that make the university's business run -- and involves 150 TB of data. The secondary TSM instance is for university research, which involves 11.5 PB of data.
Servergraph has streamlined the process, providing a single view for backup management across the infrastructure and real-time, automated reporting, according to the vendor, which is based in Waltham, Mass. The university can use the proactive trending reports for more effective capacity planning.
"Rocket can shrink that information," Campbell said of the backup jobs, as Servergraph sends reports to service owners so that they are aware of their own status.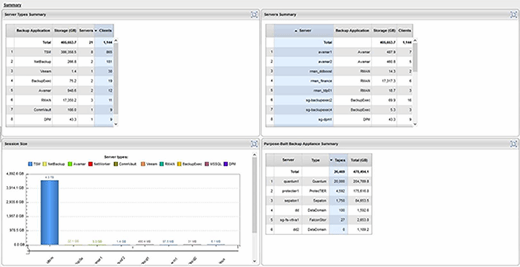 Every morning, Rocket provides a synopsis of all the systems and whether they are running, Campbell said. The daily system health check gives a quick summary of the part of the environment assigned to a given administrator, who can immediately see if there is a problem.
During a recent power outage in the data center, Rocket Servergraph helped by quickly providing insight on the TSM health status, Campbell said.