cecs - Fotolia
Tape storage capacity looks up as LTO-8 looms
Doubling the capacity from the previous generation, LTO-8 will present a strong option for data archiving. Tape systems can be an effective piece of tiered storage, officials say.
Tape storage capacity is about to get a bump with the release of LTO-8, giving it a boost as an option for long-term storage and offline data protection.
LTO-8 will offer 32 TB of compressed capacity per tape, sustained data transfer rates of up to 1,180 MBps for compressed data, uncompressed capacity of 12.8 TB and an uncompressed transfer rate of 472 MBps. LTO-8 drives are expected to be generally available in late 2017.
Tape advantages and challenges
Benefits of tape storage systems include capacity and a distinct product roadmap, according to tape advocates. LTO essentially doubles tape storage capacity every two to three years with each new generation. LTO is projected out to its 10th generation, which is expected to provide about 120 TB of uncompressed capacity and 48 TB for compressed.
While disk can present a better option for organizations that need quick recovery of data, tape still has its place for long-term preservation and for security reasons.
"Restore from a tape library in-house is probably in the tens of minutes range, and random file accesses are slow compared with an in-house disk backup," storage consultant and TechTarget contributor Jim O'Reilly wrote in an email. "All of this means tape restores after a disaster can take far too long."
But O'Reilly added that tape makes sense for large data sets such as telemetry or scientific experiment output, "where access speed isn't critical and there is value in saving old data for reinvestigation."
With cyberattacks such as ransomware continuing to be prevalent, tape storage systems are often a strong choice for offline data protection.
"[Continuous data protection] offers better protection against ransomware, because the technology makes it easy to roll back to just before the attack occurred," storage expert and TechTarget contributor Brien Posey wrote in an email. "However, tape provides an air gap. An offline tape cannot be compromised if it is not mounted."
Rich Gadomski, vice president of marketing at tape vendor Fujifilm and a member of the Tape Storage Council, said he believes in a tiered storage platform that also includes flash, cloud and disk.
Gadomski said flash is a great option, but it's expensive; disk leads in terms of random access; and the cloud is a powerful possibility, especially for SMBs that don't want to make a capital investment.
"Tape is really the home for long-term storage," he said.
Tape isn't sitting still. Tape is a viable option to deal with the onslaught of data.

Rich Gadomskivice president of marketing, Fujifilm
According to the Tape Storage Council's annual report issued in April 2017, studies indicate that disk-based archiving can run at least six times costlier per terabyte stored than tape library archives. In addition, tape data rates are expected to be as much as five times faster than HDDs by 2025, the report said.
"Tape technology, it's not your father's Oldsmobile," Gadomski said.
Tape storage capacity, reliability and transfer rate have all improved, he said. In addition, tape consumes less energy than disk.
"Tape isn't sitting still," Gadomski said. "Tape is a viable option to deal with the onslaught of data."
Tape storage capacity shipment increases
While the total volume of tape cartridges shipped in 2016 remained flat over the previous year, tape capacity shipped increased 26% from 2015 to 2016, according to a report released by the LTO Program Technology Provider Companies. The group consists of tape vendors Hewlett Packard Enterprise (HPE), IBM and Quantum. The annual media shipment report showed that 96,000 PB of total compressed tape storage capacity shipped in 2016.
LTO is important for archiving and long-term data retention, said Laura Loredo, worldwide marketing product manager at HPE. She said media and entertainment companies often use tape for those use cases because of its cost advantage over disk.
HDD, on the other hand, is declining, Loredo said. HDDs decreased 9.5% in unit sales from 2015 to 2016, according to the report. Much of that decline is due to solid-state drives, which are replacing disk for primary storage.
There's still a lot of room to increase tape storage capacity, more so than other types of media, said Carlos Sandoval Castro, program manager in storage products for data protection at IBM.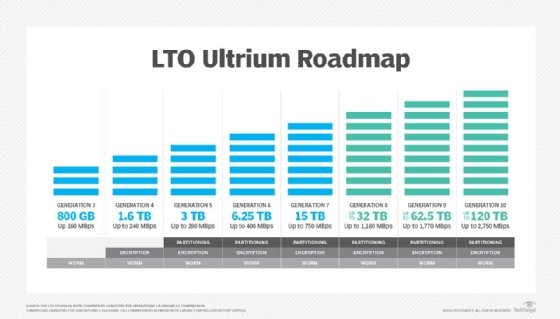 LTO-8 takes the spotlight
LTO has been, and will continue to be, the primary tape technology, according to the "Digital Data Storage Outlook 2017" report by tape library vendor Spectra Logic.
"The digital tape business for secondary storage has seen year-to-year declines, as IT backup has moved to disk-based technology," Spectra's report said. "At the same time, however, the need for tape in the long-term archive market continues to grow. Tape technology is well-suited for this space, as it provides the benefits of low environmental footprint on both floor space and power; a high level of data integrity over a long period of time; and a much lower cost per gigabyte of storage than all other storage mediums."
Spectra Logic sees a long-term probability of flash and tape coexisting for online and archive needs, respectively, and leading their respective markets. And while cloud-based storage is displacing the market for small tape systems, many cloud providers have adopted tape.
LTO-7, which provides 15 TB of tape storage capacity and 6 TB uncompressed capacity per tape, came out in late 2015. The typical time frame in between LTO releases is between two and three years.
Spectra Logic offers a prepurchase program for LTO-8. Prepurchase customers are priority recipients of LTO-8 drives and media, according to the vendor. Spectra provides its customers with access to LTO-7 drives and media for use until LTO-8 technology becomes available.
When fully populated with LTO-8 drives and media, all of Spectra's tape libraries will support at least 1 PB of compressed storage capacity, according to the vendor. In addition, LTO-8 tape technology will support LTFS, WORM and AES 256-bit hardware encryption.
"LTO has been around for many years," said Brian Grainger, chief sales officer at Spectra Logic. "It's proven it will stay around."