Fotolia
DH2i DxEnterprise adds Linux support to improve availability
Once focusing on SQL Server, DH2i ventures into Linux waters. 'Smart Availability' allows users to move workloads any time, regardless of operating system.
DH2i is expanding its DxEnterprise software for managing Microsoft Windows SQL Server into the Linux world. Along with protecting databases, DxEnterprise 17 also adds support for stateful Docker containers.
DH2i bills DxEnterprise as container management software that allows organizations to manage Microsoft Windows SQL Server for disaster recovery and high availability.
With the new version, DH2i is making it easier to move data while expanding its scope beyond SQL Server, said George Crump, founder of analyst firm Storage Switzerland.
"Getting data from point A to point B is half the problem," Crump said. "Getting an application to run in point B can be as difficult as getting data there."
The product can move "a workload from any host to any host, anywhere, at any time," said Don Boxley, CEO and co-founder of DH2i.
The "any time" feature is the difference between high availability and what DH2i calls "Smart Availability," Boxley said. For example, an organization can run a workload for five minutes in one location and then move it back.
"We don't care what operating system you're using," Boxley said. "Instead of having multiple data protection processes, I can do it all one way."
Of course, there are limits to the movement DxEnterprise 17 enables. For example, a customer cannot move a SQL instance from Windows to Linux.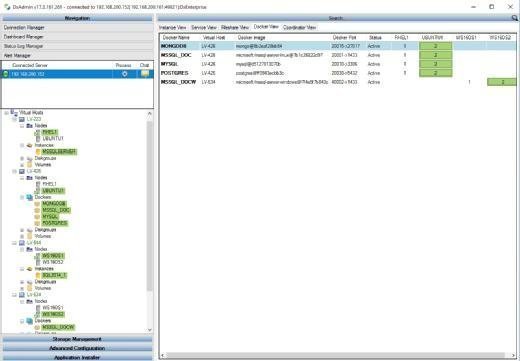 A sequel to SQL focus
DH2i opened for business in 2010 and previously stuck with what it knew well: SQL Server. DxEnterprise was the first application container management software designed for SQL Server.
Instead of having multiple data protection processes, I can do it all one way.

Don BoxleyCEO and co-founder, DH2i
Boxley acknowledged that Linux had been "a bit of a science project." But with organizations now using Linux in production, the update opens the door to a new group of potential customers.
DxEnterprise 17 software uses Virtual Host technology to decouple databases and containers from their underlying infrastructures for workload portability, according to DH2i. The update adds portable, persistent management of any new or existing Docker container, as well as support for SQL Server 2017. DH2i technology allows managed instances and containers to move freely across varying OSes or distributions on their respective platforms, with built-in intelligent health and performance monitoring, alerting and automated orchestration.
DxEnterprise, which is generally available now, costs $1,500 per core for the perpetual license, plus $360 per core per year for 24/7 support and updates. On a subscription basis, it is $75 per core per month, which includes 24/7 support and updates.
Typical customers are medium to large enterprises, with the smallest DH2i private sector users having revenue of $1 billion, Boxley said. He said a company goal is to hit triple figures in customers by the end of 2017.
The new Docker capability in DxEnterprise is more of a future-proof feature. Boxley said "there's excitement" among DH2i customers over the capability, but most are still in the pre-test and development phase and around 18 months from production use.
DH2i is looking to add built-in replication to DxEnterprise, Boxley said. But Crump said that should not be a high priority because DH2i could partner with a vendor that specializes in replication, such as Zerto.