Oleksandr - Fotolia
Commvault HyperScale joins converged protection scrum
Commvault's HyperScale appliance is a scale-out architecture for linear scalability. HyperScale is part of the vendor's new product strategy to build out its data services.
Commvault Systems launched its first scale-out integrated hardware appliance for data protection as it positions itself to compete with startups Rubrik and Cohesity, as well as traditional backup vendors.
The Commvault HyperScale Appliance is an integrated data protection system with the vendor's software installed and configured. Commvault is also making its HyperScale Software available for customers who want to run it on their server platforms. Cisco, Dell EMC, Fujitsu, Hewlett Packard Enterprise, Huawei, Lenovo and Super Micro Computer are Commvault's initial reference architecture hardware partners.
The Commvault HyperScale Appliance uses Fujitsu 2530 M4 rack servers with 2 TB of flash and four 3.5-inch hard disk drives. The appliances run Red Hat Enterprise Linux, Red Hat Virtualization and Red Hat Gluster Storage with Windows 2016. The Gluster storage provides the scale-out capabilities, load balancing and deduplication.
The Commvault HyperScale1300 model includes four capacity options per node, and three nodes can be clustered into a block. The 1RU nodes can include 16 TB, 24 TB, 32 TB or 40 TB of raw capacity with blocks beginning at 48 TB and scaling to 120 TB raw. One third of the capacity is used for erasure coding.
Each node also includes 150 GB of M.2 flash storage, 2 TB of NVMe flash for cache and 96 GB of DDR4 memory.
The Commvault HyperScale software works with Commvault data management platform. It is preloaded with Commvault's CommServe central management system that manages all data protection and recovery jobs.
Commvault's data protection strategy
The HyperScale platform is part of Commvault's 2017 product strategy to build out its data services with software-defined storage and convergence.
There is a growing need for data protection solutions that are software-defined and cloud-connected.

Archana Venkatramanstorage and data center research manager, IDC
With the HyperScale software and appliances, Commvault is copying the playbook from Rubrik and Cohesity. The newcomers have made traction in the industry by converging secondary storage on scale-out cloud-friendly appliances in recent years. But others, such as backup software leader Veritas, Dell EMC, Arcserve and Unitrends, also package their traditional data protection apps on appliances.
Archana Venkatraman, an IDC storage and data center research manager, said the new appliances reflect the emergence of the cloud in backup.
"There is a growing need for data protection solutions that are software-defined and cloud-connected," Venkatraman said. "HyperScale includes features such as automation, orchestration and self-service capabilities that bring integration to public cloud services. These are important features when modernizing the data protection infrastructure."
Venkatraman said data protection competition is peaking, "thanks to upcoming European regulation [GDPR] that affects organizations globally."
Jason Buffington, principal analyst at Enterprise Strategy Group, compared the Commvault HyperScale offering to ExaGrid's hardware in its scale-out design.
"[But] ExaGrid does not have a backup and archive engine," he said. "It has to be fed by other backup and archive vendors. ExaGrid does not provide the data mover. It's a repository. What is unique about Commvault's offering is it is combining scale-out with a backup mechanism. Those that sell backup are more of scale-up architecture."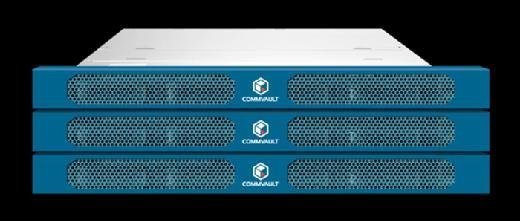 Don Foster, Commvault's senior director of worldwide solutions marketing, said the scale-out aspect of the architecture is key.
"Just think of this as a scale-out backup target in its complete form rather than a scale-up backup target," Foster said. "We have partnered with different vendors and worked with them on reference architectures that customers can purchase. On the appliance side, we are prepackaging a true scale-out appliance."
Foster added that the use of erasure coding replaces the need for RAID in the appliances, giving them more of a cloud feel.
"We are using erasure coding for resilience," Foster said. "So the idea of RAID is gone. There is no RAID controller. This is an almost cloud-like infrastructure."