nobeastsofierce - Fotolia
Aparavi takes three-piece approach to cloud data protection
Aparavi uses a three-part architecture to try to elbow its way into the emerging and competitive market for protecting, restoring and managing data stored in multiple clouds.
Newcomer Aparavi jumped into the cloud data protection field today, following in the footsteps of Cohesity and Rubrik in trying to buck established backup vendors.
Rather than an appliance-based approach, Aparavi launched a software-as-a-service platform aimed at a lower end of the cloud data management market than enterprise-focused Rubrik and Cohesity. But like Rubrik, Cohesity and larger data protection vendors, such as Veritas and Commvault, Aparavi wants to store, protect and manage secondary data across on-premises platforms, private clouds and public clouds.
Aparavi hops into 'hot market'
Aparavi's leadership team comes from NovaStor, which moved into online backup for small companies nearly a decade ago.
Jonathan Calmes, Aparavi's vice president of business development, said it's not enough to just move backup data into a public cloud. Organizations also need to manage the data after it's in the cloud. While Rubrik and Cohesity can help enterprises do that, he said, that capability does not exist for smaller organizations.
Today, data is hosted on servers in private clouds, public clouds and on premises. Data is fragmented in many locations. This is the new normal.

Jonathan Calmesvice president of business development, Aparavi
"The world has changed enough, but current products out there have not," he said. "Cohesity and Rubrik are focused so far up market that they leave a large amount of the market unaddressed. Today, data is hosted on servers in private clouds, public clouds and on premises. Data is fragmented in many locations. This is the new normal."
Calmes said Aparavi pricing starts at $999 per year for 3 TB of protected source data, with 1 TB free forever. He said with new clouds such as Wasabi focused on lower pricing than Amazon, Google and Microsoft, customers will demand lower-priced data retention, as well.
Still, Aparavi will need a compelling platform to avoid getting squeezed between established cloud data management leaders and the next-generation products of Cohesity and Rubrik.
Steven Hill, senior storage analyst for 451 Research, said Aparavi has picked the right market. Now, it has to show it has the right approach.
"It's the hot market now," Hill said of cloud data management. "The industry is evolving away from traditional backup and recovery to a combination of backup and multicloud availability. But the trick is how to go about it.
"The million-dollar question is, how are their policies being applied, and how much control do they give you in tuning the system to your environment? Are they inventing a better mousetrap, or just a different-colored mousetrap?"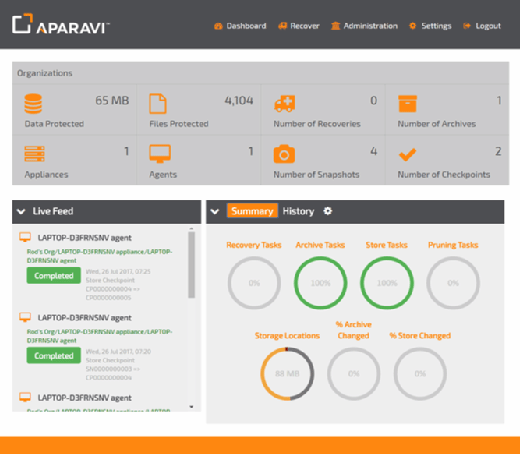 The Aparavi approach
Aparavi's three-piece "mousetrap" consists of a web-hosted platform, an on-premises software appliance and client software. Aparavi can host the platform, or it can be located at a hosted cloud, any Amazon Simple Storage Service-compliant object storage or a customer's disk target. Calmes said he expects most customers to choose Aparavi as the host. The platform handles the communication for the architecture, orchestrating reporting, alerts and provisioning.
The virtual appliance serves as the relationship manager, using file deduplication and byte-level incremental technology to only move changed data. It also handles data streaming to improve performance.
The client software runs on a protected file server, acting as a temporary recovery location for quick restores. It is also the AES-256 encryption source, so data is not exposed in transit or at rest.
Calmes said Aparavi's point-in-time recovery software can recover data from any cloud or on-premises storage, migrate it to a different cloud or on-premises site, and rebuild it based on the time and date it was last protected. Aparavi software takes snapshots as frequently as every 15 minutes, and it can keep those snaps local for quick recovery.
Calmes said the product can move data between clouds without interruption, and it has an open data format, so third-party tools can read data without using Aparavi.
Aparavi's platform supports Amazon Web Services, Google Cloud Platform, Wasabi, IBM Bluemix, Scality and Cloudian cloud storage.
Besides the 3 TB plan, Aparavi offers annual subscription plans of 10 TB for $2,500 and 25 TB for $4,500. That does not include public cloud subscriptions. Although formally launched with limited availability today, the platform won't be generally available until January.
Aparavi, which is based in Santa Monica, Calif., has $3 million in funding from a private investor on a $30 million valuation. Calmes said the startup has 15 employees, mostly engineers.
Aparavi chairman Adrian Knapp, CTO Rod Christensen and Calmes all come from NovaStor.