jules - Fotolia
News
Stay informed about the latest enterprise technology news and product updates.
Cloud backup strategy tips: Prepare for two-way traffic
When using the public cloud, your storage strategy should take into account getting data in and out, and involving all of your IT and business teams before taking the plunge.
OXON HILL, Md. -- The trip to the public and hybrid cloud for storage often starts with data protection. But it doesn't have to end there.
Customers at the Commvault GO user conference this week discussed how they started off using Commvault Data Platform software for backup and disaster recovery in the cloud before expanding to other cloud workloads. A panel of customers during the opening keynote Tuesday laid out their early successes and challenges, offering advice for others who are still forming a cloud backup strategy.

Download this free guide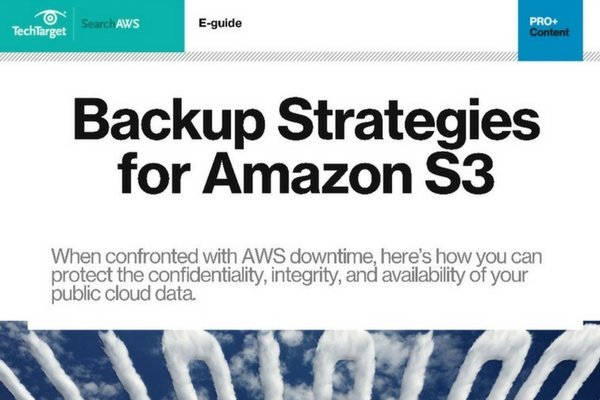 Amazon S3 in the spotlight: Your 34-page backup guide
In this guide curated by the SearchAWS.com editors, you'll evaluate and overcome the DR tradeoffs associated with Amazon S3, with guidance on solidifying an AWS backup plan and securing S3 buckets. Download your copy now.
Cloud backup strategy tip No. 1: Don't rush into a trap
"A lot of people rush to the cloud," said Jon Walton, CIO of San Mateo County, right in the heart of Silicon Valley. "Then, something happened in the last five years. Now, I have to caution people that we need to be careful about how much we push out there. There is a benefit to a hybrid approach. A lot of conversations I have now are around what I call disentanglement -- once it's out there, how do you get it back?
"If you realize it's costing too much, or [it's] more efficient to run it internally or move it to another platform, is it easy to do that? When people realize they made a mistake and want to shift direction, they find they hadn't planned for how to get back out. They got locked into a trap and spent millions of dollars to get out there and realize that's not where they wanted to be. If you think ahead and leave yourself options, you don't find yourself trapped."
Cloud backup strategy tip No. 2: Get IT teams involved in planning
That preparation should always include your network, said Paul Petty, head of IT infrastructure for U.K.-based construction company Laing O'Rourke. Petty said using Commvault Data Platform and the Microsoft Azure cloud helped his company improve backups and service-level agreements for his data. He said the combination also allows his firm to control data that may be spread across 150 construction sites and storage-as-a-service platforms.
"Our first toe in the water was to put backups into the public cloud," he said. "But there are things to consider when you're doing that; one is bandwidth. You need to do that in a smart way, with upfront thought. Do some analysis before moving to the cloud. It's not just one-way traffic. Don't do what I did initially; don't go full-hog and just crank it up.
"Our biggest challenge was to lift the data from the infrastructure. Engage your network team; it's a good opportunity to help them increase their capacity. Do smart global deduplication; be as efficient as you can with the data sets. Think about your connectivity and how you'll manage that."
Mark Trenerry, cloud and infrastructure manager of Australia-based Queensland Investment Corp. (QIC), agreed the network team should be consulted early. But he advised talking to all types of IT people before moving to the cloud. He said the public cloud should not be thought of as just another infrastructure shift.
"Get your processes in place first," he said. "Get all of your IT teams onboard -- your architects and developers and testers and services -- because it's different. It's not like putting VMware in your data center; it's different. It's a big deal moving all your data from a room next to you in the same building to somewhere thousands of miles away."
Cloud backup strategy tip No. 3: The cloud is not a parking lot
Walton, Petty and Trenerry all said they use copies of data in the cloud. In other words, it's not just for backup -- it's also for data management.
Think of more than one use for your data, and you'll get much more value from the public cloud.

Paul Pettyhead of IT infrastructure, Laing O'Rourke
Petty said Laing O'Rourke used to install hardware at construction sites, then rip it out and bring everything back to the data center after the job completed. Now, it backs up data from the sites to the cloud.
"Get more than one use from the cloud," Petty suggested. "We don't use the cloud just for backup, but also for project management. When the project closes, that goes to archives and it's all automated. Think of more than one use for your data, and you'll get much more value from the public cloud."
Walton said rapid data recovery and disaster recovery are key reasons his agency initially moved to the cloud. San Mateo's location puts it in danger of earthquakes, fires and flooding. He said San Mateo's previous tape backup system could only fully restore about a week's worth of data in case of disaster. Now, using a combination of Nutanix flash hyper-converged appliances, Commvault software and the public cloud, he would only lose an hour's worth of data and could restore full application access to users even if infrastructure is lost.
"If we have an 8.0 or 9.0 earthquake, we're going to lose the network and all our data centers," he said. "The old-school way of having a box of tapes sitting at home isn't going to benefit me much. With AWS [Amazon Web Services] and Azure, if we did lose all our infrastructure and critical facilities, we can spin up applications in the cloud and give our users access."
Walton said he stores data locally for 14 days and replicates it between two data centers. Then, he moves the data off to Amazon Web Services Simple Storage Service, and after 60 days, the data moves to Amazon Glacier for long-term archiving. San Mateo also has application data in Azure and uses Microsoft Office 365.
Cloud backup strategy tip No. 4: It's about the business, not technology
Trenerry described global fund manager QIC as a "cloud-first company." He said QIC is moving all workloads into public clouds to support rapid growth, and he expects to complete that goal by the end of 2017. QIC uses Azure for some workloads and backs up data with Commvault software into AWS for quick data recovery.
"Our journey is not a technology one; it's driven by the business side," Trenerry said. "It's built on the Microsoft stack -- Windows 10 and Azure. The cloud enables us to put the data that people need close to the people, either in an Azure data center in Australia or by giving people laptops and tablets so they can take data with them. They can share data in a way that transcends anything that has to do with technology."
Walton said, "Your staff is your greatest asset," and you should use your businesses and IT teams -- and even vendors -- as partners.
"Don't discount what the business is trying to achieve, or they'll go around you," he said. "Don't discount your staff, because they're younger and smarter than you. And don't treat vendors as the enemy, because they can help you achieve your business value."
Dig Deeper on Cloud backup