ra2 studio - Fotolia
News
Stay informed about the latest enterprise technology news and product updates.
Commvault GO: Vendor 'HyperScales' data management strategy
Commvault's strategy of sticking to software has given way to an integrated HyperScale appliance, which was front and center at its GO user conference.
The Commvault HyperScale appliance is the latest -- and largest -- example of how the data protection company has changed in recent years.
The vendor put those changes on display at its Commvault GO user conference in early November. Besides showing off its integrated appliance, Commvault emphasized its software's role in data management and analytics across on-premises and cloud storage.
Commvault CEO Bob Hammer said the type of scale-out storage HyperScale represents will soon become common. The key is to have all the software pieces in place.
"Everybody and their brother is going to do some scale-out stuff," Hammer said in an interview at Commvault GO. "But that doesn't mean, from a customer use case standpoint, it solves their data management problem, their data protection problem, their DR problems, and still highlights data movement, compliance and analytics."
Commvault long resisted the notion of selling its backup software on a branded Commvault-sold appliance. Hammer maintained Commvault should concentrate on software and let disk appliance vendors handle the backup target.
"We don't want to be in the hardware business," Hammer said after its largest software rival, Symantec -- now Veritas -- put its flagship NetBackup application on an integrated appliance in 2010.
But if Veritas couldn't nudge Commvault into the hardware business, a pair of newcomers could. Startups Cohesity and Rubrik -- both with leadership roots from hyper-converged pioneer Nutanix -- emerged in 2015 with integrated appliances that went beyond backup. The upstarts called their products converged secondary storage, because they handled data for backup, archiving, test and development, and disaster recovery, and they pulled in the cloud as well as disk for targets. Both have gained traction rapidly with their converged strategy.
Commvault was already headed in a new direction with its software, changing the name from Simpana to the Commvault Data Platform in 2015. Commvault always mixed data management with protection, but critics and even customers found all that functionality difficult to learn and use.
"Commvault was not known as the least expensive solution, or the easiest to use," said Jon Walton, CIO of San Mateo County in California, and a longtime Commvault customer. "But it was definitely the most flexible. Its challenge was it was seen as a good tool, but not the cheapest. And in government, cheap wins bids. But we were trying to introduce a single tool to back up everything."
Walton said he took the plunge with Commvault and made sure his staff received the training it needed. "I don't lose any sleep using this platform for my data," he said.
Around early 2016, Hammer said it became clear that secondary storage, and some primary storage, was moving to a "cloud-like infrastructure." Customers were looking for a more unified way to protect and manage their data, both on premises and in public clouds.
"Going way back, I didn't want to go into the hardware business, but it was clear as day the market was going to be driven by an integrated device," Hammer said. "We said, 'OK, we can supply that device,' and just needed to put partnerships together."
HyperScale involves hardware, software partners
Commvault HyperScale appliances run on 1U servers from Fujitsu. HyperScale software provides data services on the appliance. Commvault also partners with Red Hat, using Red Hat's Gluster file system as a foundation for the HyperScale scale-out storage.
Commvault also lined up server vendors Cisco, Dell EMC, Hewlett Packard Enterprise, Huawei, Lenovo and Super Micro as partners on reference architectures that run HyperScale software and the Commvault Data Platform stack on top.
Cisco became an OEM partner, rebranding HyperScale as ScaleProtect on Cisco Unified Computing System. Commvault sees the 2U UCS server -- 4U blades are also planned -- as a good fit for the enterprise, while its 1U HyperScale blades handle all secondary data needs for SMBs, remote offices and departments.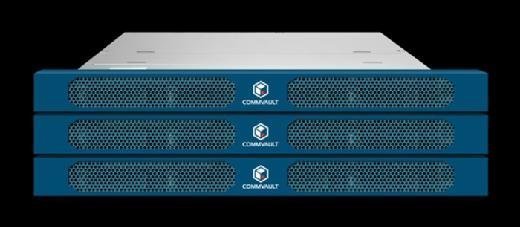 Wrapping all of its features -- plus cloud support -- on an integrated appliance could help Commvault solve its complexity problems. The vendor already moved to simplify pricing and management in recent years by changing its licensing and selling a targeted bundle for use cases such as cloud storage, endpoint backup and virtual machine protection.
Commvault uses capacity-based licensing for HyperScale, with free hardware refreshes at the end of a three-year subscription.
"I think Commvault recognized the cost challenges and has probably risen to the challenges of meeting those as well as everybody," San Mateo's Walton said in an interview at Commvault GO.
Other customers at Commvault GO agreed with Walton that Commvault's complexity is at least partly the result of ifs comprehensive feature set, and its broad functionality is a selling point.
"It's a single tool to help us protect structured data, unstructured data, virtual and physical machines," said John Hoover, IT manager of the database and infrastructure team at the Iowa Judicial Branch. "It's one pane of glass, one index, one tool to know."
Hoover said his team includes five people for infrastructure and two database administrators to manage more than 100 million digital court documents.
"We're busy people. Trying to keep up with multiple tools to protect all that data taxes our time," he said. "And we have to protect it. An electronic file is the official file of the state. There's no paper trail anymore."
Commvault HyperScale fights old foes
Despite moving to an integrated model to take on the likes of Cohesity and Rubrik, Commvault still battles old backup software competitors -- mainly Veritas and Dell EMC. Hammer referred to Veritas NetBackup as a "legacy scale-up appliance," the kind that customers are moving to scale-out models to avoid.
Hammer also challenged Michael Dell during his Commvault GO keynote. Dell EMC is one of Commvault's HyperScale server partners, but also sells backup and data management software. Hammer pointed to the Dell CEO's claim that he would pump $1 billion over three years into research and development for an internet of things (IoT) division.
I say, 'Game on,' to Michael Dell. You can't do it with piece parts. It's not so simple.

Bob HammerCEO, Commvault
"I have news for him," Hammer said. "We're going to innovate faster than you are, Michael. Game on."
Off-stage, Hammer elaborated on Commvault's relationship with Dell.
"Obviously, they're a major player with HyperScale. Many customers are going to buy HyperScale with Dell servers," he said. "That's where we're aligned. But it's a whole different story putting a platform together for IoT and analytics, and that's where I say, 'Game on,' to Michael Dell. You can't do it with piece parts. It's not so simple. I'm sure he'll be in the game, but it's not an easy thing."
He should know, because Commvault has already gone down that path.