WavebreakmediaMicro - Fotolia
CloudBerry backups feature protection from ransomware
CloudBerry Backup 5.8 detects possible cases of ransomware in backups. In the event of an attack, users can go back to the most recent good backup and then restore.
CloudBerry backups are hopping aboard the ransomware protection train, with the ability to detect encyrption changes along the way.
The latest update to CloudBerry's flagship product, CloudBerry Backup, protects a customer's file-level backups when it discovers ransomware. The product prevents existing CloudBerry backups from being overwritten until an administrator confirms if there is an issue.
Statistics show that ransomware attacks are still prevalent. Requested payment amounts to release encrypted files are also trending up.
"Customers are looking for any type of protection they can get," said David Gugick, vice president of product management at CloudBerry Lab, which is based in New York City. "You don't want ransomware to find your backup files."
Some ransomware, though, is smart enough to encrypt backups. CloudBerry's off-site cloud backup helps customers follow the 3-2-1 rule of backup, Gugick said. Organizations should have three copies of data on two different media, with one copy off site.
In addition, some ransomware is smart enough to exist on a user's system without making its presence known right away.
When a customer enables ransomware protection in CloudBerry Backup 5.8, the vendor performs the initial backup and analyzes the bit structure of each file to determine if any files are encrypted. During subsequent backups, CloudBerry compares the original byte structure to the current byte structure, which enables the identification of newly encrypted files.
Customers are looking for any type of protection they can get.

David Gugickvice president of product management, CloudBerry
The customer's backup plan continues, but CloudBerry prevents existing backups from deletion regardless of retention policies, according to the vendor. Customers can go back to a point in time before the attack and restore from protected CloudBerry backups.
Gugick cautioned that a ransomware protection strategy should be comprehensive and also include user education and security patches.
"Customers should not rely exclusively on backup and disaster recovery," Gugick said. "This is just a piece of the protection puzzle."
Waking up from the ransomware 'nightmare'
Lori Hardtke, president of ByteWize Inc., which provides IT support for small businesses, said one of her clients got hit with a ransomware attack on a server earlier this year, before this new protection feature launched.
"It was the worst nightmare I ever went through," Hardtke said.
However, the organization restored from CloudBerry backups and didn't lose any data.
Hardtke recently downloaded the latest CloudBerry Backup software and engaged the ransomware feature, essentially by just checking a box. She welcomed the capability as "another layer of protection."
Hardtke uses CloudBerry for file-level backups of Windows environments, primarily desktops. Her business, based in Scottsdale, Ariz., has roughly 50 clients across the United States. CloudBerry backs up 5.5 TB of data, mainly QuickBooks and standard documents, such as Word files and PDFs.
ByteWize uses Google Cloud Platform as the back end for its storage. CloudBerry does not provide storage; it only handles backup and disaster recovery, which keeps costs low compared to its competition, Gugick said. The majority of customers use Amazon Web Services, but CloudBerry supports more than 30 cloud storage vendors, also including Google, Microsoft Azure, Backblaze B2, Oracle and Wasabi.
ByteWize switched to CloudBerry in September 2015 after about five years with Jungle Disk backup. Hardtke said she was looking for more innovation and less cost, and she found both with CloudBerry backups. She said she appreciates the steady flow of upgrades with significant enhancements.
One enhancement Hardtke likes is the ability to do image-based backups. She said it would be helpful to retrieve files out of an image, like she can with Veeam Software, which she also uses to protect data.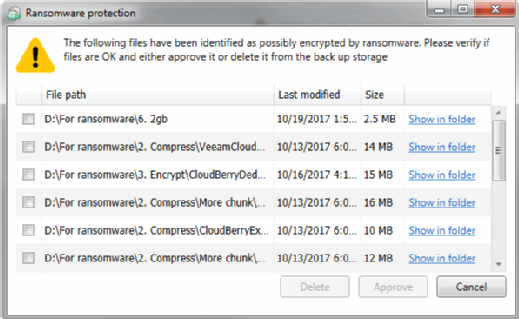 What else is new?
The ransomware protection is currently only designed for file-level backup, but Gugick said CloudBerry is planning support for images in a future release.
Other new features in CloudBerry Backup 5.8, which became generally available two weeks ago, include protection for Microsoft Hyper-V 2016 and support for VMware changed block tracking.
CloudBerry has two main backup offerings that support Windows, macOS and Linux. CloudBerry Backup for small businesses and consumers starts at $29.99 for the desktop edition and $119.99 for the server edition, and it features perpetual licenses. CloudBerry Managed Backup for managed service providers and larger businesses offers subscription licensing and starts at $5 per month, per server or desktop for file-level backup and $6 per month, per server or desktop for image-based backup.
CloudBerry backups protect more than 210 PB of data, Gugick said. The vendor claims about 43,000 CloudBerry Backup customers and 4,500 active CloudBerry Managed Backup customers.