News
Stay informed about the latest enterprise technology news and product updates.
Veeam Availability Suite 9.5 targets complete management
Veeam adds physical and cloud capabilities in its Availability Suite update. The backup and recovery vendor is also accelerating its research and development.
Seeking to broaden its appeal to enterprises, Veeam Software improved management of virtual, physical and cloud data in the latest version of its flagship data protection product.
Veeam Availability Suite 9.5 Update 3 includes a central console to manage backup and recovery across virtual, physical and cloud workloads, said Peter McKay, CEO and president at Veeam, based in Baar, Switzerland.
"That's a key piece to the enterprise puzzle," McKay said of Veeam's expanded support.
Veeam also added support for Microsoft Windows and Linux servers, VMware Cloud on Amazon Web Services (AWS) and snapshot integration for IBM and Lenovo storage, as well as improved analytics and monitoring. With this release, Veeam included its Universal Storage API, an interface to help support additional integrations.
'Physical will be here'
Veeam Availability Suite 9.5 now includes built-in management for Veeam Agent for Microsoft Windows 2.1 and Veeam Agent for Linux v2. Single management of multiple agents alongside virtual machines simplifies the backup of physical systems and cloud workloads.
Veeam Agent for Microsoft Windows 2.1 includes protection for mission-critical Microsoft Windows Server failover clusters. Veeam Agent for Linux v2 adds backup to a Veeam Cloud Connect repository, support for scale-out backup repositories as backup targets and source-side encryption.
Improving management of physical protection may seem like it's targeting a dying breed, especially for a vendor that launched in 2006 dedicated to protecting virtual machines. But McKay said physical devices are not going away completely anytime soon, particularly among Veeam's enterprise customers.
"Physical will be here," McKay said. "We need to treat physical as we treat virtual and the cloud."
And with that strategy, Veeam can "go after pretty much every enterprise customer in the market," he said.
Veeam in November made another physical push directed at enterprises. Through an OEM deal with Cristie Software, the Veeam Availability Platform added support for IBM AIX and Oracle Solaris, which provides protection of physical workloads in Unix environments.
Veeam continues to ask itself where it can innovate or expand for a fully comprehensive platform, said Jason Buffington, principal analyst at Enterprise Strategy Group in Milford, Mass. Support for agents running on high-availability systems is a mature perspective, he said.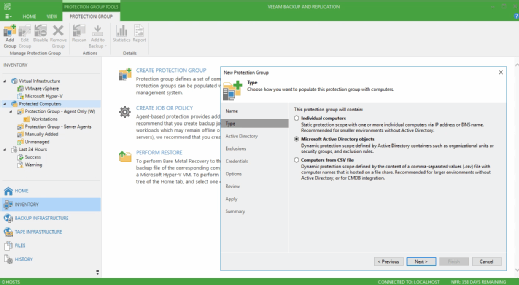 Onward and upward with the cloud and more
The support for VMware Cloud on AWS allows enterprises to deploy Veeam across VMware-based public, private and hybrid cloud environments.
We need to be the best in the world in cloud backup and recovery.

Peter McKayCEO and president, Veeam
"We need to be the best in the world in cloud backup and recovery," McKay said.
The vendor claims 16,700 Veeam Cloud and Service Providers.
The update includes IBM Spectrum Virtualize integration, which extends Veeam's storage snapshot capabilities to IBM Storwize and SAN Volume Controller-based storage arrays. In addition, Veeam Availability Suite 9.5 now offers storage snapshot integration for the Lenovo Storage V Series.
Veeam also added agent monitoring and reporting and Data Sovereignty Compliance Reporting to its Veeam ONE management component. The new features are designed to help customers meet protection compliance requirements.
What to expect from Veeam
Veeam has made a change in its game plan for launching updates. Instead of a yearly basis, the company is shifting to a schedule of releasing a new batch of features every four to six months, McKay said.
"From the customer side, this is better because you get updates far faster," he said.
To help support the frequent updates, Veeam plans to add more than 200 employees in research and development by the third quarter of 2018, McKay said.
Customers should expect at least one more update to Veeam Availability Suite 9.5. The concept of version 10 of the product, previewed at the VeeamON user conference in May, is not what it once was, McKay said. Some features previously destined for version 10 are already out, and the vendor is content with continuing to update Veeam Availability Suite 9.5.
As Veeam keeps targeting the enterprise, Buffington said the vendor will need to show it is constantly innovating.
"They continue to work on scaling up and scaling out," Buffington said. "Veeam has really been growing up in the last two years."
To improve its high availability, Buffington said Veeam will have to add even more automation and orchestration, lessening the dependency on people pushing a button.
Veeam claims more than 267,000 customers. In October, the vendor reported 84% year-over-year growth in new enterprise bookings for the third quarter. Recently formed alliances with major vendors -- including Hewlett Packard Enterprise and Cisco -- are helping to increase Veeam enterprise revenue.
Dig Deeper on Backup and recovery software