Building a better data backup plan: This year's hottest backup trends
Your new year's resolution may be to build a better data backup plan. Check out this special report on the year's hottest backup trends.
It's a new year and your resolution may be to create a better data backup plan. According to a recent Storage magazine survey, 58% of those responsible for backups are struggling with capacity requirements, and the time it takes to complete and recover backups. Forty-six percent of respondents said it takes too long to complete their backups and 44% said the same about their recoveries.

Download this free guide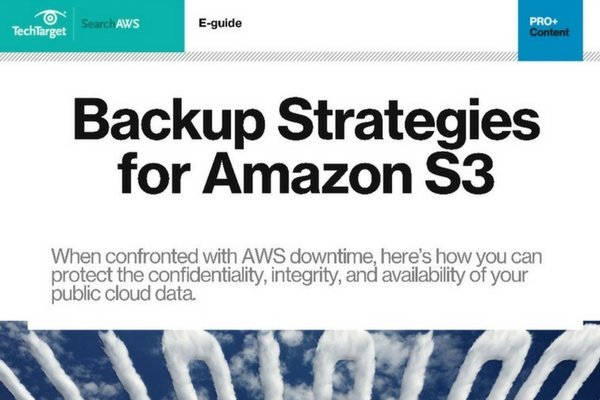 Amazon S3 in the spotlight: Your 34-page backup guide
In this guide curated by the SearchAWS.com editors, you'll evaluate and overcome the DR tradeoffs associated with Amazon S3, with guidance on solidifying an AWS backup plan and securing S3 buckets. Download your copy now.
By submitting your personal information, you agree that TechTarget and its partners may contact you regarding relevant content, products and special offers.
You also agree that your personal information may be transferred and processed in the United States, and that you have read and agree to the Terms of Use and the Privacy Policy.
The survey also found that some respondents are easing their backup burden by implementing disk-based backup. Sixty-two percent of respondents are adding disk to improve backup operations, while only a third are adding tape capacity.
To help you build the best backup plan for the new year, read this special report by features writer Carol Sliwa on the hottest backup trends. Learn about what's new in backup software, backup hardware and backup outsourcing.
DATA BACKUP SOFTWARE TRENDS
It comes as no surprise to many that the biggest trends around data backup software right now revolve around data deduplication and virtual machine (VM) backup.
In interviews of 146 Fortune 1000 companies, the InfoPro Inc. found that of 46% using data reduction/deduplication, 6% are piloting or evaluating the technology, and 31% have it in their near-term or long-term plans. Only 18% indicated they have no
plans for data deduplication. Source deduplication in particular is showing increased adoption, particular to help with remote-office data protection.
VM backup has been a pain point for many backup administrators for some time, and major backup software vendors have been working on enabling their software to perform central VM backups without the overhead of running backup tasks from inside individual VMs. This has been in response to vendors like PHD Virtual Technologies Inc., Quest Software Inc. and Veeam Software Corp., which designed software with virtual server environments in mind.
Other prominent backup software trends that may impact your data backup plan include increased used of storage snapshots, remote replication and the role of continuous data protection (CDP) in data backup planning.
>> Click here to read the entire article on top trends for data backup software.
BACKUP HARDWARE TRENDS
Reports of the death of tape backup continue to be an overstatement, and the emergence of faster LTO-5 tape could spark an increase in interest in the age-old backup hardware medium. But the general consensus is that even LTO-5 won't stop the ongoing trend toward disk backup and data deduplication technology.
Last year saw larger, faster and more scalable disk-based hardware product updates hitting the market, typically with improved integration of backup software and support for Symantec Corp.'s OpenStorage Technology (OST) API. Declining reliance on the virtual tape library (VTL) interface also continued, according to a Storage magazine Purchasing Intentions survey. Other backup hardware trends include removable disk drives, and the use of a disk and tape backup approach.
>> Click here to read the entire article on notable trends in backup hardware.
BACKUP OUTSOURCING TRENDS
Perhaps the most prominent trend this year in backup outsourcing was the explosion in the number of managed service providers promoting cloud backup solutions. Even though the numbers reporting cloud backup adoption have been mixed, industry analysts predict the adoption of cloud backup solutions will rise in 2011.
Some use cases for cloud backup include laptop backup, and small- to medium-sized businesses (SMBs). But as with any new technology, many users are wary of using cloud backup, and security remains one of the top concerns.
>> Click here to read the entire article on trends in backup outsourcing and cloud backup solutions.
Dig Deeper on Backup and recovery software