Acronis backup and recovery software: Features to know
A long-time cloud backup proponent, Acronis tries to make the selection and use of its data backup products easier with a Backup Purchase Wizard and Universal Restore technology.
With a reputation as stable, easy to use and innovative, Acronis backup and recovery software products are the go-to data backup offerings for many organizations. And since approximately 2012, the company has allowed customers to back up their data to the cloud.
The Acronis backup and recovery software line has been designed to use a minimal amount of CPU and memory to lessen the impact of the backup process. Backups can also be written to up to five different destinations, such as storage arrays, the cloud, tape and so on. This gives administrators great flexibility with regard to mixing and matching media and destination types within their backups.
Acronis enterprise cloud offerings
Organizations that want to back up to the cloud can choose between the Acronis Backup to Cloud offering or the Acronis Backup Service.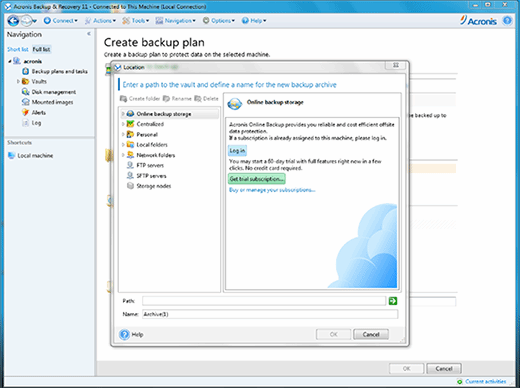 Acronis Backup to Cloud is a cloud subscription add-on that offers AES 256-bit encryption, initial seeding services and large-scale recovery services.
Acronis Backup Service is a hybrid backup product that can be managed using a browser-based interface. The online management dashboard is accessible from any device. Other features include 256-bit AES encryption and Universal Restore.
Universal Restore
Universal Restore technology, built into all currently offered Acronis backup and recovery products, allows backups to be easily restored to a dissimilar system. For example, you could restore a backup of a physical server to a virtual server, or a physical server backup to dissimilar hardware.
Many other vendors offer similar capabilities, but Acronis makes the recovery process a little more seamless. For example, some vendors will not let you restore a backup to a hard disk that is smaller than the original one, even if the new disk has sufficient capacity to accommodate the restored data.
Acronis' Universal Restore technology is designed to help administrators avoid manually reconfiguring systems that have been restored to a dissimilar environment. The software automatically detects the machine type and then installs the correct Hardware Abstraction Layer and required device drivers. Like many other backup vendors, Acronis also offers an instant recovery feature that launches a virtual machine from backup so the VM is available while the restoration takes place behind the scenes.
Backup Purchase Wizard
If customers are still unsure of which Acronis backup and recovery product is right for their environment, they can use the Acronis Backup Purchase Wizard. Customers can go to the Acronis website and enter information about their infrastructure into the wizard. The wizard then determines which products should be used and automatically adds those products to the customer's shopping cart.
While many observers may think the Backup Purchase Wizard is nothing more than another way to drive sales of Acronis backup and recovery products, it is helpful for two reasons:
It answers questions about the licensing process in no uncertain terms. For instance, if you need to back up an Exchange Server, do you have to purchase Acronis Backup Advanced to back up the server OS and buy Acronis Backup Advanced for Exchange, or can you just purchase Acronis Backup Advanced for Exchange? The wizard lets you know exactly what you need. (In this example, you would only need Acronis Backup Advanced for Exchange.)
Ease of pricing. Users are given an on-the-spot quote for what it will cost to back up the resources they need to protect. There is no guessing and no waiting on a sales call.
Dig Deeper on Cloud backup