Manage
Learn to apply best practices and optimize your operations.
Getting the most out of your media: Care and handling tips
Getting the most out of your media: Care and handling tips
Take care of backup tapes and discs with this simple plan Combining a backup and restore plan with the tips below can help ensure that your vital information will be around tomorrow -- and the foreseeable future -- even if disaster should strike. The backup and restore plan your company uses will depend on a few factors: 1. How often does your company need to refer to its data? If you need to refer to yesterday's data, a daily tape rotation would work best.

2. How valuable is your data? The more valuable your data is, the more often you should backup and move your backup media offsite.

If you use data tape cartridges to backup your files, Imation recommends that you follow a monthly 10 tape backup rotation; however more or fewer can be appropriate. 1. Label your tapes one through 10. 3. Use a new tape (tapes five through seven) for each of the first three Fridays of the month for weekly backups. 4. Use tapes eight through 10 on the last Friday for a monthly backup, rotating these each month. Then store the weekly and monthly tapes at a secure offsite location as insurance against physical threats to your place of business.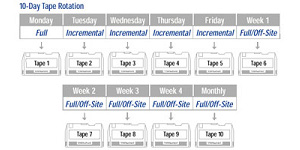 (For examples of other backup plans, including a three tape and a six tape backup plan, see " Backup basics: Three backup plans.") You can follow similar plans with CDs or DVDs. You'll want to use rewritable media such as CD-RW, DVD+/-RW, and DVD-RAM discs for daily incremental or differential backups. Then use permanent discs, such as CD-Rs, DVD+/-Rs for archiving weekly and monthly backups. Regardless of what plan you follow, following a plan is the first step -- regular evaluation and testing of your ability to restore will make your data more secure. Handle with care To keep your files safe so that you can get them when you need them, handle data cartridges and optical discs with proper care using the tips below. Data cartridge care tips
---
Click here for more information on Imation technology.
Dig Deeper on Data storage backup tools