Evaluate
Weigh the pros and cons of technologies, products and projects you are considering.
Product Roundup: Backup software
In this product roundup, we discuss how backup software is used, how it is evolving and what the competitive landscape looks like.
Backing up data is a necessity in this age of compliance and disaster recovery. Using software to do backups is a way of protecting multiple copies of data and providing an insurance policy for companies in the event of data corruption or disaster. Most companies use backup software, regardless of how their storage or servers are architected. In rare cases, new companies don't run backup software -- until they realize their entire business is at risk.

Download this free guide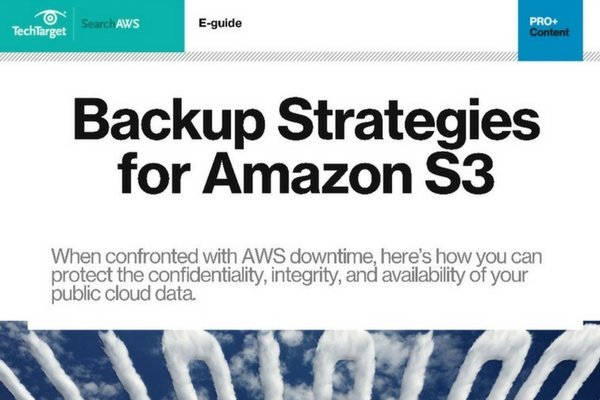 Amazon S3 in the spotlight: Your 34-page backup guide
In this guide curated by the SearchAWS.com editors, you'll evaluate and overcome the DR tradeoffs associated with Amazon S3, with guidance on solidifying an AWS backup plan and securing S3 buckets. Download your copy now.

By submitting your personal information, you agree that TechTarget and its partners may contact you regarding relevant content, products and special offers.

You also agree that your personal information may be transferred and processed in the United States, and that you have read and agree to the Terms of Use and the Privacy Policy.

In this product roundup, we discuss how backup software is used, how it is evolving and what the competitive landscape looks like.


Definition
According to Whatis.com, a backup is the activity of copying files or databases so that they will be preserved in case of equipment failure or a catastrophe. Backup is usually a routine part of the operation of large businesses. The retrieval of files you backed up is called restoring them.

Most backup software packages consist of a network-based architecture where agents are placed on application servers and a central media server manages the backup jobs.

The media server is usually a dedicated server that can be connected over a local area network (LAN). To minimize data traffic over the LAN, the media server can be connected directly over a storage area network (SAN). Users specify the source data to be backed up and the backup schedules. The media server then tells the agents to move the data to tape, disk or a combination of the two.


Key vendors and products
The dominant products in backup and recovery software include Networker from Legato/EMC, NetBackup and Backup Exec (more Windows focused) from Veritas Software Corp., IBM's Tivoli Storage Manager (TSM), ArcServe from Computer Associates International Inc. (CA), OpenView Storage Data Protector from Hewlett-Packard Co. and Galaxy from CommVault Systems Inc.

"Commvault is an emerging player, whereas older products like EMC's EDM are fading into obscurity," said John Merryman, a senior consultant at Glasshouse Technologies in Framingham, Mass.

Alex Gorbansky, analyst at Taneja Group in Hopkinton, Mass., highlighted two backup software products worth keeping an eye on: Avamar Technologies Inc.'s disk-based software, Axion, which uses data compression to reduce the amount of data being backed up, and Asigra Inc.'s Televaulting, for backing up remote data to one central location. Gorbansky pointed out that the Asigra software is agentless, meaning that you don't have to install and manage any software agents on application servers.


Innovations and trends
For the past few years, there has been a lot of buzz about using disk instead of tape as the primary backup medium.

"The field of innovators using inexpensive disk has grown, so the big question remains which 'new new' backup-to-disk technology will gain traction and change the market," Merryman said.

Some innovations are as follows: Inexpensive ATA disk arrays; virtual tape libraries (VTLs), where software allows disk to emulate tape; object-based backup technologies; and continuous data protection (CDP), which offer large volumes of disk storage aimed at displacing or replacing tape in backups.

Merryman said he predicts that backup reporting tools will see a lot of innovation in the next year. These are tools that confirm the success (or failure) of backups and provide information on how much and how often data is being backed up, and how long it takes. Backup software vendors, storage resource management (SRM) vendors and backup reporting vendors are "starting to deliver reporting features that will help bring backup out of the Stone Age," Merryman said.

Gorbansky said he agrees, and predicts a convergence of backup, replication, archival and SRM technologies. "Look for vendors to create integrated suites that use a common interface to manage data."

Some up-and-coming vendors that have backup reporting tools are Bocada Inc., SysDM Inc. and Tek-Tools Inc. CA has a reporting tool called BrightStor Portal that works with CA ArcServe software as well as other backup software. EMC and Veritas have reporting tools that only work with their own backup software.

Merryman added that the true value of backup is realized through restores, but that the restore part of backup is often neglected. "But this could change now that backup reporting technologies are coming of age."

In the news

Veritas users fear rocky roadmap

Storage Clips: Rivals respond to Symantec-Veritas merger

Is a Symantec-Veritas merger good for users?

Strategic Storage: Backup starts to inch forward

EMC gains software market share

Backup Exec woes force pickle company to switch vendor

Backup and DR costs slashed with grid storage

EMC to acquire backup software player, Dantz

CA adds Windows support to latest version of ARCserve Backup

HP improves backup-to-disk features

SD 2004 preview: Plugging the holes in Tivoli Storage Manager

Strategic Vendor Series: EMC

Strategic Vendor Series: IBM

Strategic Vendor Series: HP

SearchStorage.com's Product Roundup is a monthly feature that reviews a specific storage area.

Dig Deeper on Backup and recovery software